Inauguration of the 17th Bienal de Flamenco de Sevilla
Monday, September 3rd, 2012. 2200h. Alcázar de Sevilla
Special 17th Bienal de Flamenco de Sevilla – All the information
Text: Estela Zatania
Photos: La Bienal
Dance and choreography: Manuela Carrasco. Special guest artists: Juan Villar, El Pele, Enrique el Extremeño, Pansequito. Chorus: Samara Carrasco, Inma la Carbonera, Toñi Fernández. Guitar: Joaquín Amador, Alfredo Lagos, Paco Iglesias. Stage director: Pepa Gamboa
A balmy Seville evening, the extraordinarily beautiful setting of the patio of the Real Alcázar and the excitement generated by the start of another Bienal de Flamenco, last night conspired to attract a numerous audience for the inaugural event of the most important flamenco festival in the world.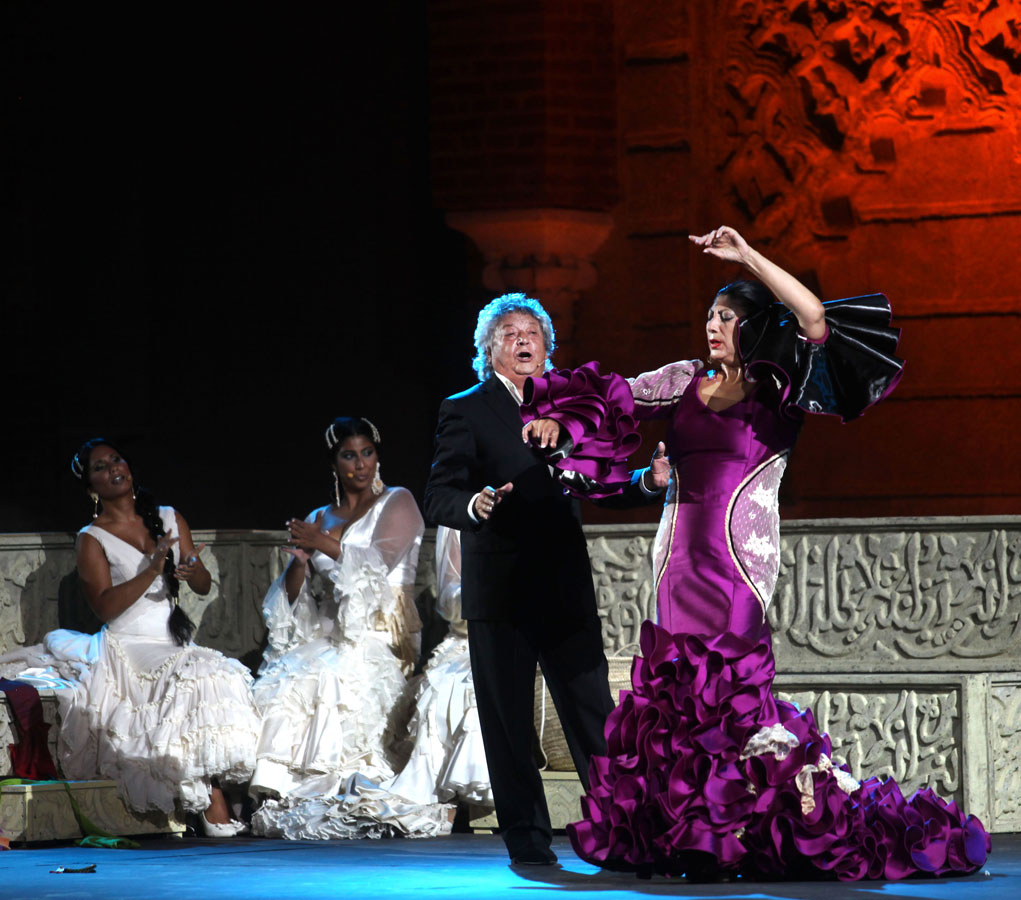 After months of declarations and a variety of political intrigues, not to mention the preparation and sacrifice of hundreds of artists and technicians, the big day finally arrived. They say it wasn't an "inaugural" show as such, because there was no intention of that kind of grandiosity, much less resources to finance it. Nevertheless, this was the show that opened the figurative doors of the seventeenth Bienal, and it allowed us to enjoy some of the greats of this artform.
Artists so great that the script itself was small by comparison. Instead of suggesting four women from Greek mythology, Antigone, Ariadne, Helen and Medea, an objective expressed in the handbill, four great singers took over the stage and left no doubt that flamenco is nourished by what they have to offer. Not all four had their best night; if Pansequito (por soleá) and Extremeño (malagueñas, abandolao and taranto) were correct but uninspired, the heartfelt applause they were accorded reminded everyone that they are beyond reproach, and past accomplishments never dim. Juan Villar (martinete, debla and siguiriya) was nearly as good as in his best years and el Pele (soleá por bulería, cantiñas) surprised everyone with his intensity and originality. Each one stood to sing with no microphone stand in front of them, an arrangement that increased the impact of "one man, one voice, nowhere to hide".
And Manuela…we all want to call her a "goddess", as hackneyed as that may sound. Because her carriage and countenance are regal and majestic. Her look, her command and knowledge, her way of filling the air with flamenco essence. I look at talented young dancers and I see great steps, expertly executed, one better than the next. I look at Manuela, and there are no "steps"…just dance. It's similar to the Gerardo Núñez concept of flamenco guitar…instead of thinking of "falsetas", it's all music and that's it. Manuela is like that. And that's it.
How many more times will we see that with artists of this stature, all props and attempts at story-telling are destined to be superfluous? In fact, the most intense moments of the night were provided by one single person: Manuel Moreno Maya "El Pele". This often happens in artistic endeavors. The most surprising and memorable moments come from irregular performers, the "Paula syndrome" some call it, in reference to the famously spotty showing of bullfighter Rafael de Paula. It's the kind of artist you go to see again and again because you know the flash of genius with eventually show up, and you want to be present when it happens. It happened for El Pele this night. Looking gaunt and fragile from a recent illness, but with his voice in top condition, the man tapped into the direct line to his soul, and having done so, found the path to let it out via his cante. Without histrionics or contrived gestures. Just his very original way of laying out classic cante, an ideal ratio of tradition to personality that allowed him to cut to the quick and make contact with everyone present.
Less noteworthy was the attempt at dramatizing Manuela, which ended up having he effect of trivializing her art, and the work as a whole. A plastic crown she tossed to the floor with a flourish, triggered barely contained chuckles from the audience, a chorus of three women whose role was far from clear and whose voices could scarcely be heard, and the image we'd all like to forget of Enrique el Extremeño trying to roll up a long string of yarn while singing to Manuela, are things best eliminated with the "del" button. The heroic mythological intent was further complicated by occasionally muddy sound that made it difficult to catch many of the sung verses, and subtracted brilliance from the magnificent guitars of Joaquín Amador, Alfredo Lagos and Paco Iglesias. The more flamenco shows with a story-line they come up with, the more clearly we see the conflict of interests, and one always triumphs over the other. The works of Antonio Gadies have become classics and inspired an entire generation of flamenco artists. But from then on few, very very few can be salvaged. Let's hope the mistakes of Raíces de Ébano, combined with the difficult economic situation, presage the end of the era of theatrical works that take advantage of flamenco as a means to non-flamenco ends.
Everything ended up perfectly thanks to Manuela's soleá. The same one she's been doing for thirty years, the one that continues to stir emotions, that picks us up by the scruff, spins us around the room a few times and leaves us exhausted. The same soleá that tells us flamenco is a monumental artform with endless possibilities.
---