A list of the best Flamenco Tablaos in Madrid, with the average price (including show and drink) y other relevant details so that you may choose the best flamenco show.
You can consult the following article 'Where to see good flamenco in Madrid' with certain guidelines to be taken into account so you can't go wrong.  And the Agenda de Flamenco en Madrid which lists concerts and festivals celebrated in the capital.
At the end of the article we've put short reviews of the tablaos we know best and which we recommend with guarantees.  This is information we'll be updating and changing according to our experiences and the comments of those of you who visit these places.
---
Tablaos Flamencos in Madrid
1. Cardamomo – Desde 39,00 € – Niños 50%
Special menus to choose from –Booking–
2. Tablao Villa Rosa – 49€, 45€, 42€
Booking
3. Las Tablas – 29,00 €
Special menus to choose from Booking
4. Corral de la Moreria From 49.90 €
Gastronomic salon, special menus and a la carte (dinner)
5. Centro Cultural Flamenco de Madrid– 25,00 € (Wednesday 15,00€)
Booking
6. Café Ziryab  – Show & drink 24,20 €
Tapas and full portions are served Reserva online – Book now – Réserver – Reservieren
7. Essential Flamenco
8. Teatro Flamenco Madrid  – 28,00 €
Cured meats & cheeses
9. Las Carboneras
Special menus to choose from .
10. Torres Bermejas – – Desde 39,00 €
Menús diseñados a elegir. Reserva online – Book now – Réserver – Reservieren
12. Corral de la Pacheca – 39,00 €
Reserva online
12. La Cueva de Lola – 25,00 €
13. El Cortijo, Taberna Flamenca
Special menus to choose from
Data collected from the webpages of the various establishments, certain things may have changed.
*Average price as shown at the webpage for entrance to show with drink, without considering possible offers, occasional discounts or changes in price we have not been informed of.
(-) Information not supplied at the webpage.
–  We have not included restaurants that offer flamenco shows on certain days or sporadically.
It is possible there are new tablaos not included here. We try to keep the list updated.
Artistic program Flamenco Tablaos in Madrid
Recommended Flamenco Tablaos
Cardamomo Flamenco Madrid
The famous "Cardamomo", one of the classics of flamenco life in Madrid, has long been a reference point for flamenco fans in the neuralgic center of Madrid, right off the Plaza Santa Ana on the legendary Echegaray street.
More information & booking.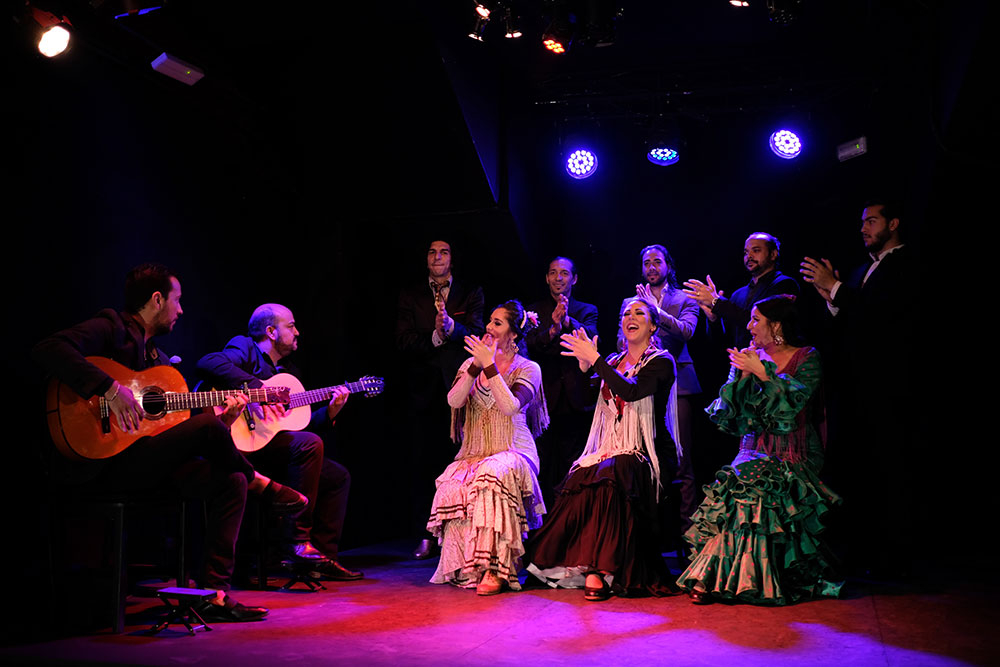 Tablao Flamenco Villa Rosa
The artistic director  is dancer and choreographer Antonio Canales, who brings great dancers, singers and guitarists  at this historic venue.  More information & booking.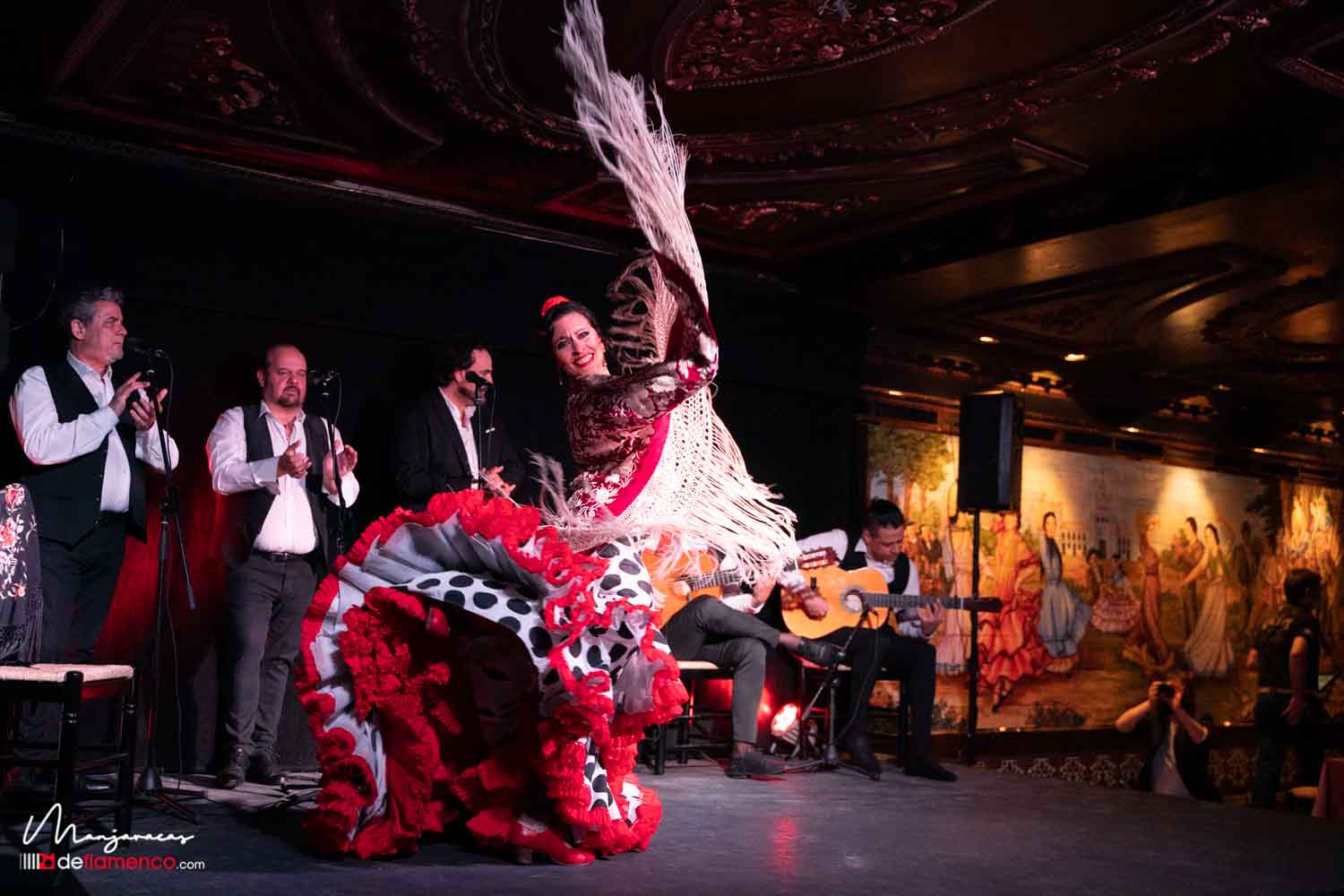 Centro Cultural Flamenco de Madrid
The Centro  Cultural Flamenco de Madrid offers the chance to enjoy traditional flamenco with singing, dancing and guitar in an intimate venue without the distraction of food and drink, without amplification, and with limited capacity that allows optimum visibility of the stage from every seat.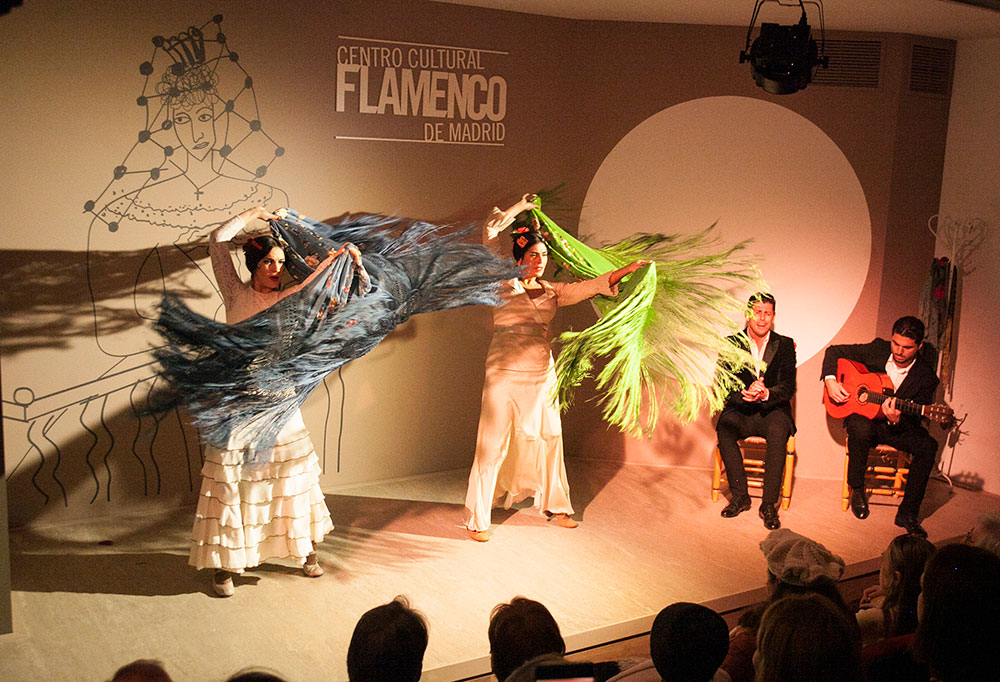 Las Tablas Flamenco Madrid
Las Tablas Flamenco Madrid is a new concept of flamenco tablao that opened its doors in 2003, created and directed by dancers Marisol Navarro and Antonia Moya, who decided to create a new space breaking with the traditional aesthetic up to now, of what was meant by "tablao flamenco".   More information & booking.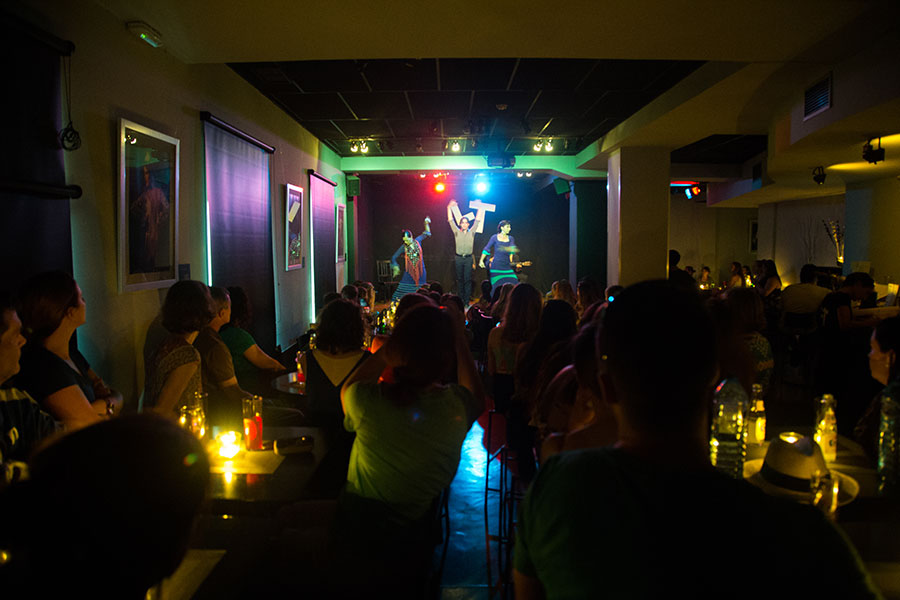 Essential Flamenco Madrid
The tablao Essential Flamenco carries out its activity in the vaulted brick basement of the famous 'Sala Torero', at number 25, Calle de la Cruz, right in the heart of Madrid.  Juan El Mistela, artistic director and dancer at the venue says: "We want to present flamenco without fake adornment", reinforcing the idea of offering authentic flamenco, with no window-dressing: a kind of flamenco that is direct and intimate.  More information & booking.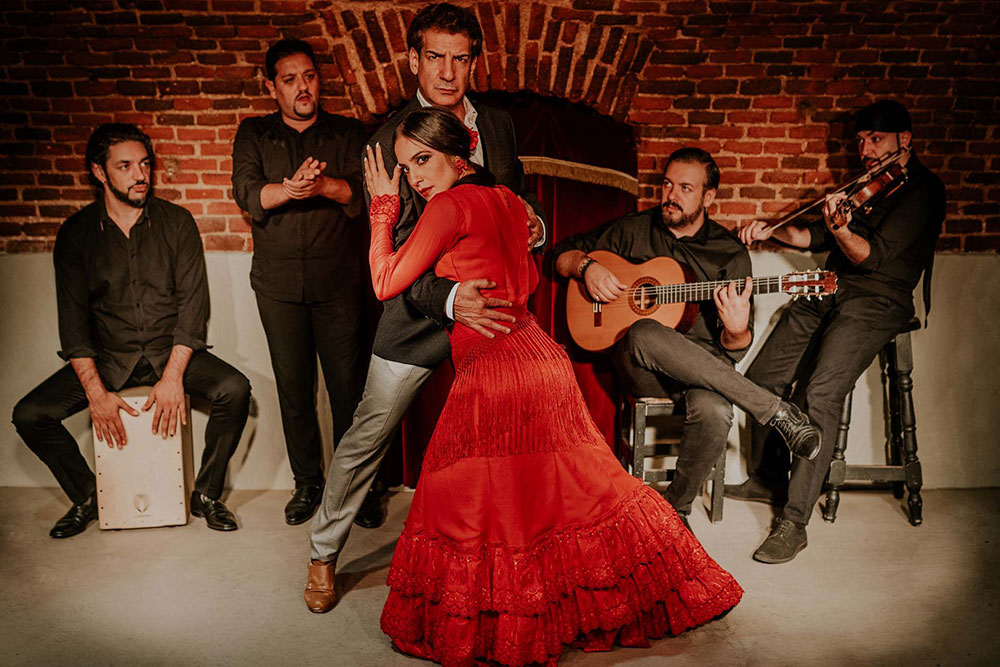 Corral de la Moreria
The most famous flamenco tablao in the world, without a doubt, and certainly the best.  It is located in a choice zone of Madrid – next to the Palacio Real in the heart of the city's historic district – exquisitely decorated with Arabic furniture and decor, and lighting fixtures from the 18th and 19th centuries that remind you of the original venues from the beginnings of flamenco.  More information & booking.