Corral de la Morería, the most famous flamenco tablao in the world
The most famous flamenco tablao in the world, without a doubt, and certainly the best.  It is located in a choice zone of Madrid – next to the Palacio Real in the heart of the city's historic district – exquisitely decorated with Arabic furniture and decor, and lighting fixtures from the 18th and 19th centuries that remind you of the original venues from the beginnings of flamenco.
Founded in 1956, this is probably the place the greatest number of people have been able to enjoy the best flamenco; open all year, some of the greatest flamenco artists have performed here.  And so it continues today, with a carefully selected program under the artistic direction of Blanca del Rey, Corral de la Morería offers shows with top stars, and along with them an assortment of singers, dancers and guitarists who, thanks to their knowledge of the tradition and forward-looking character, present a musical production of great strength.
The performers tend to be different from one week to the next, and in the month of April the tablao holds its Festival Flamenco which includes more than 80 artists throughout the month.  The show, which lasts an hour and ten minutes, begins after dinner.
In addition to the best flamenco, the directors of the venue have worked tirelessly to offer culinary quality of the highest level, and an excellent wine list, enjoying the admiration of the entire gastronomic sector, being one of the best restaurants in the capital, and the best in the category of dinner with live show.
This flamenco tablao has received much recognition, such as "Best Flamenco Tablao in the World", awarded by the Cante de las Minas Foundation, it is included in the book "100 Places to See Before You Die", a number one bestseller in the New York Times, one Star Michelin, one "sun" in the Repsol guide and recently, in June of 2018, it was just awarded the National Prize for Gastronomy.
The Corral de la Morería is a luxury you have to indulge in, it's more expensive than other tablaos, but you can really tell the difference in the quality of its shows and the service offered.  It's up to you to try it.
It has a capacity of 140 people with tables laid out for good visibility.  For certain tables, and especially on weekends, the demand is very high and it's recommended to reserve ahead of time to get a good place in front of the stage.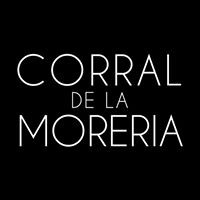 Corral de la Morería
C/ Morería, 17
28005 Madrid – España
Phone: +34913658446 – +34913651137
Email: info@corraldelamoreria.com
Web: www.corraldelamoreria.com