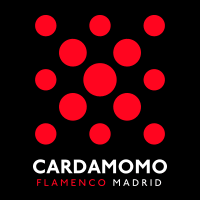 The famous "Cardamomo", one of the classics of flamenco life in Madrid, has long been a reference point for flamenco fans in the neuralgic center of Madrid, right off the Plaza Santa Ana on the legendary Echegaray street.
A charming place where flamenco followers will remember the famous jam sessions and concerts, with artists like Raimundo Amador, Diego el Cigala, Tomatito, Enrique Morente, Estrella Morente, Antonio Carmona, Paquete and many others of the new flamenco movement.  They currently offer one of the best flamenco shows in the capital, in the form of a Flamenco Tablao with three shows daily, at 6:00pm, 8:00pm and 10:00pm, with ten artists on stage.  First-class flamenco performers such as Juan Andrés Maya, Belén López, Gema Moneo, Alba Heredia, Kelián Jiménez, Paloma Fantova, Ángela Españadero, Claudia Cruz and many others, always well-accompanied by noteworthy guitarists and singers.  As many as five dancers take the stage in each performance.
Cardamomo, with a well-structured show as its base, tends to vary its program from month to month, always looking for new artists who stand out from the rest in this genre, allowing the tablao's flamenco offering to continually renew.
The venue is laid out in such a way that the audience is very close to the stage, with tables of two or more people right at the front of the stage.  A variety of dinners of high gastronomic quality is offered, always served before the beginning of the show (45 minutes) so as not to be an interference.
Behind the tables is a sort of raised area that gives a feeling of being in a theater, elevated from the floor level and including very comfortable chairs that enable the audience to enjoy the show with an excellent view.  All done with modern decoration based on flamenco photographs of key moments captured by photographer Paco Manzano of artists such as Camarón and Enrique Morente among others.
Cardamomo has received numerous awards, and has been named a "Cultural Treasure of the City of Madrid" thanks to its "special characteristics and uniqueness".  It is one of the highest-rated flamenco tablaos by users of travel guides such as Trip Advisor, and the New York Times included it in an article "36 hours in Madrid" as "not to be missed".
El pase de diapositivas requiere JavaScript.
Content related to Tablao Cardamomo Flamenco Madrid