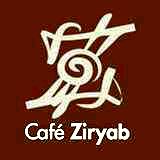 Café Ziryab is a small tablao in the Embajadores neighborhood near the city center, beautifully decorated and with a capacity of 80 or 90 people, with tables and chairs distributed in front of the stage.
Under the direction of a dancer, and great flamenco follower, Anja Vollhardt, the atmosphere of a charming café cantante has been created where each night great flamenco artists appear in a group format with noteworthy guest artists.
At Café Ziryab, an honest kind of flamenco is offered, based on knowledge and sincere interest.  The spectator will feel perfectly integrated in the flamenco family that comes together nightly on stage.  Performers, friends and fans enjoy each night at this venue which is the least "touristy" of any in Madrid.
In addition to the nightly shows, on some days, usually Friday, at 11:00pm, there are guest flamenco singers, performances attended by many serious fans in gatherings they call the "Peña Flamenca" of the Ziryab.  Keep an eye on the programming, there have been artists such as Inés Bacán, David Lagos, La Yiya, Jesús Castilla, Joaquín de Sola, Niño de la Fragua, etc.  As well as flamenco guitar recitals, something you would never see in other flamenco venues throughout the capital.
Very reasonable prices, 22 euros (including show + drink), they offer discounts to students, young people, unemployed, retirees in addition to certain temporary discounts.
Café Ziryab
Paseo de la Esperanza, 17
28005 Madrid – España   Capacity: 85 personas
Show and drink: 24.00 €
8:00pm – Doors open for those wishing to enjoy a good coffee, tea, pastry, toasted sandwiches, wine, while listening to good flamenco.
9:30pm – Show.
For those wishing to stay on after the show, the third drink is free!
Duration: 60-75 minutes
Related content to Café Ziryab