What are the best places to see flamenco?. Where can you see good flamenco in Madrid?  But wait!  Flamenco for tourists?  Flamenco for clueless foreigners?  Relax…at this point in time, there are very good flamenco clubs or "flamenco tablaos" in Madrid  (Flamenco venues). And it's precisely in the tablaos where you can see the best flamenco every day of the year, mostly dancing, but always accompanied by singing and guitar.  You just have to hunt around a bit and not get thrown off, there are some that are still in the last century.
In addition to tablaos, flamenco can also be enjoyed at nightclubs and music pubs, but more sporadically, and with a different format – venues such as the Café Berlín, Galileo Galilei, Clamores and others…although, with certain exceptions, it doesn't tend to be traditional flamenco, but rather group flamenco recitals with singing, guitar, not so much dance, and shows that mix flamenco and jazz, pop or rock.  Authentic flamenco can also be found in some of the flamenco associations, "peñas", and these tend to be focused on flamenco singing, nearly always on weekends, and not that easy to track down.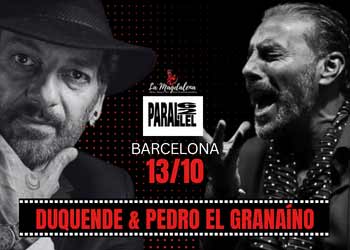 Publicidad DeFlamenco
Flamenco is also offered at Madrid theaters, in the context of mayor flamenco festivals such as Flamenco Madrid (between May and June) at the Fernán Gómez theater in the Colon Plaza, and Suma Flamenca (June) at the Teatros del Canal, and throughout the year, sporadic concerts of major flamenco stars at these same theaters and others such as the Teatro Nuevo Apolo, Teatro Español (dance) and the Teatro de la Luz Philips on the Gran Vía.  We recommend consulting our Madrid Flamenco Agenda to check if something good is programed during your stay in Madrid.  In the regularly updated agenda, there is always a good selection of flamenco concerts in Madrid.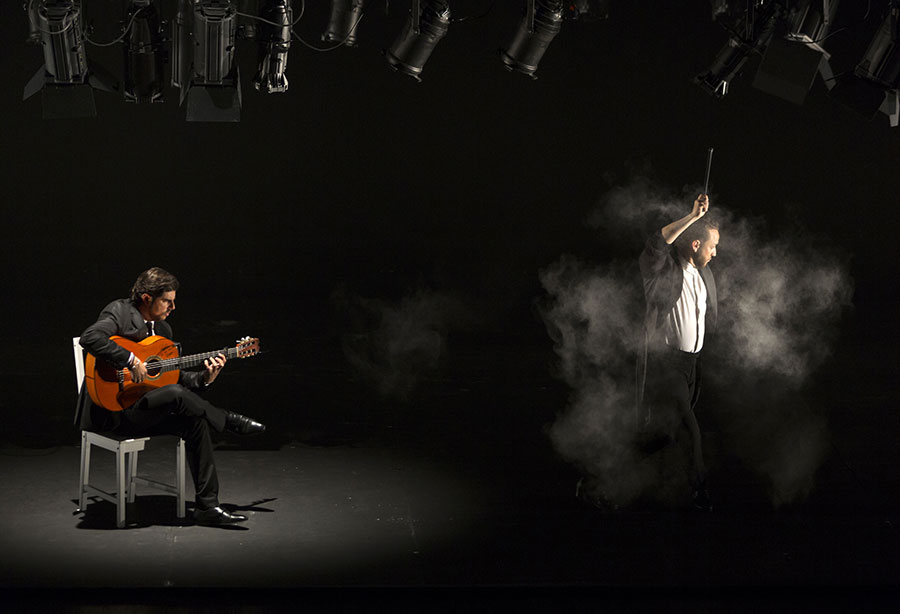 In this article we discuss the variety of places where you can see the best flamenco in Madrid, at flamenco tablaos, concert halls, flamenco associations, theaters and some places to enjoy drinks in a flamenco atmosphere.
Flamenco tablaos
They say tablaos are for tourists, and even that it's "flamenco for foreigners", and true enough, it's mostly tourists who nightly fill them up, just as tourists daily fill the Prado Museum, and no one considers finding museums that aren't for tourists.  The trick is not to make a mistake, be well-informed and be sure to go to tablaos with the guarantee that they offer a good flamenco show for all audiences, regardless of whether they are tourists, Spaniards or foreigners, beginners, people curious about the whole thing or flamenco followers.  In some tablaos you'll find top artists, the same ones you see at major flamenco festivals such as the Festival de Jerez, the Bienal de Sevilla and the Cante de Las Minas.
If the starting-point is a good flamenco tablao, with a good show, with good artists on the program, the big advantage compared to other types of venues is the intimacy of the space, the closeness of the interpreters, to which could be added, depending on the place, the particular history of each place, the decoration, the way the tables are placed, the warmth of the atmosphere.  Sharing a dinner and drinks with your partner or friends while watching a quality flamenco show can be the best kind of flamenco experience.
Sometimes, the visitor gets to Madrid from abroad, thinking that taking a walk through the city you can easily find a flamenco show, which is what you would think being in Spain, the birthplace of flamenco, and of course Madrid, but that's not exactly how it is.  You'll probably receive recommendations at your hotel, or before traveling when you purchase your trip, but if you're reading this article, make sure you don't make any mistakes.  There is a wide offering, more than 15 tablaos in Madrid, all competing to attract the "tourist".  And precisely what tourists must avoid is "flamenco for tourists".
To identify the good tablaos, speaking positively, you have to see if at the time you make the reservation you can see clearly what show it is and the names of the artists – not in general terms, nor quantity, but checking to see if there is a well-defined program – check the web to see if the program changes artists or is always the same, assuming this information is shown.  If you're coming with an organized tour, and the excursion to see flamenco is optional, check to see if there are guarantees, and if there aren't, try to break away and look on your own, these packages are the primary symptom of "flamenco for tourists" you want to avoid.  If something is recommended at the hotel, take note of the advice, but check the above-mentioned criteria.
Another important consideration when it comes to choosing, is the price.  People often say tablaos are expensive, but I see the prices of music shows on Madrid's Gran Vía and I don't think it's true.  The price must always be taken into account according to what you get for your money.  While there are low-cost tablaos, we all know there's nothing more expensive than paying for something bad, no matter how inexpensive it is, and if you fall into one of these places you will have lost a night and the unique chance to see some really good flamenco.
When it comes to comparing prices, you have to consider what is being offered; it's not the same being in a chair at the rear of a tablao, as seated at a well-placed table near the stage.  It's not the same paying for snacks from a recently-opened blister-pak, as a high-quality dinner.  The price shown as "starting from" tends to be for specific performances with non-priority seating or with specific conditions difficult to fulfill.
There are however more modest tablaos with low prices that offer a dignified honest show, with a reduced number of performers.  The number of artists on stage should not be a determining factor, nor should the price.
The standard formula is shows of 60 to 90 minutes, with a drink included in the price.  This usually runs between 32 and 50 euros per person, not counting dinner.
The possibility of dining is another point to take into account; some establishments do not offer this option, the focus is on the flamenco show, and the audience tends to be placed in close quarters to accommodate as many people as possible.  In most tablaos, you can purchase a ticket for the show and a drink, according to the time, or previously choose one of the dining options.  In some places, choosing to dine means having a seat in front of the stage as opposed to choosing only to see the show and have a drink, which doesn't necessarily mean a worse seat.
Few tablaos offer a truly high level of gastronomy, but the good ones are a guarantee of quality, some being outstanding.  If you plan to dine, be sure to arrive with plenty of time, at least a half hour or three quarters of an hour before the show, planning on desert for the beginning of the show.  The established hours for dinner tend to be programmed one hour before show-time.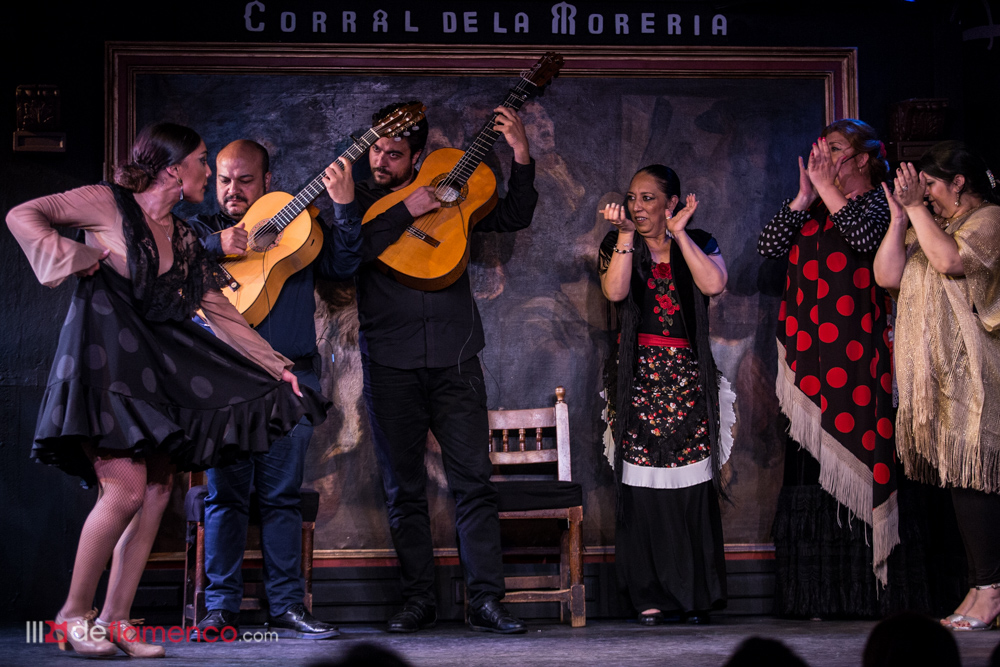 The best flamenco tablaos in Madrid.
Of all the flamenco tablaos in Madrid, we especially recommend two.  We have a webpage for each with all the details and information:  El Corral de la Moreria and Casa Patas, each one with its own characteristics, with great care taken to present a quality show, fine restaurant service and an exceptional atmosphere.
Other tablaos that offer quality flamenco on a daily basis are Cardamomo, Las Tablas, Tablao Villa Rosa, Teatro Flamenco Madrid, Café Ziryab, Café de Chinitas o Essential Flamenco. All tablaos can be found at our specialized webpage on Flamenco Tablaos in Madrid, a complete list with the program of some, the average entrance price and services offered.  Enjoy the best flamenco and please, do let us know about your experience by writing to our email: info@deflamenco.com
If you want the ultimate flamenco experience, book a
private flamenco tour
with Yolanda Martín. She'll take you to a fantastic show, plus you'll visit legendary flamenco places, discover flamenco culture and history and learn some great fun facts about this art form.
Flamenco at night-clubs or music pubs
Flamenco at certain night-clubs or music pubs, though not on a regular basis, is programmed certain days of the week devoted to flamenco.  In Madrid, each week there tend to be presentations of new recordings or shows, not  only of flamenco, but also mixed with jazz, pop and rock music.  Venues such as Café Berlín, Galileo Galilei and Clamores often present flamenco concerts on a regular basis.  This information is normally included in our Madrid flamenco agenda.  Here, flamenco is shown in a different atmosphere, unlike the typical tablao format, but rather like a concert hall of reduced dimensions with an intimate atmosphere.  It's typical to find a wide variety of music performances of pop flamenco and jazz flamenco that have a growing presence in Madrid venues.
Another type of more intimate performances in a reduced format are often found in the capital, notably at the Sala García Lorca (all performances are listed in the agenda) which offers recitals of classic flamenco on the weekend, in this case, "unplugged", with no amplification, certainly the best way to experience flamenco, with performances Thursday, Friday and Saturday, aimed at members and regular flamenco fans, very difficult to get access to although some performances are open to non-members, and it's not easy to get information about the program, thereby complicating attendance.  Noteworthy is the program of the Círculo Flamenco de Madrid with events and performances on alternating Thursdays at OFF Latina.  Other associations and clubs also offer recitals in Madrid such as the Peña Paco del Pozo, la Peña Duende…  Noteworthy is the series offered by flamenco pianist Pablo Rubén Maldonado, always accompanied by fine singers and dancers, known as "Flamenco en el Backstage" , performances are Saturday at 9:30pm at the Amor de Dios center.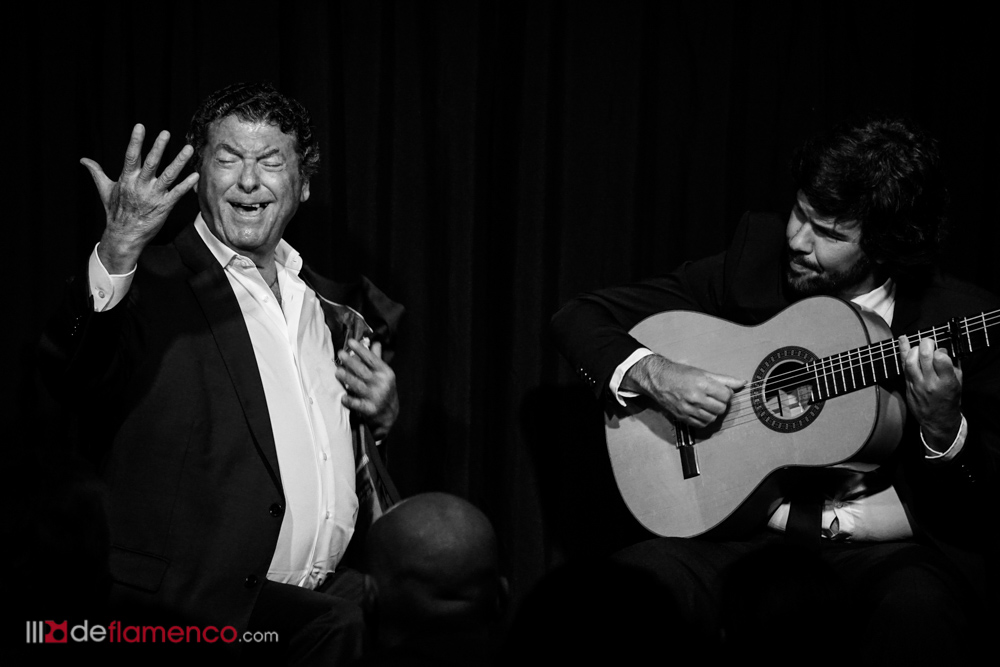 Drinks in a flamenco atmosphere.
If what you want is to have a few drinks but in a flamenco atmosphere, you'll find bars with flamenco music around the Santa Ana Plaza on Echegaray street.  El Burladero and the Callejón de Madrid are famous.  Another well-known place is El Candela, although it's no longer what it used to be, it's always a good idea to pass through and see what's going on…this is very close to Casa Patas in whose restaurant, around midnight, many flamenco performers, having finished work, leave the theaters and tablaos, ending up here where there is a unique ambience.
To dance "sevillanas", or see them danced, while enjoying a drink in the atmosphere of a typical local fair, there are places such as the Sala Almonte.  It can be a festive entertaining evening, you just have to understand what's being offered and not confuse it with flamenco.
---
SHALL WE HELP YOU DECIDE?
We'll help you avoid making the wrong decision, tell us what kind of flamenco you want to see, what days you're going to be in Madrid and we'll advise you about the various options in Madrid, whether in theaters or flamenco tablaos.
Write us at info@deflamenco.com indicating the number of people, what dates you're in Madrid and what you would like to find.  This is a free service incorporated in our web.  We'll answer with various possibilities and recommendations, and from there, you choose what you like.
If your group is large, we'll help you find the most appropriate place, according to your needs.  And if you're organizing an event and want a flamenco performance, we can suggest various possibilities.
---
SHALL WE ACCOMPANY YOU?
If you wish to enhance your flamenco experience, we'll help you find the best show, and accompany you to see it.  We'll serve as a guide, explaining questions relative to flamenco, the performers and geographical origin, we'll tell you about the various forms interpreted and clarify any doubts you might have.
We know nearly all the tablaos in Madrid and the artists performing in each, so you will have a complete and unique experience.  If you wish, we can also offer a flamenco tour of the capital before attending the performance.