Flamenco en los Balcones - Flamenco on Fire
Balcones de la Calle Mañueta, Plaza del Ayuntamiento y Hotel la Perla. September 24th to 29th,2016.

August 29, 2016
Text: Silvia Cruz Lapeña
Photos: Javi Fergo (Flamenco on Fire)
Twittear
Flamenco by day and from balconies
In Pamplona, where they're celebrating the third edition of Flamenco on Fire, the new people in charge of City Hall, EH Bildu, thought that staging concerts on balconies in the street would be a good way to bring flamenco to the street. It's not a new idea, in fact some people found it rather old-hat since in Cádiz, where for years they'd offered flamenco from balconies, it was decided that the balconies were too high up and too presumptuous, and the event was transferred to plazas.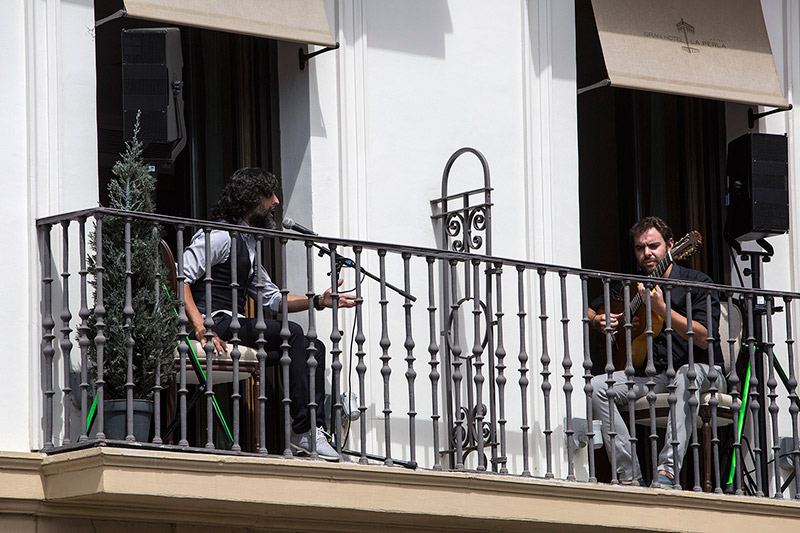 We're in August, this is Pamplina, and the sun is brutal. And flamenco in the streets is not only from balconies, but in the daytime, something passers-by love, coming across Arcángel o Dani de Morón on the way to market o having their pre-lunch aperitif on a terrace. For the performer, the surprise is somewhat different, after sleeping through the night, with vocal chords still dormant (or that, or without having rested at all), and the morning is not the best time of day for deep song. Pepe Luis Carmona, for example, on Saturday, was moving and beautiful in the vidalita, but not so hot with soleá. He sang accompanied by Carlos de la Jacoba who has an astonishing sound. To see him on the balcony of Mañueta street, even shopgirls came out and braved the sun to enjoy and cheer on the gypsies who were making music just a few meters from the house where Sabicas was born.

After that, it was Guadiana's turn from City Hall's balcony with Jeronimo, and the Extremaduran singer belted it out and wiped his sweat at least as often as he changed songs. He was strong, but one lady, from the next balcony over, came out to slam her shutters closed. The municipal government wasn't thinking of her when they decided to offer free flamenco in the street to bring it to the locals and put an end to the prejudice against this music. Nor did they take the bells into account, marking the hours regardless if anyone was trying to sing bulerías. Down on the ground however, people were so enthralled, some were asking for silence in order to hear the singer's voice. In a plaza!

To sing and listen to flamenco from a balcony has its positive points. One, for voyeurs, dreamers and aesthetes, is that the balcony frames the singer, and although Alba Molina and Joselito Acedo would surely have appreciated having an awning at the Hotel La Perla to shield them from the sun, they made a pretty picture, worthy of the Prado Museum. More than a duo, they were like a flyer, a painting, that of a man and a woman interpreting Lole and Manuel's "Romero Verde" at the same hotel where Hemingway dreamt of taking his life.