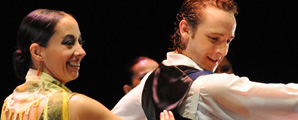 XIII FESTIVAL DE JEREZ 2009
CARLOS CARBONELL Y ANA ARROYO "Acompasa2"
HOMENAJE A MARIO MAYA 
Saturday, 14th march, 2009. Jerez de la Frontera
Special XIII Festival de Jerez 2009. All the information
Photos: Ana Palma Photo gallery
CARLOS CARBONELL Y ANA ARROYO "Acompasa2"
Sala La Compañía.Ciclo Los Novísimos – 7:00pm
Dance: Carlos Carbonell; Guest artist: Ana Arroyo; Cante: Manuel Soto, Juanillorro, Fabiola Pérez; Piano: Rosario Montoya "La Reina Gitana"; Guitar: Miguel Ramos, "Niño Manuel"; Percussion: Chico Cabrales.
Text: Manuel Moraga
Eight musicians crammed onto the small stage (one of them with piano), backed up the dancing of Carlos Carbonell and Ana Arroyo.  These are dancers strive to find beauty, not in strength, but in sensitivity, especially with their arms and hands.  Ana Arroyo shows excellent command of technique, and great coherence with the musical message.  Carlos tries hard to compose and maintain his classic flamenco dancer's look, his shirt tucked in, vest, hands gripping the vest… In other words, a taste for classic flamenco, but with updated ideas.
| | |
| --- | --- |
| | |
Logically the music had an underlying flamenco feel, but open to other influences, which allows for greater choreographic freedom for the interpreters.  One of the most original moments was Ana Arroyo dancing to the sound and silence of the cajón.  Well-employed silence can radiate interesting psychological action. Ana Arroyo is a very sensual dancer. Carlos Carbonell has a straight line, upright back, and his hands and arms sculpt the air gracefully.  Add to this good cante (especially soleá and siguiriya), and the also sensual piano of the Reina Gitana.  The only small problem was the feet could not be heard well.  All the same, the Sala la Compañía closed out this year's series leaving a good impression.
HOMENAJE A MARIO MAYA
Teatro Villamarta, 9:00pm
Dancers: Ángel Atienza, Manuel Betanzos, Manuel Liñán, Diego Llori, Juan Andrés Maya, Marco Vargas, Juan Manuel Zurano, Isabel Bayón, Patricia Guerrero, Belén Maya, Manuela Reyes, Miriam Sánchez.
Cante: Antonio Campos, Jesús Corbacho, Manuel de Paula, Alfredo Tejada.
Guitar: Juan Requena, José Luís Rodríguez, Jesús Torres.
Artistic director: Belén Maya
Staging: Miguel Serrano.
Text: Manuel Moraga
A festival devoted to Spanish dance and flamenco couldn't fail to find room in its program to pay tribute to Mario Maya. A tribute paid most of all by the artists themselves, moved only by the affection and admiration for this genius of dance.  They carved out time they didn't really have, and put their work and art on stage.  What a treat to see all those dancers, each one of them worthy of being in the Villamarta theater on their own.  That is one of the many legacies left by the maestro: recognition of his school of dance.
| | |
| --- | --- |
| | |
Ten choreographies were selected by Belén Maya for the occasion. Ten works from different creative moments which when seen from the current perspective, have not suffered the passage of time because Mario Maya's theoretical approach has never gone out of fashion.  The stage drama, the sobriety (it's amazing how much can be expressed with sobriety!), the grace, the intensity, the rejection of all excesses and platitudes, his obsession with dramatic continuity and with not repeating things, the precision, the search for rhythm within cadences, updated classicism…  One great lesson in choreography.
In the ten pieces the creator's concepts were completely respected, and even the original wardrobe was used.  It was also moving to once again see Manuel de Paula who lived many years with Mario Maya and participated in some of the maestro's most representative work.
It's difficult to highlight any one thing, but we can't fail to mention the siguiriya interpreted with tremendous feeling by Belén Maya who was sensational. Seldom have we seen her with such strength, being an artist more inclined to seek out sensitivity.  Belén does whatever she wants with her body, she is pure dance.  And even moreso dancing something which has so much meaning for her. And what can we say of Manuel Liñán who did a fine job of Mario Maya's alegrías: not only technical difficulty, but the whole concept. Or Manuel Betanzos with the famous trilla from "Camelamos naquerar"… or the immense Diego Llori with a mature Juan Andrés Maya in "Diálogo del Amargo". Or Isabel Bayón with Jaleos… Or the classic choreography of the "3 sillas" with Ángel Atienza, Marco Vargas and Juan Manuel Zurano. Or the corps de ballet in "5 toreros"… You can't single anything out when everything was so well-done.
In some ways, this tribute brings three interesting symbols together: recognition of the maestro's importance, mourning his absense as represented in the siguiriya, and the creator's own death in the death of Amargo.
I sincerely believe this tribute to Mario Maya is a work that should go on tour.  The Agencia Andaluza para el Desarrollo del Flamenco, which produced the show, put up the basic cost, but the project could be taken more seriously, receive more funding and be offered to programmers throughout the world.  Success is guaranteed.
And thus ends this edition of the Festival de Jerez, with the audience deeply moved, giving a standing ovation, remembering the work and genius of a unique creator: Mario Maya.
Special XIII Festival de Jerez 2009. All the information
---