"Inmanencia" - Javier Barón, Alberto Sellés, Rafael Campallo. La Bienal
Inmanencia. Dance: Javier Barón, Rafael Campallo, Alberto Sellés. Guitar: Miguel Pérez, Manuel de la Luz. Voice: Jeromo Segura, Javier Rivera. Rhythm: Roberto Jaén, José Luis Pérez-Vera. Artistic and stage director: Javier Barón
Music director: Faustino Núñez. Teatro Lope de Vega. Tuesday, September 20th
September 22, 2016
Sara Arguijo
Photos: Oscar Romero / La Bienal
Twittear
Ovation for a trio of winners
A theater, an audience, lights (by Dominique You) and let the dancing begin. In "Inmanencia", Javier Barón, Rafael Campallo and Alberto Sellés, without a doubt, three figures representative of the present and future, needed no gimmicks, because what they had come to offer was precisely that. Dancing that's stuck to their stomachs and eyelashes.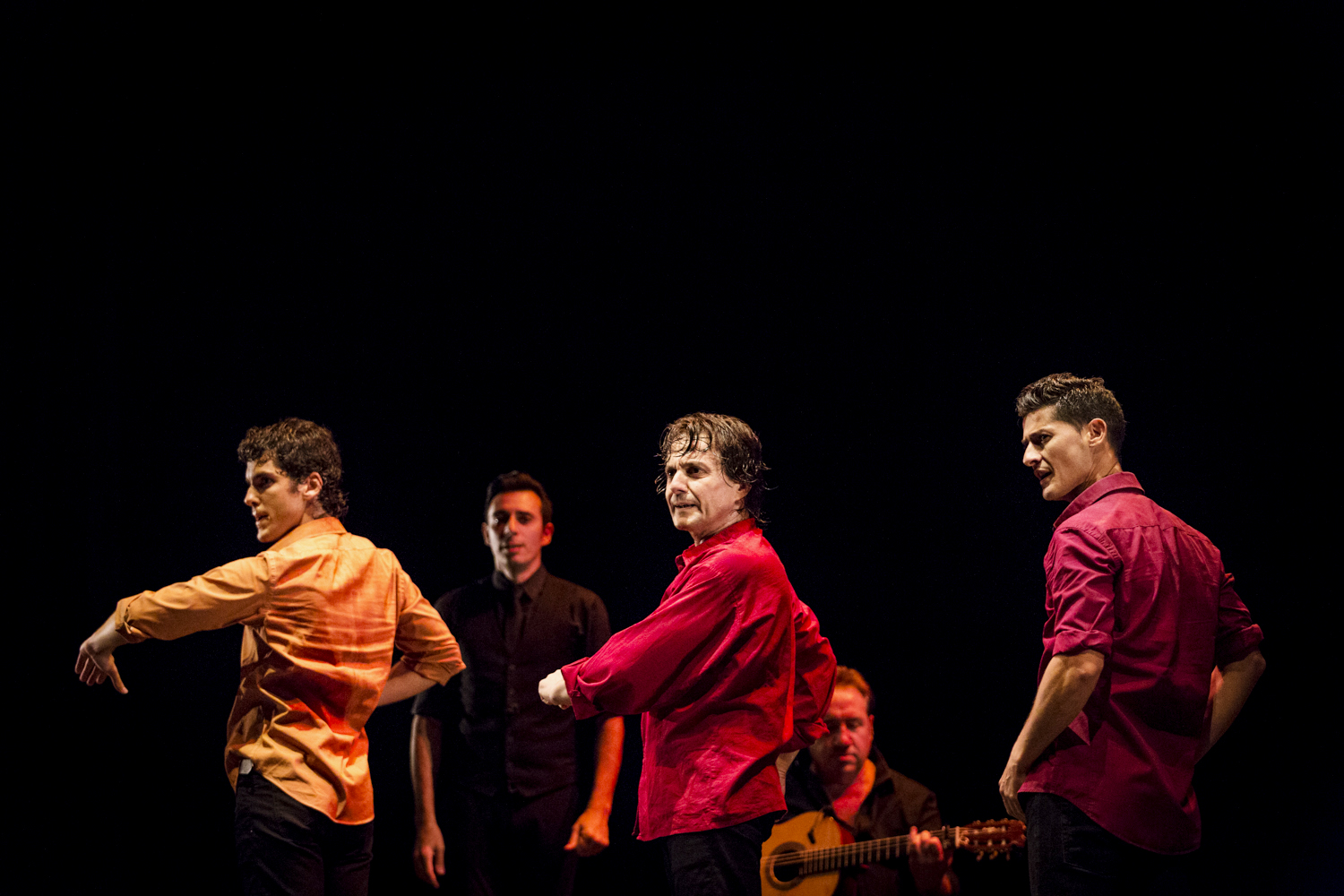 With sobriety and simplicity as premises, the three grabbed spectators with nothing more than the flamenco they live by, and their desire to make their greatness felt. Well..that, and excellent musical accompaniment (voice, guitar and rhythm), where there was no room for shoddiness. Fantastic, especially when everything makes sense.

In this atmosphere, the curtain went up on the elegant art of Sellés, the masterful command of Barón, the freshness of Campallo, and then the coming together of the three in perfect communication. In the end, they are united by their defense of classic flamenco dancing that has roots and history. A masculine, passionate dance style full of emotion, in which you have to do footwork, but also make use of hips, arms, heart and head.

Sellés, first dancer of the Ballet Flamenco de Andalucía, chose petenera to deliver his strength. Rotund dancing and precision. He is capable of making the ground shake with his feet, but most of all, this young man communicates endless self-assurance.

Rafael Campallo, for his part, danced siguiriyas with great personality, balance and the ability to hold back. It is certainly a pleasure to see this dancer move, triggering applause with each gesture, he was the outstanding perform of the night. His detailed dancing cannot be understood without agitation. Which is why he gets to you. Because the delicacy of each of his movements is a provocation. Because he entertains.

Barón chose soleá por bulería to lay out his command. His elegance, naturalness and concept. The way of using his arms and laying down the law with his feet. Although particularly good was the interaction Barón carried out with the younger dancers in a sort of good-natured competition (that ended in a high five) between generations. Without a doubt, in the tangos with Campallo we felt the same sweetness as in the first bite of a fresh doughnut. Seville-style sensuality! The same could be said about the nearly carnavalesque quality of the bulerías, lead by Roberto Jaén, wonderful in everything he does, along with Sellés.

Overall, a beautiful show to be recommended to anyone, flamenco fan or not, who enjoys the good things in life. And of course there was an ovation for this outstanding threesome.