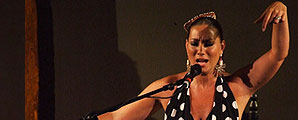 Los Veranos del Corral 2010
First week- July 19-22, 2010
Marina Heredia/Rafael Riqueni
El Farru
 Nene de Santa Fe/Alba Heredia
 Orquesta Chekara/Ángeles Gabaldón
Text and photos: Antonio Konde
In times of recession as we are now going through, it's not easy to program a series of flamenco shows that brings together top-flight flamenco stars.  In Granada there is the aggravating factor that the city doesn't have a major festival as have Seville, Madrid or Barcelona.  The closest thing is the Muestra Andaluza de Flamenco programmed each year at the Corral del Carbón, the well-known venue in the city center which has particular charm for this type of activity.  Flamenco fans can't afford to pass up this program that goes on throughout the summer.  A program made up of three weeks of singing, dancing and guitar-playing.
One look at this year's program shows the series has nothing to envy of other more prestigious festivals, despite the reduction of one week as a result of the economic situation.
This twelfth edition got off to a fine start, with a local performer, a gypsy woman from the Albaicín who made good.  Years ago she stopped being a young hopeful and ascended to the highest rung of the profession.  It was an opening show full of surprises.  We already know her faithful guitarists, Bola and Luís Mariano, Diego del Morao on occasion, but she wanted to surprise us with a top-notch Seville guitarist.  None other than Rafael Riqueni was at her side to enhance a thoroughly enjoyable program.  A friendly facing-off between voice and guitar, the yin and the yang of the best flamenco.  Marina opened with siguiriyas, confident if a bit cold at the outset, but soon finding her way and letting the good cante flow.  She chose a classic repertoire of verses and styles for alegrías, the perfect blend of poetry made music.  She evoked Cádiz and Jerez in a very even-handed soleá before moving on to minera and taranta of la Gabriela.  It was a fine moment when Riqueni executed a tango solo full of harmony and very creative in its composition.  The complicity and mutual admiration between the two artists was on display throughout the entire performance.  Granaína and media granaína, tangos of Granada and bulerías cuplé filled out the magical night which ended with an encore of fandangos del Albaicín as requested by the enthused audience.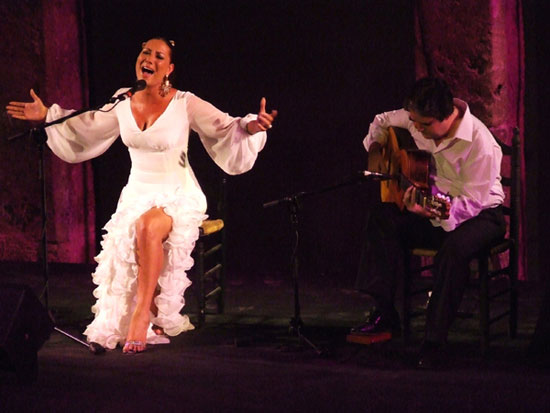 Marina Heredia & Rafael Riqueni
The following night there was a lot of excitement at the entrance.  When you see this you always know the person about to perform is either a mediatic personality or a great artist.  Or both.  Farruquito's younger brother was back at the Corral after several years absence, and stirring a great deal of expectation to judge from the mass of young girls crowded around the door.  Farru is a performer of extremes.  He is either well-liked, or not liked at all.  His temperamental, electrifying style of dance is his calling card.  He began with tangos, long and full of energetic cuts.  Antonio Rey, one of the guitarists, offered an imaginative and musically rich guitar solo.  The off-stage voice of Farruquito opened the soleá with poetry he himself had written, and the dancing of Polito, another member of the family.  The young man began in a restrained but crisp style, and upped the tempo and excitement to the point of excess.  Farru appeared on the scene to take over, showing off with each movement, each pose, with all the power that characterizes him, but sacrificing high art for easy applause.  The fiesta finale featured Polito and his cousin Barullo, barefoot, and young Carpeta leaving no doubt that the dynasty will continue for some time.  Rubio de Pruna carried the weight of the singing magnificently.
Farruco

El Polito
A double bill of cante and dance was featured on the third night.  Nene de Santa Fe is a different sort of singer.  He departs from the strictly classical line to delve into traditional flamenco, always looking for something new.  He began with tonás, followed by soléa, popular at first, with Triana airs in the development.  Snippets of mirabrás melt into milongas and return to mirabrás.  I'd never heard such a mix before, but it was a pleasant union of cantes.  The same could be said of the farruca that followed and which included campanilleros before returning to farruca.  Solea and siguiriyas were highly personalized and were his closing for this performance at the Corral.  The second part was given over to dance.  Last year we had seen her on this same stage and written our impressions at the time.  On this occasion she was brief.  Just a siguiriyas and soleá.  More than enough.  With the singing of Galli de Morón, the young Granada dancer just stuck to business and danced.  With all the strength and temperament that characterizes this family of artists, her angle was to let herself get carried away and dance just as she had always done in the caves of Sacromonte.
Alba Heredia

Nene de Santa Fé
And the icing on the cake to end the week was the Orquesta Chekara Flamenca.  The fusion of Andalusí music and flamenco was the basis for Ángeles Gabaldón in farruca, soleá por bulería and siguiriyas with castanets, bata de cola and mantón.  A blending of genres managed by great musicians who knew how to enhance both styles and make them one in tangos, tanguillos, farruca, fandangos in 4/4 time and even the "Tarara" for a closing fiesta.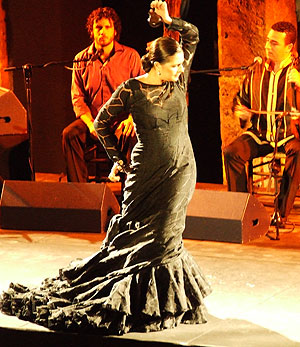 Ángeles Gabaldón
---