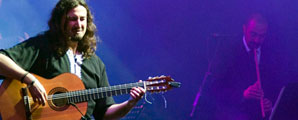 PIRINEOS SUR
19th FESTIVAL INTERNACIONAL DE LAS CULTURAS
July 2010

DESIERTOS JONDOS
Text: Rubén Gutiérrez
Photos: Pilar Hurtado/Marta Marco
The wealth of flamenco verses is well-known, but I've often wondered how they might influence the actual flamenco forms, in other words, where do flamenco singers find their inspiration.  One possible answer came in the last few days when I attended the nineteenth edition of the Festival Pirineos Sur.  Although devoted to the music of Latin American countries, reflecting the bicentennial of their independence from Spanish control, there has always been room for flamenco on the magnificent floating stage of the natural auditorium on Lake Lanuza.  With the Pyrenees as backdrop, many well-known names of this genre that is on its way to being declared a cultural heritage by the UNESCO, were able to bring flamenco to world music.  Nevertheless, the orthodoxy of previous years was substituted by various projects that fused flamenco with other forms.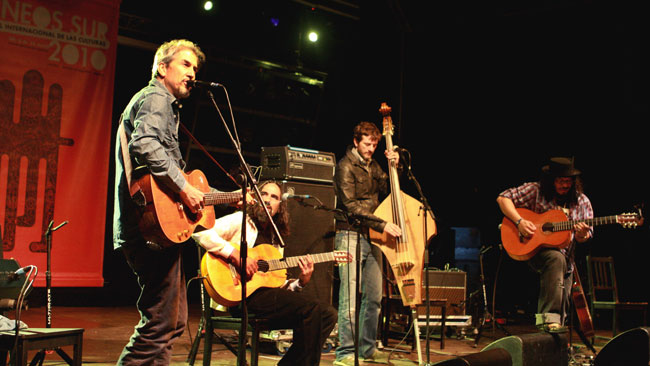 Howe Gelb & The Band of Gypsies con Raimundo Amador
In this sense, on the evening of July 15th we were able to enjoy the profound voice and subtle guitar-playing of Howe Gelb, one of the most honoured North Americans of recent times, who brings together blues and rock with sounds from the other side of the Arizona desert.  And it was precisely in this space where our man came into direct contact with flamenco music, thanks to a cassette recording of Tomatito he would listen to night after night.  When he got to Spain, he quickly felt the attraction of Granada, and it was soon suggested that he combine his music with flamenco rhythms and harmonies.  Another companion along the way was Raimundo Amador, also in love with blues and who never strayed far from his flamenco roots – he can just as soon play Afro-American music, as bulerías from Morón.  Backed up by The Band of Gypsies, made up of Fernando Vacas on the upright bass, Lin Cortés and Juan Panki on guitar and Añil Fernández on cajón, this guitar duel in the style of the old West resulted in the recorded work called "Alegrías".  This musical experience born in the desert, is in no way without worth, quite the contrary, it is full of melodic subtlety that may evoke a night in Córdoba or a gathering of bandits in search of musical booty from the other side of El Paso.  All enriched by the rhythms of flamenco, a brotherhood of blues and flamenco harmonies.
The following night, July 16th, brought a different concept, but one also born of the desert.  On this occasion it was the desert laid out at the feet of Marrakech.  Anyone who has been able to visit this area, specifically Essaouira, was able to appreciate the musical richness of Gnawa music with its powerful parallels with the art of flamenco.  In particular, the insistent percussion of the chakaras, metallic castanets, and the enveloping guembri, a primitive Berber laud which can also take the place of a bass and from which emanate fascinating harmonic cadences that carry us in a trance, and lead to an explosion of frenetic dancing.
Under the title of "Miradas Cruzadas", the organization of the festival Pirineos Sur, and the festival Boulevard de Casablanca co-produced this project headed by guitarist Alejandro Monserrat and the group Al Baida.  The musician from Zaragoza, with plenty of recording experience, and whom we hadn't known previously, carries the bulk of the show along with Mohamed Barry, plenty of lung-power on stage, and he also dances, plays the guembri and works the chakaras.
The production isn't based on the mere interpretation of flamenco pieces with Moroccan instruments, as is usually the case, but rather both musical concepts overlap, and all the musicians accompany each other in a variety of rhythmic motifs, alternating flamenco singing with Gnawa and Berber songs and recited texts, even some rap.  Although the basis is bulerías, rumba and tangos, there is also room for siguiriyas, as well as a wink to blues and reggae.  But I confess I would have liked to hear a complete piece sung by Israel Dual, because this gypsy from Aragon was only heard in a few choruses, alternating question and answer style with the voice of Mohammed Barry.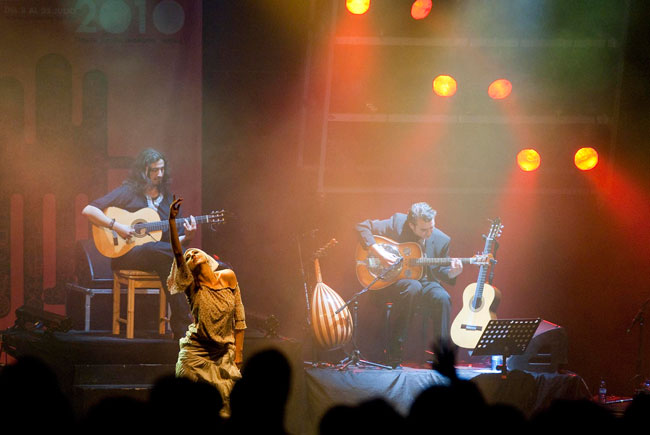 Alejandro Montserrat grupo
The group which is evenly distributed between Moroccans and Aragonese, is made up of Nacho Estévez (guitar, ud, dobro), Noelia Gracia (violin), Josué Barrés (percussion), Mohammed Yassine (oriental ney), Ali Aït (electric bass) and Ibrahim Terkemani (percussion).  There was also room for dance with Carlota Benedí, who managed to string together flamenco moves and steps with contemporary choreographies.  Without a doubt it was a good way to get warmed up on a cold Pyrenees evening, and the warmth of the desert showed it can be converted into an oasis from which great flamenco projects emerge.
---