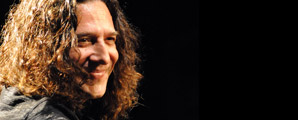 XIII FESTIVAL DE JEREZ 2009
Sara Salado, Eva Rubichi
Tomatito
Concha Vargas
Monday, 9th march 2009. Jerez de la Frontera
Special XIII Festival de Jerez 2009. All the information
Text: Estela Zatania / Photos: Ana Palma Photo gallery
Sara Salado, Eva Rubichi
Palacio de Villavicencio, 7:00pm
Text: Manuel Moraga
1st part: Cante: Sara Salado. Guitar: Alberto San Miguel
2nd part: Eva Rubichi. Guitar: Domingo Rubichi.
Two young women from Jerez with different concepts of cante, while still sounding very much from Jerez.  Sara Salado has a wide vocal range.  She sang Levante forms the way you'd expect someone from eastern Spain to be able to do, and she sang Jerez like someone from Jerez.  Her voice is powerful but pleasant, very flamenco, velvety and well-modulated.  Sometimes she overdoes the low tones and could achieve more drama if she would let loose more often, because she's good with that over-the-top Jerez style.  She drew on Terremoto for soleá por bulería, and emulated Paquera in the bulerías, her best moments.  It's unfortunate she had so little time and had to condense her repertoire.  We need to see her in longer formats, because she's an artist and a promising cantaora.
| | |
| --- | --- |
| | |
If there is such a thing as flamenco genes, Eva Rubichi must have a few running around inside her, because if you dig into the family, you could probably reach right back to the beginning of this art.  Not that that is any kind of guarantee, but in the case of Eva, something was coming through.  No sooner did she begin the preparation for the malagueña of Mellizo, than she had already earned the first shouts of approval.  Why?  Because emotion flows effortlessly from her.  Eva Rubichi doesn't have a strong voice, nor does she need one. She sang calmly, wisely, allowing room for feelings and forgetting about certain complexities that seem to be the norm in cante recently.  She sang everything with great taste, from the fandango de Lucena to the Caracol bulerias to end, passing through soleá por bulería and siguiriyas.  Domingo Rubichi on guitar was excellent.  Good flamenco yesterday at the Villavicencio.
Tomatito
Bodega Los Apóstoles, 9:00pm
Guitarra: Tomatito. 2ª Guitarra: Cristóbal Santiago. Cante: Morenito de Íllora, Simon Román. Violín: Bernardo Parrilla. Palmas y baile: José Maya. Cajón: Lucky Losada.
Text: Manuel Moraga
José Fernández Torres, "Tomatito" is a natural phenomenon, and he proved it once again at the Bodega Los Apóstoles.  I think it was one of the best concerts of his we've seen.  On other occasions, perhaps too surrounded by instruments, he hasn't seemed so warm, so close and relaxed as last night.  He started off with alegrías, which helped him loosen up his hands. Many times we've seen him begin with taranta, alone, where the slightest technical slip acquires dimension and works against the artist trying to command attention on stage.  With the alegrías, backed up by his musicians, Tomatito immediately grew and made clear what his strong point is: a lively, jubilant, powerful guitar.
| | |
| --- | --- |
| | |
Then came the pure Tomate taranta, a mixture of nerve and sensitivity that, even being a serious stye, revealed the vital happiness in this interpreter's hands, his faith in life… Oddly enough, his taranta doesn't invoke defeatism, but serene optimism.  Taranta is most certainly one of his best forms…although when you think about it, what forms aren't his best?  Isn't his bulería wonderful?  And tangos?  Soleá?  The thing is, Tomatito has such a personal way of playing, that everything he does bears his identity, in other words, there's a Tomatito stamp in his mind, in his heart and in his hands.
Last night he recalled some past work..  And that's when the good stuff began to flow, the counterpoint, the thumb, the forceful strums and intent..  You can't sit still listening to that guitar.  It draws you in again and again. No way to sound more flamenco.  And not only that, but you get it the first time around: there are plenty of guitarists who base their compositions on brainy constructions and complex tonalities that keep you alert if only so as not to lose the thread of the piece.  The result may be pretty, but more often than not, it's not very flamenco.  In the case of Tomatito, tension arrives on its own, all you have to do is let yourself be carried away by that dry sound.  "Dry" in the sense of a glass of dry sherry, never cloying, direct, full of bouquet, expression, rhythm, intuition….flamenco.
Also noteworthy was Morenito de Íllora, quite a pleasure to hear him again, and Bernardo Parrilla, the most flamenco violin in the world, and the great José Maya from Madrid, whose dancing connects perfectly with Tomatito's guitar.  He knows how to stop, how to dance, how to be exciting and make the most of his resources, those arms, those hands, and how to create his style.  As occurs with most dance hopefuls from Madrid, he does astonishing things with his feet.  In my opinion, it doesn't add much to the overall performance, but audiences love it and are generous with their applause.
Concha Vargas
Sala la Compañía, 12 midnight
Dance: Concha Vargas. Cante: Rubio de Pruna, Manuel Tañé, María Peña, Carmen Vargas. Guitar: Paco Fernández, Curro Vargas.
Text: Estela Zatania
It was like waking up from a dream.  After 12 days, more than 30 shows of every sort of flamenco, with varying qualities of music, script, lighting, choreography, stage-directing and interpretation, everything polished and super rehearsed, you get to the Sala la Compañía Tuesday night, and there are long confused dark moments between numbers, you hear strange voices though a microphone, there are very serious problems with the wardrobe…  Suddenly you're at home with friends, and some of them are singing, dancing and playing the guitar.
The invisible force-field that normally separates audience from performers had broken down, and after the initial shock, the communication that resulted from the unexpected intimacy, was an added dimension felt by all those present, to judge from the general reaction.
Concha Vargas, veteran dancer from Lebrija, has little interest in the details associated with a theatrical presentation. In fact, at the press conference the day before she emphasized that she had no idea how things were going to come out, because she doesn't plan anything.  On the one hand, you have to admire the professionals who've filed through the festival so far, and have managed to pull off ambitious works without any obvious snags.  But isn't it somehow a copout when everything is perfectly pre-planned with such precision, and there's no room for inspiration or the heat of the moment?
Concha came prepared to hold nothing back, and in the opening soleá, she was already in the fast lane.  Some crude moments are compensated by other worthwhile ones. If current stars don't risk so much as an eyelash, this woman risks everything and then some; the forms of flamenco exist for this kind of abandon, but not all performers have the self-confidence or knowledge to bare themselves this way.
The splendid guitarist Paco Fernández, the dancer's nephew, played and sang an odd piece, and spoke afterwards to the audience, reinforcing the feeling of being at home with the family.
The group of singers was varied and excellent: the bitter-sweet sound of María Peña, the ancestral echo of Rubio de Pruna, the broken voice of Manuel Tañé and the innocent wisdom of Carmen Vargas.
Alegrías with many original details in Rubio's singing, the hypnotic drone of Lebrija compas, and it all came to an end with Concha's moving bow, as she simultaneously cried and apologized for the many problems, and the audience was standing, overcome with emotion, because despite everything, the duendes had decided to make an appearance after all, and the Festival de Jerez had afforded a glimpse at the more intimate side of this thing called flamenco.
Special XIII Festival de Jerez 2009. All the information
---