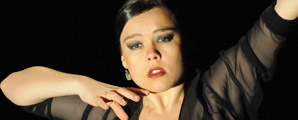 XIII FESTIVAL DE JEREZ 2009
David Pérez "Flamencos"
Rocío Molina "Oro viejo"
José Luís Rodríguez "De mis manos"
Saturday, March 7th, 2009. Jerez de la Frontera
Special XIII Festival de Jerez 2009. All the information
Text: Estela Zatania / Photos: Ana Palma Photo Gallery
David Pérez "Flamencos"
Sala la Compañía, 7:00pm
Dance: David Pérez.  Cante: Miguel Ortega, Moi de Morón, Inmaculada Rivero. Guitar: Miguel Pérez.
At the Sala la Compañía, the venue reserved by the Festival de Jerez for experimental or simple different shows, or artists who have not yet made their name, another young dancer was given the chance to show what he had to offer.
At 26, David Pérez, winner of first prize in dance from the Festival de La Unión, has not felt the pressure of his generation.  Apart from the inevitable Farruquito outbursts, the essence of his perspective takes its references from the theatrical era of a half-century ago.  Incredible unexpected leaps in the style of Antonio or José Greco, dramatic postures, brusque head movements and accelerations make up the identity of a time whose heyday was in the nineteen-fifties of the last century.  And David dresses accordingly, with a short velvet jacket and ruffled shirt.  His siguiriya with cane also brings back memories.
A farruca to open, a form decidedly popular iin 2009, with the energetic singing of Miguel Ortega.  Then, a long and somewhat rambling taranto is followed by a cante solo of bulerías in the voice of Inmaculada Rivero, with nothing held back, "take it or leave it";  while she's not la Niña de los Peines, she sets an example with the level of her involvement and a no-nonsense style.
Once again we are plagued with the intolerable blackness…for alegrías no less.  I continue to defend the spectator's right to see the faces of the performers, and the mystery, if there is indeed any, can come from the music.
Rocío Molina "Oro viejo"
Teatro Villamarta, 9.00pm
Dance: Rocío Molina, Laura Rozalén, Moisés Navarro, David Coria. Cante: Rosario Guerrero "La Tremendita". Guitar: Paco Cruz, Rafael Rodríguez "Cabeza". Percussion: Sergio Martínez. Palmas: Bobote, Electrico. Choreography: Rocío Molina
Let's start right in talking about the guajira.  With an artist like Rocío Molina…  No, wait… She's unique, there isn't another quite "like" her.  The thing is, it's not possible to recount the work "Oro Viejo" the way you can recount others.  Rocío lives in a surreal world where time and age don't exist, there are no limitations or norms, everything is abstracted, there is fantasy and fun, lots of fun, but also symbolism and a profound dialogue…and it all comes in a small package of only 24, an age when many other girls her age are more concerned about social events and boutiques.
| | |
| --- | --- |
| | |
And from Málaga no less, an area whose flamenco identity became fragmented with the tourist boom of the nineteen sixties.  Perhaps that's why Rocío had to invent herself…and what an invention… Getting back to the guajira, because it's the most perfect, hermetic and self-sufficient piece of the work… The peaches and cream colored dress, the small fan hanging limply from her delicate fingers, beguiling innocence hiding turbulent emotion, flamenco oozing from each pore, and there isn't even any cante, but the wonderful guitar of Rafael Rodríguez is more than enough.
Two male dancers flesh out the show, not as the typical robotic fill-in, but with personalities of their own, and plenty of talent.  The bits of singing by Tremendita are more difficult to justify, the rumba "Ponme la Mano Aquí Catalina" puts us squarely in the times of Spain's civil war, which dovetails with the work's loose pretext: an abstract reflection on aging and the passage of time.  Other retro elements and audiovisual segments complete the message. "María de la O", the recorded voices of historic singers such as Periñaca, "La Falsa Monea", another oldie…  Rocío understands the power of familiar elements taken out of context.  The caña, in which she alternates with Laura Rozalén, the malagueña, the old man sitting on a bench…then, the old woman…small bowls of water…the stream of golden dust that falls from above onto Rocío at the end…  Some things work better than others, but the overwhelming talent and creativitiy of Rocío Molina are unflinching.  
José Luís Rodríguez "De mis manos"
Bodega los Apóstoles, 12 midnight
Guitar: José Luís Rodríguez. 2nd guitar: Antonio Detelli. Cante: Juan José Amador, Mercedes Cortés. Percussion: Antonio Montiel
The maestro from Huelva, José Luís Rodríguez, came to the Bodega de los Apóstoles with excellent backup, and the desire to offer his take on flamenco guitar.  Very few people showed up for the event, partly because the popular Tomasito was working in another part of the city at the same hour.  But José Luís gave it his best shot in a complete recital with two flamenco voices, those of Juan José Amador and Mercedes Cortés.
This guitarist one of the ones who best combines tradition and innovation in composition, in addition to having a very high technical level.  Free-style pieces, a guajira that morphed into bulerías, tangos, soleá with cante and taranto were some of the noteworthy moments of an excellent recital with too few people to enjoy it.
Special XIII Festival de Jerez 2009. All the information
---