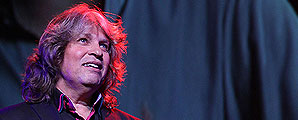 Tribute to Moraíto (II)
December 15th, 2011 – Arteria Coliseum – Madrid
Text: Pablo San Nicasio
Photos: Rafael Manjavacas
Tribute to Moraito (I) – review & photos
This time the second part was good
We were all braced for another overly long session, and we brought supplies.  But the second part was the good one, and it was painless.  Once again bulerías was the lubricant.  The prospect, in itself, continued to be attractive, and Morao certainly deserved one of these endless parties.  So we happily went down the Gran Vía with no thought about when we would be returning.
The evening got off to a good start.  Things began punctually with a partial showing of the documentary "El Cante Bueno, Duele" from our dear Dutch friends. The backdrop featured an image better suited to the occasion than the previous day's, and there was another atmosphere, less charged and artificial.  Morao had triumphed yet again and, like El Cid, he conquers cities and keeps them on their toes for days.  Manuel floats on high without disturbing anything, just like when he played his guitar.
And artistically speaking, the second session was somewhat better than the previous one.  Right off the bat, Diego del Morao honored his family even more with his bulerías "Orate", a veritable wonder of compás, technique and flavor.  Beyond any doubt, we have before us a genius of bulerías, nothing new for this family. see video
José Mercé was especially wound up, and gave a more than interesting interpretation of soleá and bulerías, possibly the most flamenco thing he's done in the capital in recent years.
Pitingo came on stage with more bulerías (Diego del Morao continued without a breather), and a song from his new, and nothing to do with flamenco record, "Malecón Street".
Then came the earthquake.  If the previous day it had been El Torta, Thursday's commotion was presided over by the lady Montse Cortés.  Although injured, and barely able to walk, she took the stage and took over the place with five minutes of fiesta singing.  In these two days there were many varied performances.  There were bulerías to pick and choose from, and get lost in the endeavor.  But between everything, you can be sure the pinnacle was reached with this Catalonian woman.
That fateful day in August, one of the guitarists who most expressed his admiration for Manuel, was Tomatito.  The man from Almería offered two pieces: "Two Much Love Theme", and the version of his Dulce Manantial, recently renamed Bulerías de Gata.  Accompanied by his son Cristóbal Santiago, Tomatito wasn't about to miss a fiesta in which, perhaps (and we won't keep rubbing it in), there should have been many more guitar greats.  You can't expect guitar to be appreciated without first putting our own house in order when one of the best takes his leave.
Another one who was up to the task was Pepe Habichuela.  He was the only one in the two-day tribute to come out on stage completely alone, without so much as palmas.  His soleá was worth a thousand, and his swing, another thousand.  We all knew this was the true "Tío Pepe".  Just like the Moraos, with their own brand name.
Josemi Carmona came on after his father with the rumba Tangroove, and passed the bulería test with Dos Puñales, a kind of music which, without a doubt, is like nothing anyone else does. 
It would have been a blast if our friend Moneo had repeated the previous day's performance.  But artists are like that, and when they're looking the bull in the face, they may not always have their ideas clear.  In impeccable white, Juan Moneo repeated his bulerías, but quite a bit more affected and histrionic than the day before, completely different.
Who really took flight was Fernando de la Morena with bulerías much better resolved than on the previous day when his voice was overcome with emotion and his throat tightened.  Both sides of a coin that can only be minted in the land of flamenco art.
The final stretch of the Morao marathon featured Carmen Linares, ladylike as always, who sang her Niño Yuntero, and cantiñas along with her Salvi.
Navajita Plateá was the pop offering of the night, and Diego el Cigala again did bulerías, and "Jerez and a half" as Gomaespuma said, closed out.
Overall, the level was high, Madrid became a stalwart of great cante and due homage was paid to the guitar as represented by one man: Morao. 
---