Text: Estela Zatania

Saturday, 23 january, 2016. 8.00pm. Teatro Bernadette Lafont, Nimes (France)
Miguel Poveda closes the Festival de Nimes
Cante: Miguel Poveda. Guitar: Dani Casares. Percussion: Paquito González. Cante and rhythm: Miguel Ángel Soto "Londro".  Palmas: Carlos Grilo, Diego Montoya.

Yesterday, Saturday, the Nimes Flamenco Festival reached its final performance after 8 days of emotion, surprises and a splendid atmosphere of camaraderie that makes this one of the most important events of its kind.
One last talk, "Toros, Flamenco y Olé! (Acte V)"  by Jacques Durand and Jacques Maigne, closed the conference series.  At 5 o'clock in the afternoon, like the bullfighters, young singer José Ángel Carmona, whom we've seen singing for some of the top dance groups, gave the last acoustic recital at the Institut Emmanuel d'Alzon.  With no guitarist, and the sole accompaniment of his own mandola, or lute, and the discreet percussion of Agustín Diassera, Carmona bravely cut the silence of the venue with his strong voice.  He is clearly studious and inquisitive, and has a delightful sound reminiscent of Caracol.  His somewhat unconventional repertoire, had an oriental sound thanks to the mandola.  Pregon and soleá, mining cante with bulería, fandangos, cantiñas, tango azambrado, malagueña and abandolao, bulerías reminiscent of Lebrijano…  The singer got the place rocking just with his rhythm, his love of flamenco and his expressive voice.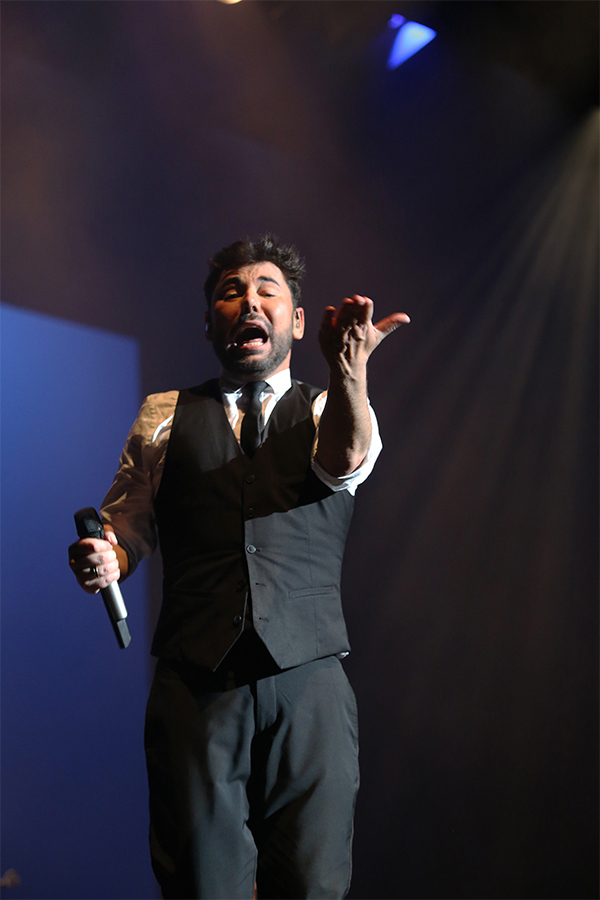 At 8 in the evening, Mr. Miguel Poveda came to the theater once again to delight people with his art and his communicative power.  The singer hadn't appeared in the festival since 2010, the event's twentieth anniversary.  It's important to avoid feeling a lump in the throat recalling that our much-admired Moraíto accompanied him on that occasion.
Poveda's appearance on stage is received with a thunderous ovation.  His star quality is such, he doesn't even have to sing, people just love and admire him for being himself.
On this occasion, it was a somewhat more informal recital.  Some elements of the repertoire remain essentially unchanged:  with malagueña and abandolao followed by cantiñas, the audience is already his, the rapport is perfect, and Miguel takes advantage to express his sincere solidarity with the victims of terrorism.
A new member of Miguel Poveda's circle is the guitarist from Estepona, Daniel Casares.  With a solid career as concert guitarist, he is an accomplished professional whose guitar solo was a big hit with the Nimes audience.  Following this, Poveda interpreted siguiriya and cabal before delving into an assortment of tangos, and some light-hearted dance moves to tangos de Triana.  A versatile and generous artist, sincere and free of hang-ups, a stage animal in the most literal sense.  He talks about the destruction of Triana and its flamenco ambiance, and offers "a little tribute to Lole and Manuel".   "El sol joven y fuerte…"  sends us straight back to the 1970s, the peak of fame of the legendary duo.
Miguel's customary protest of the 21% tax on live shows in Spain, leads to nearly a half-hour of light-hearted chit-chat with the audience… anecdotes, references to the rivalry between Jerez and Cádiz… But Poveda's instincts bring him back to flamenco with a drawn-out fiesta finale in which everyone participates, including singer and palmero "Londro", palmeros Carlos Grilo and Diego Montoya, and percussionist Paquito González.
A spectacular ending for an event that deserves no less.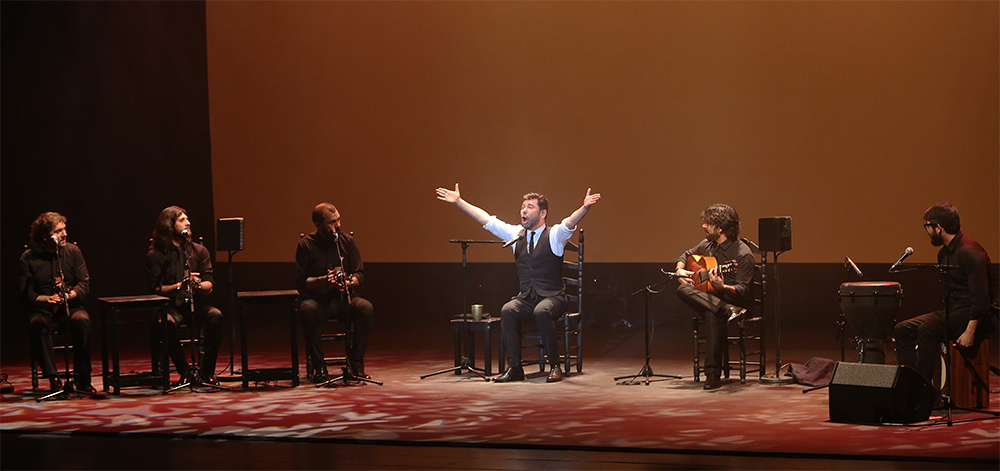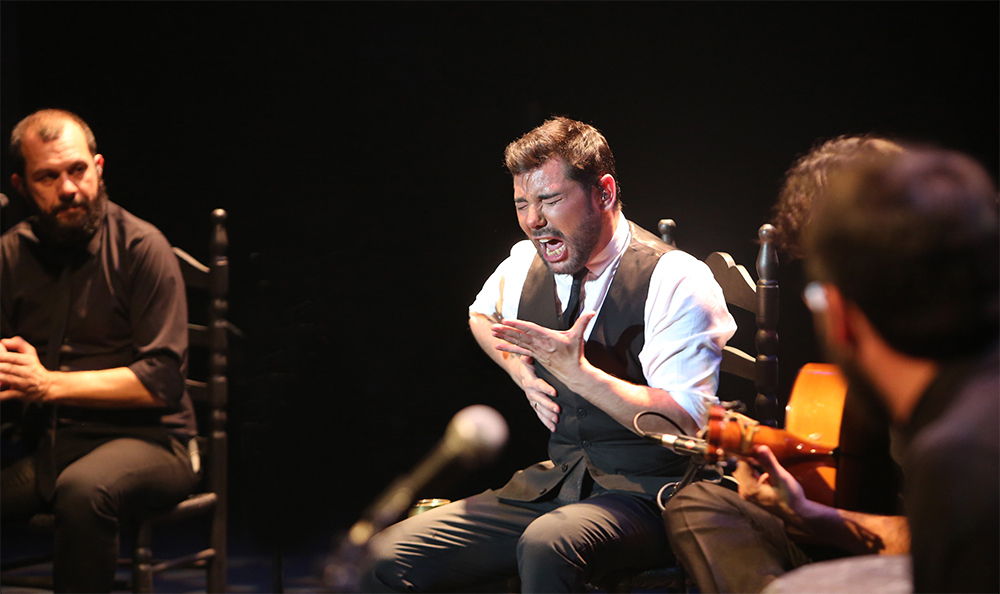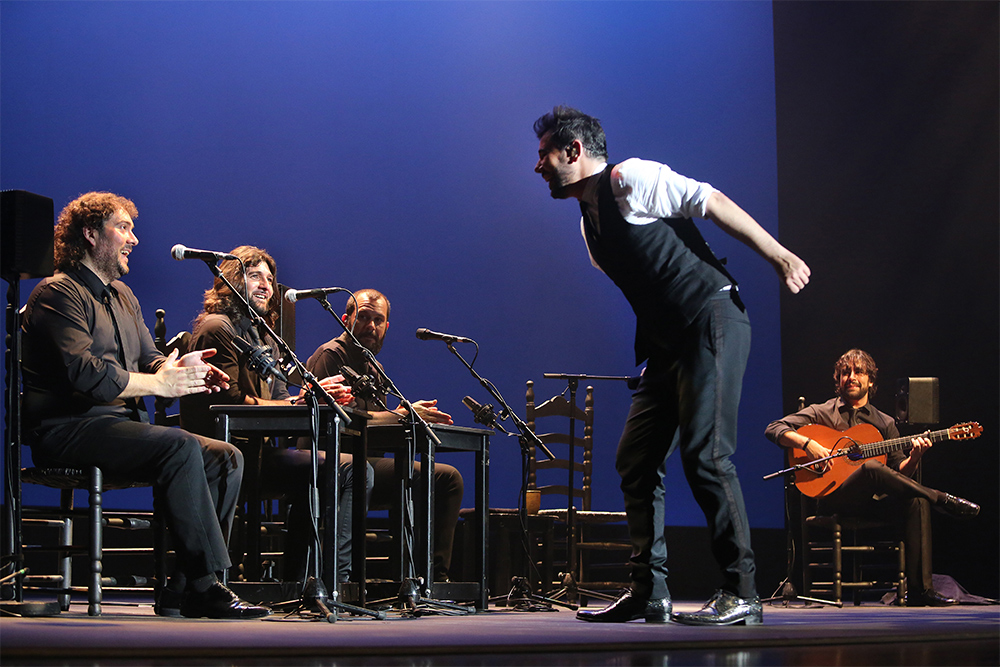 ---