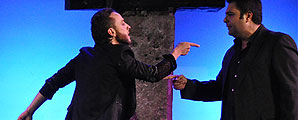 Ciclo 'Los veranos del Corral'
Javier Latorre, Fuensanta La Moneta, Antonio Campos, Pablo Suárez, Manuel Liñán, Moisés Navarro, Carmen La Talegona
1st week – July 23rd to 26th, 2012 – Corral del Carbón – Granada
Text and photos:  Antonio Conde
I was going over the reviews that have been published in Deflamenco about "Los Veranos del Corral".  In each article I've commented at the beginning about the economic situation, pointing out that fortunately its effect had not been felt in the summer series of shows.  This year however, it all came to a head.  Not in the quality of the artists, because each year the roster of names is better and better.  But the box office had a hard time, and despite the first week's great bill of participants, no night managed a full house.  Many problems have befallen this country's culture, and although this is not the place to go into detail, the harm being done to flamenco in the form of higher consumer taxes and the curtailment of public sponsorship is noteworthy.
Putting these things aside, the Corral's programming continues to be right on.  The organization not only places its bets on young hopefuls, but also seeks out great artists to complete the artistic offering.  Moments before the start of the show, in tribute to singer Enrique Morente, the second book published by Boronia about the artist was presented.
| | |
| --- | --- |
| | |
Choreographer Javier Latorre was in charge of opening.  It's becoming more and more difficult to see him on stage, and more so as the main figure.  Latorre is a classic from the word go.  In his dancing you can see most of the young dancers of the flamenco scene.  He began with tonás with the singing of Galli and Miguel Lavi, one better than the other.  This dancer needs no flourishes to show who he is.  Latorre is flamenco even in his glance.  He possesses a gift based on the concept of classicism raised to the avant-garde, and unites both aesthetics, crossing back and forth between them with ease.  In taranto, each shoulder movement had something to say, each sound of his feet, in alegrías he received recognition from his singer.  Young guitarists Gabriel Expósito and Luis Medina gave substance to the group.  Special guest artist was an exceptional Granada dancer, probably the best of the moment from this city.  Siguiriyas, soleá por bulerías and a stock ending with the choreographer.  Moneta has her own peculiar gestures, she dances with her facial expressions, generates tension with each closing and seeks herself out with each movement.
| | |
| --- | --- |
| | |
With that hard act to follow, Moisés Navarro came on with singers Moi de Morón and El Pulga, and guitarists Paco Iglesias and Rubén Romero.  His dancing is nothing new for the audience.  He has a great facility for passing from absolute stillness to over-the-top histrionics.  But when he overdoes it, it becomes repetitive.  The talent he has in his feet is only useful if he doesn't ignore the rest.  The collaboration of Angelita Montoya helped conceal certain defects the dancer had in tangos and soleá.
| | |
| --- | --- |
| | |
The surprise of the week, and despite upcoming presentations, if not indeed the entire series, was Antonio Campos' debut.  His active mind has led him to create outstanding shows.  We saw him last year, and he made quite an impact.  It's hard to imagine he's managed to outdo himself again in such a short time.  With this debut, he not only demonstrated that he's head and shoulders above the rest, but his brilliance, good taste and knowledge afford him a privileged place in the new aesthetic of flamenco singers of recent years.  All he needed was Pablo Suárez on piano and Manuel Liñán's dance.  "Less is more" was indeed fulfilled.  A well-rounded work, no matter how you slice it.
| | |
| --- | --- |
| | |
"Como las olitas del mar" was the theme for a zambra that opened the evening touched with the electric blue of Antonio's voice.  Liñán took over with his dancing…he's avant-garde, and at certain moments is very close to the aesthetic of the Galván family, but just in the right amount which, added to his own style, becomes a superb collection of experimental moves.  Milonga to piano with Campos and Manuel.  With just the music of the dancer's feet, he's able to resolve musical transitions which really are not, or do not seem to be the central focus of the debut.  On his own, Pablo reinvents himself with some fabulous granaínas ending with the voice of Campos.  A tribute to José Heredia Maya in the form of verses recited in calé (garlochí oripandó).  The show winds to a finish with a piano solo, bamberas and bulerías for a textbook ending in good taste.  This is a show not to be missed.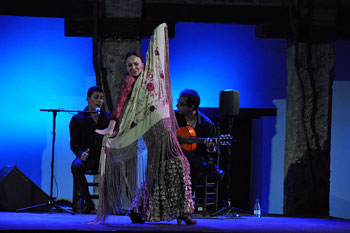 The last night of the week was for La Talegona.  This was her first time in the Corral, and she had many fine moments the audience knew how to appreciate.  The singers were Juañares and Roberto Lorente, and Paco Cruz was on guitar.   One thing I was very grateful for, her dances were not overly long, otherwise they lose intensity and end up becoming tiresome.  This was not the case, and her dance of granaína with mantón was just the right length, as was the farruca and the soleá.  She knows how to get past superficial technique to give a natural form to her dancing, no exaggeration, no empty moves.  She gets into herself and communicates with her body.  The show included zambra ("La Salvaora" in the voice of Lorente), fandangos (with touches of Caracol and Chocolate, courtesy of Juañares) and siguiriyas.
---