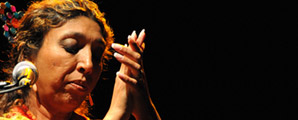 16 FESTIVAL FLAMENCO CIUTAT VELLA
Fefa Gómez
Mariangeles Fernández
Esperanza Fernández
Isabel Bayón
20th May
Centre de Cultura Contemporània de Barcelona (CCCB)

Text: Manuel Moraga
Photos: Ana Palma
Women
The program for May 21st at the Festival Flamenco Ciutat Vella, featured exclusively women, and three quarters of them, gypsy.  Women are necessary in life said Lluis Vidal of the Taller de Músics at the end of the night.  He was speaking from an existential point of view, but the logic could also be applied to the art of flamenco.  Last night, women showed just how much flamenco owes to them.
Let's take a look at the show in reverse chronological order.  Isabel Bayón closed out the evening.  And hoping not to sound repetitious, we have to point out that in one way or another, this dancer, like Rafaela Carrasco, follows the line of her maestro Mario Maya.  And it's not just idle nostalgia, because the forces of flamenco seem in general to be more centripetal than centrifugal.  Mario Maya showed, among other things, that the work of a good teacher is not to invest in his own glory, as has happened so many times, but to encourage the glory of the disciples.  This is the only way to explain how the avant-garde movement of current flamenco dance began with Belén Maya, then on to Israel Galván and Rafaela Carrasco and Isabel Bayón among so many others.
| | |
| --- | --- |
| | |
Having said that, Isabel Bayón came to Barcelona to offer the most classic version of herself, within what can be understood as classicism in her.  The show she called "Tan Sólo Flamenco" began with none other than Periñaca (yet another woman) with martinete.  Isabel soon displayed her movements of arms, shoulders, hands, and above all, wrists.  She is not a dancer of powerful bursts, but of sensitivity, of drawing fine lines in the air.  Her first main dance was siguiriya, and she began to loosen up.  Then farruca, very apt for the composition of poses, and she danced with a short black dress that lent naturalness and elegance.  Only the shoes detracted the overall look, a closed style that made her feet look big, and failed to harmonize with the rest of her body.  In any case, a classic but original farruca with a touch of glamour.
Isabel Bayón closed her performance with alegrías using a bata de cola, which is always welcome when used properly.  And Isabel knows how to use it.  She gave free rein to her sensuality, to the agile use of her arms and hands, and the musicality of her feet.  The coordination between music and dance, excellent.  The only drawback was the excessive length of the dances, which detracted from the intensity.  This often happens in dance.  In any case, it's always a pleasure to see Bayón, and she danced almost non-stop.  The musicians were exceptional, Jesús Torres and Paco Arriaga on guitar, Antonio Campo and Miguel Ortega, cante, and the percussion of Antonio Coronel.
Before Isabel, on the same stage, Esperanza Fernández displayed her talent.  In all fairness, all the musicians displayed their respective talents. José Manuel Ramos and Miguel Vargas who provided palmas, because one thing is to have compás, and another to enrich and enhance with handclaps.  And what can I say about Miguel Ángel Cortés and his amazing music.  Everything on stage adds and collaborates.  Nothing is attempted that hasn't been worked and rehearsed.  A question of being professional.  And there was Esperanza singing alegrías as a tribute to Triana.  Then she went on to lay out an assortment of soleá (mostly Alcalá) interpreting verses of José de la Tomasa.  At this point she was well warmed-up, a perfect moment for siguiriya, and she sought out other textures in her clean voice.  The ending was especially powerfull with Miguel Ángel Cortés magnificent.
Tangos de Triana, in which the guitarist took a detour to Granada.  These are tangos Esperanza works well, and she gives them a laidback yet tragic feeling that makes them all the more attractive.  And she ended with bulerias, singing and dancing.  Bulerias in different registers, from Jerez to Lebrija.  Without amplification, pulling out everything she had, Esperanza was wonderful and the audience was delighted.
The evening began with Fefa Gómez, who substituted for her brother Joaquín Gómez "El Duende", who was announced on the program.  Fefa began a little over the top, shouting alegrías.  She was probably nervous, but had time to calm down in the soleá, and with tangos she began to enjoy herself.  Her singing is both brave and beautiful, she stints on nothing, nothing is held back.  She leaves a good feeling and knows how to sing inward as well as outward.  In the final bulerías is where she was at her best, and the group right along with her, especially the magnificent Juan Ramón Caro who was great, both accompanying and in the solo work, as well as rhythmic tricks with the compás.  As mentioned, Fefa Gómez left a good taste, and we hope to see her more often in the future.
| | |
| --- | --- |
| | |
The session closed out with Mari Ángeles Fernández accompanied by Chicuelo.  She began with taranta.  One observation: I have the feeling the taranta verse she sang, the one that goes "Entre Chinchilla y Bonete…" contains an error.  As far as I know there is no "Puebla" in the province of Albacete.  It could be La Roda and Quintana, between Chinchilla and Bonete…"  End of observation.  So we were saying the singer began with taranta, and there doesn't seem to be any particular change in her delivery.  She has a fine palate, perfect tones, pretty cantes and the desire to communicate, but…may god forgive me, but I truly believe her voice doesn't get it all together into a flamenco aesthetic.  She lacks substance.
Four women to star this night in May.  Bulerías, soleá, taranta, siguiriya, farruca, alegrías…words with the feminine ending "a"…maybe just a coincidence…..
---