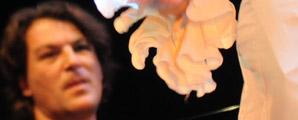 16 FESTIVAL FLAMENCO CIUTAT VELLA
Alba Carmona
Simón Román
José Miguel Cerro 'Chiqui'
Dorantes (con Pastora Galván y Joaquín Grilo)
22 May
Centre de Cultura Contemporània de Barcelona (CCCB)

Text: Manuel Moraga
Photos: Ana Palma
Balance and equilibrium
After enjoying a drink at the Jazz Sí Club in Barcelona, and visiting the interesting installations of the Taller de Músics, we headed for the fourth show of the Festival Flamenco Ciutat Vella.  The sky was threatening, but the evening turned out to be wonderful.  Even the honorable politician Pujol came to enjoy the variety of sensations being offered at the Patí de les Dones.  The future president of the government may take due note.
I honestly didn't know José Miguel Cerro "Chiqui", but after seeing him perform, I think it's only fair to devote a few lines to all those solid professionals of flamenco who move in the background of this art, a situation that often has nothing to do with their level of quality.  Just yesterday I was commenting to some friends, the unfairness of a situation that allows some young artists to triumph just because they have an illustrious family name (the "juniors" of flamenco), even though their artistic offering is not up to par.  By contrast, we all know well-seasoned professionals who have spent their lives in tablaos, peñas and dance companies, some who even have recordings on the market, and who still have not received any sort of compensation minimally worthy of what they have to offer.  And of course, this can also be applied to guitar and dance.  Let's hope some day this will change.
In this vein, José Miguel Cerro "Chiqui" is quite the professional flamenco artist.  He knows the job, and commands with his voice.  In fact, he is a teacher at the Taller de Músics.  With a lovely flamenco voice, he offered some interesting things, especially in tientos and tangos.  His repertoire also includes Spanish lyrical song as demonstrated in his version of "Carcelero, carcelero".  Then, some 'ida y vuelta' cante, where he felt right at home.  I would personally have preferred to hear him por soleá in order to better appreciate his ability, but time was short so we had to settle for alegrías and bulerías, well-delivered but somewhat lacking in brilliance.
| | |
| --- | --- |
| | |
| Simón Román | José Miguel Cerro "Chiqui" |
And the evening ended on a high note with Dorantes, who was superb as always.  The piano is a prolongation of his being, and his concepts are full of fantasy.  Clearly, music is his main form of expression and his freedom.  It's not easy to become bored with Dorantes.  We recently saw him at Madrid's National Auditorium, and it makes you want to see him again as soon as possible.  There's always something new and surprising in his music.  He moves from flamenco into jazz with amazing ease, and his musicality is astonishing.  He brought two extraordinary guest artists: Pastora Galván and Joaquín Grilo.  The former was magnificent in her two interpretations.  Her technique is impeccable and her expression captivating and intense, she is a performer who seeks and delivers.  A true joy to watch.  Grilo is phenomenal, and had a memorable performance.  Jerez knows how to dance to cante, and Grilo is one of the best.  He also worked well with the music of Dorantes, doing jazz with his body, and adding touches of humor.  Nevertheless, he's too much, exaggerated, over the top, histrionic.  In the duet with Pastora, Grilo seemed a little lost, while Galván moved perfectly in that diffuse flamenco area of sensitivity and modern dance.  In any case, "Piano Abierto" is a fine show.
The afternoon session opened with singer Alba Carmona, accompanied by Marina Albero on the 'salterio', a traditional instrument which in my opinion adds little to flamenco, at least if considered as a substitute for the guitar, with no other type of accompaniment.  Alba has a pretty voice, velvety and flamenco, well-formed, but it needed more back-up.  The salterio is too plain and weak to stand alongside flamenco which requires more depth, more weight and gravity, and more rhythmic capacity for the rhythmic cantes.  The instrument could be used sparingly along with another instrument, but for a complete recital, a flamenco voice and the salterio are not a good match.  Despite the technical capacity and sensitivity of Marina Albero, Alba Carmona's voice was too vulnerable, and the final result was an overall weak output.
| | |
| --- | --- |
| | |
The other extreme was Simón Román, a singer from Málaga we've seen previously with other artists such as Tomatito.  And I must confess, I prefer to see him accompanying rather than on his own.  Singing solo, he's too much to take.  Too much shouting and over-the-top drama in everything he does.  Too impetuous.  In my opinion, everything in life is a question of balance, and even in such an emotional art as this, you have to strive for balance: tragedy when it's called for, but also knowing when to pull back.  He has a good-sounding voice, plenty of compás and no shortage of emotion.  His cante communicates, but lacks subtlety.
The night went on with rumba catalana by the group Rumba Vella at the CCCB, the same place where just a few hours earlier, the evening opened with cante and a salterio.  Perhaps the equilibrium is in the combination of these contrasting elements.
---