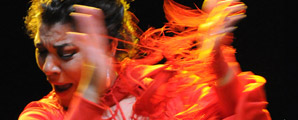 16 FESTIVAL FLAMENCO CIUTAT VELLA
Enrique Morente hijo
Silvia Pérez
La Macanita
Rafaela Carrasco
20th may
Centre de Cultura Contemporània de Barcelona (CCCB)

Text: Manuel Moraga
Photos: Ana Palma
The city of reflections
A varied evening, full and rewarding, that's what we had on Wednesday at the CCCB in the Festival Flamenco Ciutat Vella.  Complete, because there was guitar, dance and cante.  Full, because all the artists were at their best.  But what was most enjoyable was the diversity of flamenco.  Fortunately, it's impossible to reduce the art to several rigid boundaries.  Last night we were able to explore the various dimensions that contribute to defining what today is perceived as flamenco.
Silvia and Martha…  Just like that, so Catalonian.  Lluis Cabrera (director of Taller de Músics) introduced Silvia Pérez Cruz (cante) and Marta Robles (guitar), both in skirts, somehow making a stand for women in flamenco, in cante as well as in guitar.  Silvia explained that she wasn't quite sure if what she had to offer would fit in a festival devoted to flamenco, since she doesn't consider herself a cantaora.  And she isn't, but that's the least of it.  The important thing is, beginning from a base of flamenco influences, Silvia Pérez manages to create an aesthetic world full of beauty and in which the Mediterranean connects with the Atlantic.
Alegrías compositions, a fado based on farruca, a very personal version of "Pena, Penita, Pena" and even a soleá that Valderrama used to sing were all part of the repertoire of this complete artist, who in addition to singing, accompanies herself on the cajón and plays clarinet.  Marta Robles (also a composer) and Silvia Pérez gave the audience a lesson in artistic sensitivity.
Next up was Enrique Morente junior and Juan Habichuela's grandson.  This guitarist is a machine.  He's got all the flavor, depth and knowledge of the Habichuela family, and accompanied following the family line of professionalism, good taste and beautiful music, demonstrating great command in his solo pieces.  As far as Morente junior, he's got a long way to go, but he's certainly starting in the right place.  He hasn't got a great voice, and still sounds very young, which tends to diminish the communicative power in the most serious forms, but that's neither bad nor good.  It's just a question of maturity and time, however one thing is clear, he definitely knows what he's doing.  He knows his stuff, has a good sense of compás, something he's got over his father, and constructs the cante with clear concepts.  Granaína, taranto, cartagenera, soleá, tangos, etc… A classic repertoire to show he's got the basics under control.  It will be interesting to watch his evolution.
| | |
| --- | --- |
| | |
Tomasa la Macanita had a great night, with her voice in perfect form.  If on other occasions she had to wrestle with her register, last night she won that battle and had only to think about enjoying herself and letting the inspiration flow.  In soleá, she went for subtlety and found it, and the same could be said of the malagueña.  The audience appreciated the emotion and the wonderful contrast between rage and resignation in the siguiriya.  To finish off, bulerías, with that clippy style of Jerez, with the accompaniment of Manuel Parrilla on guitar, and Gregorio and Chícharo providing palmas.  A great performance by Macanita and her group
| | |
| --- | --- |
| | |
And following that voyage to the center of flamenco, it was time for some exploring.  The always avant-garde Rafaela Carrasco returned to this stage to delight an audience that values her more than in her hometown.  The background shows.  Mario Maya conveyed his concepts to certain people and created a school.  Rafaela is one of those people.  It's not so much about dancing as achieving meaning in each piece.  Everything goes in the same direction.  This is what Rafaela Carrasco proposes in her choreographies.  She didn't bring a specific show this time, and there was no story line, but rather a series of pieces where the best work was based on percussion.  Rafaela dances to everything, guitar, cante and percussion, but it's in the latter that she finds her freedom and establishes a direct relation between rhythm and dance.  The music comes from her own body.
The backup musicians were noteworthy on their own merits, and all with the common denominator of being especially sensitive.  Jesús Torres and Juan Antonio Suárez "Cano" are excellent musicians, as demonstrated in their respective solo records.  Antonio Campos has an important career and we will soon be able to enjoy his cante on the recording he is about to present.
And that's how it went, in just a couple of hours we saw a faithful reflection of the current state of the art.  Mediterranean song, Jerez flamenco, Morente's universe and the open horizon of dance…intensity and diversity, tradition and avant-garde.  Sort of like Barcelona in a way…
And speaking of reflections, enjoy the photos of Ana Palma, the most discreet professional in the world of flamenco photography.  You don't even see her, but her photographs are there, reflecting what was seen, with art and good taste.
---