Text & photos: Antonio Conde
Teatro Isabel La Católica December 1-9, 2012
December 12th, 2012
Artists: Jose Merce, Macanita, India Martínez, Juan Andrés Maya, Alba Heredia, Diego Llori, Curro Albaicín
In recent years we've criticized the fact that flamenco has received too much support from public institutions, town halls, etc., who paid outlandish salaries to a few lucky artists.  The economic crisis triggered dramatic cutbacks in the flamenco world, but there's something even worse going on.  For quite some time Granada has been holding "Los Encuentros Flamencos" under the direction of Juan Andrés Maya.  Despite many difficulties, the program has managed to hold its own in as far as quality.  In this sense, the economic problems aren't noticed.  But Granada's woes are quite different.  It's a crisis of lack of interest in flamenco.  Not even scheduling the festival to coincide with an important long weekend, was the theater Isabel la Católica full.  Obviously flamenco fans can't attend everything, but the thing is we hardly saw any familiar faces from the flamenco community.  And this deserves to be studied.  Any other flamenco city bows at the flamenco altar, whether it's via foreigners or local fans.  But in Granada this does not happen.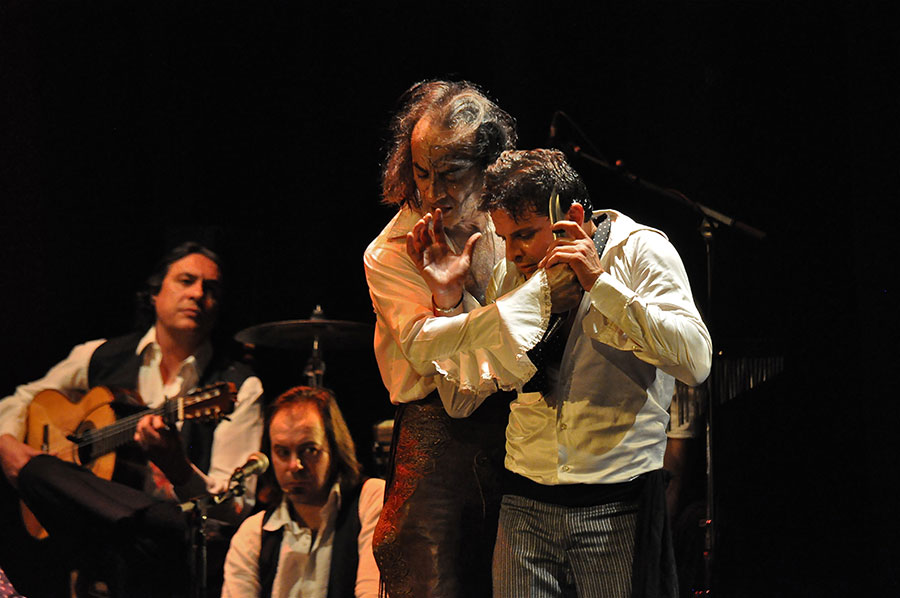 With great expectations and the best of intentions, the festival program got underway at the Manuel de Falla auditorium to receive once again the voice of José Mercé.  He's a classic in this arena, and we still remember when on this same stage some years ago he presented his record "Del Amanecer".  His audience is getting further and further away from the typical flamenco fan, to include a different sector of the market which, although they may not know much about flamenco, you have to give them credit for following a great artist like José.  The man from Jerez came to present his most recent recording "Mi Única Llave".  This work contains grand musical arrangements for each of its tracks.  A characteristic that was notably different in this live performance.  A piano was the musical backdrop, and the Caracol delivery in the voice of Mercé brought back "La Salvaora" to open our appetite for the first part of the show, thoroughly flamenco and far removed from slick fusion.  Guitarist Diego del Morao gave extraordinary accompaniment for the soleá and the malagueña del Mellizo.  This was as far as the tight, strictly "jondo" essence took us, and then José gave the audience what they wanted.  In other words, tangos and bulerías with catchy tunes.  The ones from his record.  Pepe del Morao and the rest of the group joined in to keep compás.  Bulerías from Alejandro Sanz in memory of Moraíto, and more tangos.  On his own, the prodigious hands of Diego interpreted music from "Orate" and "El Regalo" to bulerías.  Few surprises throughout the rest of the evening; "Al Alba" is never omitted from this singer's repertoire except in strictly flamenco festivals where it would be inappropriate.  He ended with tangos "Llave de Amor", more bulerías, this time with the unmistakable mark of Jerez and his record "Aire".  All in all, a decaf performance apt for all audiences.
Jerez singer Tomasa Guerrero "La Macanita" returned to the "Isabel" theatre, though few people showed up for a recital of classic cante.  It's at times like this you can take a reading of the thermometer of flamenco in Granada.  And the fact is, it was very very cold.  Just a few members of the Platería flamenco club showed up, a guitarist here and there and the occasional singer.  What a shame to miss out on such a fine singer.  With the guitar of Manuel Valencia she interpreted tientos-tangos, soleá bulerías and siguiriyas.  Flamenco through and through, with an enviable flamenco sound that was 100% Jerez.  She sang the malagueña of Manuel Torre and remembered Fernando Terremoto with a bulería cuplé, followed by more bulerías.  There must still be some flamenco fans who have not discovered the sound of this singer who has been immersed in the ambience all her life, who reminds you at times of Paquera and transmits so wonderfully por soleá, her strong point.  I don't know.
More than one member of the audience must have been disappointed when the first thing India Martínez said when she came on stage Tuesday night, was that she intended to offer cante, and would put aside the pop songs from her last record.  With three quarters of the theater full, perhaps the best showing of the whole festival, she got down to basics, to her beginnings as a singer, conjuring up the old maestros of flamenco.  Her voice is extremely clean and sweet, at times brilliant. Had she lived during the age of "ópera flamenca", her name might have been "La Niña Martínez", but far removed from that much-criticized period, India Martínez outdid herself.  In the toná and debla we could appreciate her true potential, her way of attacking the cante, her embellishments and fine musical sense that allows her to get the most out of her ability.  Interestingly, she was the only artist of all those who participated in the festival who paid tribute, in her own way, to Enrique Morente, and she did it with some contemporary alegrías and catchy choruses.
She left the stage for a while so her backup singers could sing some bulerías, and returned to sing granaína and media granaína and fandangos de Huelva.
Martínez took time out to dedicate a song to all abused women, with a verse by Jesús Bienvenido.  By now the audience was demanding the pop versions of her latest hits, and she complied with "Vencer al Amor" and "Hoy".  In my opinion she made a mistake closing with the "Nana del Caballo Grande" from her last record.  Despite being up to the technical challenge, it wasn't the right moment.
As in other years, Juan Andrés Maya offered his show two nights in a row.  Whether that was a good idea or not, the work he offered was quite a success.  The first part had no story line, just good dancing in three scenes.  In the first one, Alba Heredia danced tangos, a dancer who is quickly progressing.  Her way of understanding flamenco is based on the primitive approach found in the caves, the heritage of her lineage, and the vision of a well-traveled route made into dance.  In the second scene the silhouette of Diego Llori with farruca, and a splendid way of working his corporal forms, soon gave way to bulerías.  The guest artist of the evening was Joana Jiménez.  Well-known thanks to the program Coplas, her voice actually sounds more flamenco than that of some flamenco singers, although her strong point is Spanish lyrical song, as she demonstrated.
The second part of the show was a reprise of Mario Maya's "Diálogo del Amargo".  It was a tribute offered by the dancer's nephew, Juan Andrés, carried out with extreme care.  The back-up was outstanding with singer Galli de Morón and guitarist Miguel Ochando, and Juan Andrés outdid himself, getting better by the second and having a good time.  He sometimes likes to dramatize his dancing and occasionally overdoes it.  But his take on this work was perfect.  He resorted to theatrics only when necessary, and threw himself into the dancing.  In the constant duets with Diego Llori, the two illuminated one another in every gesture, every movement, supported by the figure of Alba Heredia who also did a fine job, and Curro Albaycín who laid out the poetry of Carlos Cano.
Without a doubt, this was one of Juan Andrés Maya's best productions.  A nostalgic remake of one of the great flamenco works, based on the writing of Lorca and adapted to flamenco.
---