From April 17th, tickets to shows that make up the program of the 15th Bienal de Flamenco scheduled for September 10th to October 11th, are on sale.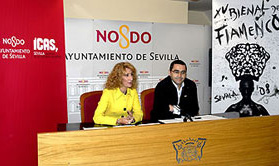 This year's venues are: the plaza San Francisco, the Maestranza Theater, the Lope de Vega, the Central, the Alameda, Hotel Triana and the Rocio Jurado Auditorium.  Each one has different prices that range from 4 to 39 euros.
Tickets may be purchased at the box office of the Lope de Vega theater, Avenida María Luisa s/n, with a maximum purchase per person and show of 4 tickets, from 12 to 2:00pm, and from 6:00pm to 9:00pm; via telephone with payment charged to credit card, call 954 590 867; via internet at generaltickets.com; bienal-flamenco.org; teatrolopedevega.org and teatromaestranza.com.  Tickets will also be sold at the respective theaters the day of the show starting one hour before showtime, provided seats are available.
Tickets purchased via internet and telephone may be picked up at the box office of the Lope de Vega theater, the main office of Cajasol on Sierpes street in Seville and at the corresponding theaters one hour before showtime when available.
Tickets for shows at the Rocío Jurado Auditorium may also be bought at the FNAC in Seville on the Avenida de la Constitución.
Discounts: for advance purchase, 10% through June 30th and 5% from July 1st to August 22nd.  There are blocks of 5 tickets discounted for each venue which enjoy a 15% discount, as does the mixed block of a minimum of 10 shows at 4 different venues.
Groups may purchase a minimum of 20 tickets for one show and venue to receive a 15% discount, after having filled in corresponding forms.
Discounts are not cumulative and will be applied at the moment of purchase.  All ticket blocks and other discounts are limited in number.
Seville's Bienal de Flamenco has, for the first time, set up a central booking system to reserve lodging with a variety of tourist packages detailed below:
Six Bienal nights, a one-week stay in the city, from Monday to Sunday, at 3 and 4 star hotels, with one show each night.
Three Bienal nights includes 4 days, Thursday to Sunday, at 3 and 4 star hotels, one show each night.
Bienal Selections proposes a stay of three days at 3 and 4 star hotels, with lodging and tickets to Ópera and Flamenco, Ballet and Cante, Guitar and Carmen, Carmen and Rock and Cante and Dance.
Bienal Dance is three nights in 3 and 4 star hotels, to attend the best of the Bienal dance programs on a variety of dates throughout the month of September.
These four options include a visit to the Museum of Flamenco Dance and sightseeing excursions in the city with a local guide, tour bus and entrance to monuments.
The Family Plan offers lodging in 3-star Hotel Apartments, a weekend that included shows especially conceived for children and tickets for the whole family for the theme park Isla Mágica.
And lastly, two nights in 4 and 5 star hotels, tickets for two shows of your choice at the Maestranza and Lope de Vega theaters, a guided tour of the city with local guide and entrance to monuments, and a visit to the Museum of Flamenco Dance with gourmet lunch.  Additional nights may be added  to adapt to individual itineraries (detailed information included in attached file).
---