48º Festival Internacional del Cante de las Minas de La Unión
From August 7th to 16th, artists of the stature of Miguel Poveda, Lebrijano, Antonio Canales, Rafaela Carrasco, Manolete or the Ballet Nacional de España are on the bill at this year's festival dedicated to the figures of Asensio Sáez and Pencho Cros.
June 1, 2008

Twittear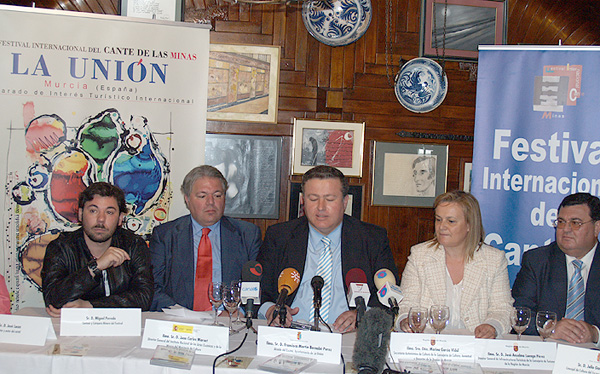 Miguel Poveda junto con Juan Marset, el alcalde de La Unión Francisco M. Bernabé y miembros de la Consejería de Cultura de la Región de Murcia.
For the first time three administrations will support the festival: La Unión's town hall, the Murcia Regional government and the Spanish Cultural Ministry. This year one day will be devoted to the town of La Unión, with a tribute to miners and the performance of the Banda de Música of the city of La Unión, the inauguration day and the performance of last year's winners. Then follow four days of top-flight flamenco shows (one less than in previous years), and the international contest that closes the week and the festival.

As in other years, throughout the duration of the festival there will be parallel cultural activities, courses, book presentation, records, conferences… La Unión will become the capital of flamenco the first two weeks of August.
Thursday, August 7th
Day of La Unión.

Performance of the band CIUDAD DE LA UNIÓN and the choral group ARGENTUM to interpret the Festival's Official anthem
Tribute to miners.
Band of the HOGAR DEL AS PERSONAS MAYORES of La Unión
VELADA TROVERA. Asociación Trovera José María Marín.

Friday, August 8th
Inauguration

Keynote speech by Sr. D. Pedro Alberto Cruz, Consejero de Cultura, Juventud y Deportes de la Comunidad Autónoma de la Región de Murcia.
Performance by last year's winners.
Juan A. Silva (Bordón minero)
Juan Pinilla (Lámpara minera)
Patricia Guerrero (Trofeo Desplante)

Saturday, August 9th

Ballet Nacional de España, directed by José Antonio.

"Golpes da la vida".
Original idea: José Antonio
Choreography: José Antonio, Rafael Campallo
Music: Mariano Campallo, Paco Iglesias
"Cambalache"
Choreography: Antonio Canales
Music: Livio Gianola, Antonio Canales, Diego Losada


Sunday, August 10th

Miguel Poveda and Rafaela Carrasco and her group

Monday, August 11th

Tuesday, August 12th
Lebrijano, Nano de Jerez, Manolete and Manuel Cuevas.


Festival's Official Tribute to Asensio Sáez and Pencho Cros.

Wednesday, Thursday and Friday, August 13-15th

Contest semifinals cante, guitar and dance


Saturday, August 16th

Contest finals, cante, guitar and dance. Awarding of prizes.
In addition, the Festival offers a wide range of conferences, book and record presentations, exhibits, proyections, recitals, etc., all free of charge and known as the Cultural Agenda.

Each day, outside the Cathedral del Cante and also free, afterhours flamenco continues until dawn.

Advance ticket sales: Starting June 16th
In person sales: Ayuntamiento de La Unión c/Mayor, 55. Ed. Casa del Piñon, Monday to Friday, 10am to 1:00pm
Telephone sales: 868 0625 39
Reservation by internet: www.cantedelasminas.org

More information:
Special report on the 48th Festival de Cante Flamenco de las Minas de La Unión