Summary: Special Report La Unión. 48th Festival Internacional de Cante de las Minas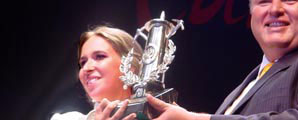 SPECIAL REPORT
48th FESTIVAL INTERNACIONAL
DEL CANTE DE LAS MINAS
La Unión (Murcia) August, 2008

Text and photos: Estela Zatania
It's been a half-century since Juanito Valderrama came to La Unión and was heckled for singing local mining cante instead of hit tunes from his popular repertoire (things one learns at this unique festival). That incident led to the historic first edition of the Festival del Cante de las Minas which once again this year we had the pleasure of attending.
For those who believe this festival is limited to taranto and taranta, take note that there's an ample schedule of parallel activities that includes presentations, exhibits, after-hours shows and courses.  The heart of the program is divided in two parts: first, a series of shows with flamenco's biggest names: this year, Lebrijano, Miguel Poveda, Cañizares, Antonio Canales and Manolete among others, and second, the four-day contest with prestigious prizes in singing, dance and guitar that were awarded on Saturday, August 16th.
Each year the festival pays tribute to well-known individuals related to flamenco.  This year two people closely related to the history of the festival and beloved in La Unión, local singer Pencho Cros, outstanding transmitter of mining cante, and Asensio Saez, painter and journalist, were the figures chosen to be honored.
THE SHOWS
After a first day of tribute to the mining community, and the performance of last year's contest winners, the Ballet Nacional de España, under the direction of José Antonio, offered the first day of shows.  The program was composed of three works: "Caprichos", with the choreography of Fernando Romero, straight dance with no story, "Golpes de la Vida", choreographed by José Antonio and Rafael Campallo, about an old teacher and his star student, and "Cambalache", created by Antonio Canales, which is intended to be a representation of the multi-cultural development of flamenco.  As you would expect from this type of company, the most noteworthy element was the discipline and technical level, and a full house showed its gratitude with enthusiastic applause.
| | | |
| --- | --- | --- |
| | | |
| Ballet Nacional de España | Antonio Canales | Juan Manuel Cañizares |
Sunday began discreetly and ended with a bang.  With a retro futurist aesthetic, Rafaela Carrasco who was featured in the first part, had a hard time getting applause,  Her product is contemporary dance tinged with flamenco references, a style that seems to be filing for divorce from the cante, and much repetition of movements punctuated by foot-tapping.  She was a huge success with some audience members, but reserved locals weren't convinced and withheld their enthusiasm.  
The second part amply compensated for the disappointment of the first, thanks to the presence of Miguel Poveda who hours earlier received the gold Castillete, the festival's highest honor.  Once again the spiritual son of the town of La Unión, and major flamenco star, with his faithful guitarist Chicuelo, had the audience in the palm of his hand with a long and difficult recital that had not one weak moment.  The year 2008 is the year of Poveda, and there are signs the young Catalonian is on his way to becoming a social phenomenon: at the end of the show people lined up to raise their children to the stage so Miguel could kiss them.  He also had words for Pencho Cros whom he always calls "my maestro", and a moving minera verse: "I must get to La Union / please hurry along / on this night my maestro Pencho / will sing his mining song"
Monday got underway with a guitar recital by Juan Manuel Cañizares, with Juan Carlos Gómez on second guitar.  Ten years alongside the "maestro of maestros" Paco de Lucía (Pepe Marchena used to be known that way, surely Paco is equally deserving), explain why Cañizares has the same gestures as his mentor, and many of the same musical concepts.  With pieces that were evocative, bitter-sweet and sensitive, with a certain uniformity between them, the occasional melody borrowed from Spanish folklore and alegrías that employed some especially beautiful harmony, the audience was thoroughly enthralled.
| | | |
| --- | --- | --- |
| | | |
| El Lebrijano & Pedro Maria Peña | Manolete | Manuel Cuevas |
Antonio Canales.  Scroll to the next paragraph if he's not your cup of tea, or if you think he's overvalued or washed up, because yours truly is a great lifetime admirer of his, since before his name was a household word, even before his participation in that work with Mariquilla that was recorded some twenty years ago, so you run the risk of receiving a biased opinion.  With that disclaimer, I am happy to inform you that Canales continues to be the genius he has always been, because genius doesn't have an expiration date like a carton of milk, and because the challenge of diminished faculties nourishes and distills it.  And if Canales is doing more with less, the histrionic Amador Rojas, so magnificent in the lead role of "Kahlo Caló", here does less with more, but he knows how to sell and the audience awards him the biggest applause.
The last big show of the four took place on Tuesday, August 12th, with a sampler menu of cante and dance.  The first course was Manuel Cuevas from Osuna, winner of the 2002 Lámpara Minera, with impressive technique and accompanied by the noteworthy guitarist Juan Ramón Caro; a showy but somewhat superficial singer.  Second course, Nano de Jerez, the exact opposite of Cuevas, practically voiceless but with truckloads of personality, and his fine guitarist Pascual de Lorca.  Third course, Juan Peña 'Lebrijano' with Pedro María Peña on guitar; the voice, which in recent years has been so uncooperative, this time was strong and flexible allowing the old maestro to sing his standard repertoire at ease. And for dessert, the magnificent dancer from Granada, Manolete…his farruca, his bit where he does footwork seated, his cantiñas, and what timeless elegance, and what a way he has of laying down the law with his body.
| | | |
| --- | --- | --- |
| | | |
| Miguel Poveda | Nano de Jerez | Rafaela Carrasco |
THE CONTEST WINNERS
Rocío Márquez Limón from Huelva, 22 years old, is the new queen of mining cante, and holder of the coveted "Lámpara Minera".  Two men, contest veterans and excellent singers, weren't able to compete with the exquisite sweetness of Rocío's voice, so apt for these cantes.  The young girl received a total of four prizes, including those that won her the Lámpara.
Alfonso Losa & Rocío Marquéz
Ganadores Concurso de LA UNIÓN

Rocío Márquez 'Lampara Minera'
Premio Tarantas – Murcianas y otros cantes mineros – Otros cantes de Málaga, Córdoba y Huelva

Alfonso Losa
trofeo "EL DESPLANTE"
The highest dance prize, the "Desplante", was especially interesting and hotly disputed this year, with two magnificent Madrid dancers who raised the level from previous years.  Two radically different styles, the subtle femininity of Concha Jareño, and the aggressive Farruquism of Alfonso Losa.  In the end, the latter won the Desplante, and the former had to be satisfied with second place.
In the specialty of guitar, one sole competitor made it to the finals, but was not given the first prize which this year went unawarded, as did the special prize for young singers, but Isidoro Pérez is returning to Granada with the second prize in guitar for his taranta and abandolao.
Concha Jareño
2º Premio baile flamenco

Jesús Corbacho
Premio Malagueñas

Sergio Gómez Delgado "El Coloraito"
Premio: Bulerías, cantiñas, tangos, tientos, peteneras, farrucas, fandangos personales y otras modalidades de cante
The second prize for mining cante went to Córdoba singer Rafael Espejo "Churumbaque Hijo", who's been chasing after the Lámpara for a couple of years, and also won the prize for siguiriyas thanks to his excellent interpretation.
The prizes for cartageneras and soleares were for Juan Antonio Camino 'Wencesla', and Jesús Corbacho is returning home with the prize for malagueñas.  Young Granada singer Sergio Gómez 'El Coloraíto' won a prize for his farruca with a sweet personal interpretation that had the whole audience hanging on each note.
Juan Andrés Cortés
2º Premio de Guitarra Flamenca

Juan Antonio Camino Wencesla .
Premio Cartageneras –
Soleares, bulerías por soleá, cañas y polos

Rafael Espejo "Churumbaque Hijo" 2º Premio
Premio: Tonás, siguiriyas, livianas y serranas
---