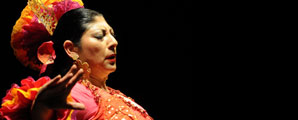 XV FESTIVAL DE JEREZ
Manuela Carrasco "Suspiro flamenco"
Churumbaque
Anabel Veloso
Tuesday, 8th March, 2011.
Text: Estela Zatania
Photos: Ana Palma
On Tuesday, March 8th, torrential rains came down on Jerez and its festival, lowering attendance at the secondary venues of the Villavicencio and the Compañía, but not making any dent at the Villamarta Theater thanks to the exceptional featured artist.  Let's look at the day's program…
CHURUMBAQUE
Palacio Villavicencio, 7:00pm
Rafael Espejo, "Churumbaque Hijo", is no youngster coming to the Festival de Jerez like so many others we've seen in the intimacy of the Palacio Villavicencio, seeking to jumpstart a career.  This Cordoban has spent four decades cultivating his art, competing in numerous contests, winning some of them, most notably the Lámpara Minera of La Unión in 2009, working discreetly and developing his cante.  With the self-confidence that comes from years of experience, the body language of a seasoned pro, palmas, percussion and the extraordinary accompaniment of guitarist Niño de Puro (we've been enjoying some of the best guitarists at the Villavicencio this year), he began with soleá, with special attention to the styles of Utrera and Lebrija.  Following this, a polished interpretation of minera and cartagenera – thanks to the venerable La Unión contest, mining forms are cultivated far from their place of origin.  Niño de Pura pecks out more picado than a chicken in a farmyard, but there's a lot more to him; his accompaniment is intelligent, creative and luminous.  An assortment of abandolao cante, tientos tantos and bulerías rounded out this well-prepared recital.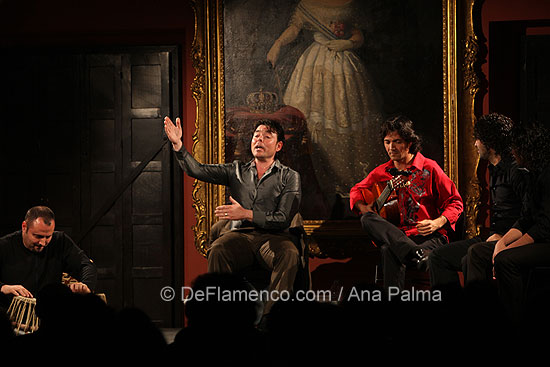 MANUELA CARRASCO "SUSPIRO FLAMENCO"
Teatro Villamarta, 9:00pm
Dance: Manuela Carrasco, Carlos Carbonell, Óscar de los Reyes, Antonio Molina, Juan Amaya. Cante: Enrique Extremeño, Manuel Tañé, Rubio de Pruna, Emilio Molina, La Susi (special collaboration). Guitar: Joaquín Amador, Manuel de la Luz, El Ñoño. Percussion: José Carrasco. Violin: Bernardo Parrilla. Flute: Juan Parrilla.
It's hard to believe, but there was a time when flamenco shows did not have names.  You went to the theater to see the Ballet of Antonio or the José Greco Company, and that was that.  Nowadays, however, even the most humble show has its poetic name.  If on Sunday at the Festival de Jerez it was Rosario Toledo's "The Fire in Your Eyes", on Tuesday night we saw "Rose, Metal and Ashes" and "Horizon", by Olga Pericet and Adela Campallo respectively.  It's the times we live in.  You no longer just dance.  You get yourself a technical staff, choreographers, stage designer, set director and music director, lighting designer, libretto, someone to write the lyrics and as many other etceteras as the budget allows.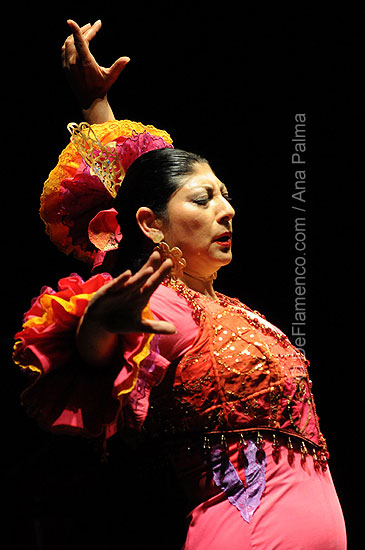 Unless your name is Manuela Carrasco, and you happen to be a goddess.  Then, you go on stage without designer choreography, you dance on a platform with an annoying metallic sound, use an ill-advised wardrobe, a limited repertoire of movements and four male dancers more interested in self-promotion than uniformity.  Last night Manuela Carrasco did all that, and along the way made it clear that what the new generation is doing these days might be fun – the constant questing, the perfection, the reflexive rejection of what went before and the urge to be different somehow or other via experimentation – but flamenco is an art-form capable of triggering strong emotions, and in the four steps Manuela Carrasco does, an entire universe is to be found.
You go out of your way to force yourself to understand why cante is no longer important to so many flamenco dancers.  But Manuela doesn't know what to grab onto without hearing a voice like that of Enrique Extremeño's.  Or those of Manuel Tañé, Rubio de Pruna, Emilio Molina and others of similar substance.  You want to enjoy the most up-to-date dancing even though compás and form are not as important as they used to be.  But Manuela moves in a world of compás that takes no prisoners and where she commands by her mere presence, a monument to flamenco, past, present and future.  Great art is timeless.
Vibrant energy, color, life…  A kind of flamenco that is firmly rooted in the ground, and which sweats, breathes and smells of olives, orange blossoms and moist earth warmed by the morning sun.  Yes, it's the same dances and cantes as always.  Novelties?  What can I say….?  The presentation dance is based on the chorus of Tauromagia…a bullfighter's cape is used as a shawl…the traditional men's costume of high pants and short velvet jacket is revived…la Susi, Manuela's sister-in-law, does a cameo…
But it all comes down to Enrique Extremeño's final gesture of ripping his shirt open at the end of the soleá…and the majestic presence of doña Manuela Carrasco.
COMPAÑÍA ANABEL VELOSO "POEMA SINFÓNICO NO. 2"
Sala Compañía, 12 midnight
Dance: Anabel Veloso, Alberto Ruiz, Javier Latorre (guest artist). Cante: María José Pérez. Guitarra: Javier Patino. Violin: José Vélez. Sax, harmonica and flute: Diego Villegas. Guest musicians: Orquesta Joven Ciudad de Almería (OJAL). Original idea and choreography: Anabel Veloso. Coreography 'Por una cabeza': Javier Latorre.
After the collective catharsis experienced at the Villamarta, we returned to the dense darkness of "alternative" flamenco (which sounds less absurd and less offensive than "new flamenco").
The work begins when Javier Latorre gets up from among the audience, mysteriously ascends the stairs to the stage and dances a choreography that transmits longing for the past, and then pretends to play the piano for a pas de deux of Anabel Veloso and Alberto Ruiz.  María José Pérez, a young singer from Almería, dressed in a black men's suit puts her sweet voice and delivery to a granaína delicately accompanied by Diego Villegas on the piano.  
Latorre dances with the projected image of Anabel, and a series of choreographies develop the concept of the compatibility of classic and flamenco forms, and the fantasy of memories that become present realities.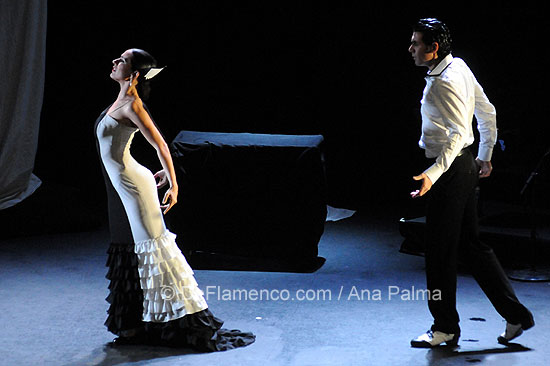 ---