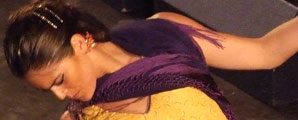 VERANOS DEL CORRAL
Granada
2nd week
Manolo Osuna, Leonor Leal, Miguel Angel Cortés, Patricia Guerrero, Nene de Santa Fé y Alba Heredia
Text and photos: Antonio Conde
This week brought the news that under the auspices of the Agencia Andaluza para el Desarrollo del Flamenco, a new campaign is under way to have flamenco declared a world heritage by UNESCO.  A difficult task if we consider that for this to be achieved, among other requirements, it must be an artform in danger of extinction.  The director of the Agency was in Granada not long ago to meet with flamenco artists in order to support the initiative from inside.  But the same thing will happen as last time, we'll be left standing at the altar – at least the institutional effort is being made.  It served little purpose that the voice of La Niña de los Peines was declared a cultural commodity by the Andalusian government.  Some Granada artists at the meeting were the main attraction at this week's series being presented at the city's Corral del Carbón.
If the first week of this series began with a very high level, this second week had its ups and its downs.  It must have to do with the unbearable heat we're putting up with in Granada; I can just imagine with the spotlights, the nerves, a packed audience…
The week started out with the courses being offered at the Carmen de las Cuevas center.  Last week it was La Moneta who masterfully taught siguiriyas and bulerías.  Another Granada dancer, Manuel Liñán, took charge of jaleos and soleá.
| | |
| --- | --- |
| | |
| Manolo Osuna | |
A veteran Granada singer accompanied on the guitar by Luís Mariano got things going at the Corral.  Many friends supported him with their presence as he interpreted martinete with a nod to Manolo Caracol, siguiriyas of Los Puertos, soleá based on Frijones and Andonda, and fandangos.  If Manuel Osuna is not at the peak of his faculties, his thread of a voice is well-received, and the years of experience he has under his belt are more than enough to warrant his reputation.
Leonor Leal was in charge of the dance portion of the show.  She was accompanied on the guitar by Tino Van der Sman, the cante of Antonio Campos and the percussion of Raúl Botella.  She started with caña, graceful and delicate.  Only an unfortunate choice of costume marred the performance.  She has a very personal aesthetic, and a style of dance that combines tradition and experimentalism, as we saw in siguiriyas and alegrías.  Her long arms seem to span the whole stage, they embrace everything and give her dance great originality.  Sounds of Holy Week led to Antonio Campos singing saeta from a balcony, which in turn led to the second part of the evening.
| | |
| --- | --- |
| | |
| Patricia Guerrero | |
Wednesday was the first guitar night, an important reference for Granada.  One of the Cortés brothers, Miguel Ángel, spoke volumes doing almost nothing.  His music was Moorish-sounding for siguiriyas.  Then, soleá and alegrías before serving up a difficult to digest guajira, not apt for the uninitiated.  A sea of harmony washed about on the neck of the guitar in the highly unconventional tangos.  Pizzicato introduction to close with bulerías, recalled the special effects Paco de Lucía used when he was starting out.  Impossibly fast picado, what more could anyone ask?  The percussion of Agustín Diasera enriched the music greatly.
Granada dancer Patricia Guerrero offered her newest creations.  She's still young and needs to reinvent herself, but she has tremendous capacity.  The last time I saw her was in Jerez, and the Patricia of now has little to do with the former one.  Now she is more natural, she is no longer bound by the mimetic structure of dance, and dances with freedom from the moment she comes on stage.  Short alegrías, with some wonderful movements, playing with the tempos and completely on top of everythiing.  The freshness she exudes is thanks to the knowledge she is acquiring.  Martinete sung by Juan Ángel Tirado and Miguel Lavis was like a duet, face to face.  And Guerrero returned with a brief bulerías that had bullfight references; we hardly had time to realize she'd returned, when she'd disappeared again.  But this girl has to be seen por soleá.  She's ahead of her time, her dance is all-engrossing.  She knows this form inside and out, and has no qualms about showing it off.  It's her strong point, and she makes the most of it.  She knows what she can do, and squeezes out every little bit.  The guitars of Luis Mariano and David Carmona gave musicality to the Granada dancer without overstepping the role of accompaniment.
On Thursday we were able to enjoy Nene de Sana Fe, who has nothing "Nene" (little boy) about him other than the nickname.  With the guitar of Manuel Carmona, and the palmas of Rudi and Agustín Cortés, he recited romances, slowly and with good taste.  He then sang the cartagenera of Chacón with rondeña, soleá and siguiriya.  An orthodox recital, especially in the second half when his singing personality shone.
| | |
| --- | --- |
| | |
| Alba Heredia | Alba Heredia |
The last dance show at the Corral of the second week.  Alba Heredia is still really a child, but she dances like a woman.  Or perhaps it's her dancing that makes her an adult.  She's only fourteen, and you'd think that's how long she's been dancing.  You can tell where she's from, the family she's from and the neighborhood.  This girl is going to make quite a stir.  She's a diamond in the rough, and of course needs to be polished, but her talent will carry her through.  She was backed up by singers Juañares whose bulerías were much applauded, and Rafi Heredia.  The guitars of Emilio Maya and Pepe Marote were a strong guarantee for the music.  The percussion was Ely Maya and the palmas of Juan Andrés Maya and Iván Vargas.  It's all in the family.  A contemporary taranto revealed her dynamic style.  Very accelerated, abrupt in the turns, very much the style of the people she has grown up surrounded by.  Like la Moneta, her facial expression crosses the space that separates the audience from the stage.  She finished with alegrías, in high pants and short jacket, very much the bullfighter stalking the big bull and leading it around at will.  Her best point is her arms which she knows how to use in combination with the sound of her footwork, agile and powerful.
More information
1st week:
Los Veranos del Corral: Rafael Estévez & Fuensanta la Moneta; Andrés Peña & Pilar Ogalla; Rosario Toledo; Olga Pericet.
2nd week:
Manolo Osuna, Leonor Leal, Miguel Angel Cortés, Patricia Guerrero, Nene de Santa Fé y Alba Heredia
---