"PASANDO EL PUENTE" to Triana
The event was dedicated to guitarist composer singer and poet Manuel Molina.
July 4, 2013
Text and photos: DeFlamenco
Twittear
On Friday evening, June 28th, the historic neighborhood of Triana, on the banks of the Guadalquivir river, brought back its flamenco festival, "Pasando el Puente", after thirty years of silence.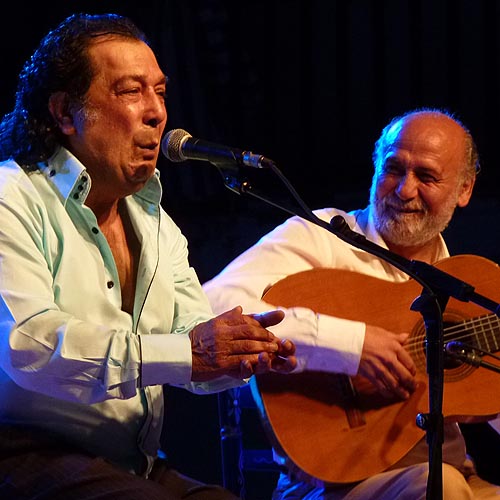 The event was dedicated to guitarist composer singer and poet Manuel Molina, one of the most beloved figures of Triana. The project was the work of singer José Antonio Cortés Pantoja, "Chiquetete", lifelong friend of Molina with whom he sang as a youngster, born in Algeciras but raised in Triana.

A long program of performers, as in festivals of years ago, most of them veterans, filled the patio of the Hotel Triana with a wide variety of cantes. These dedicated artists showed they continue to offer timeless flamenco of high quality.

Romerito de Jerez sang with the guitar accompaniment of his son, and the fiesta dancing of Nano de Jerez, unable to sing this night. Paco Taranto, El Paquiro and El Choza sang with Antonio Carrión on guitar. The same guitarist accompanied José de la Tomasa who interpreted some impressive siguiriyas. Singer Juan Villar, another major star, offered a high-quality performance with Niño Jero accompanying, followed by Fernando de la Morena.

After singer Guillermo Manzano, with Eugenio Iglesias on guitar, Chiquetete, organizer of the event, came out to sing, not without first explaining the need for continuance of the festival. He offered a brief act of tribute to his old friend Manuel Molina who also gave a sample of his art, as did Manuel Gerena, an activist singer who was extremely popular in the 1970s. In the inevitable closing fiesta, dancer Carmen Ledesma and 'festero' Javier Heredia were noteworthy.

The lengthy program managed to end by a quarter past two, and Triana retired with the satisfaction of having recuperated its historic commitment to flamenco.