Jose Manuel Gómez «Gufi»

Photos: Rafael Manjavacas
Josemi Carmona, Javier Colina, Bandolero
Teatro Lara Madrid
«Side by side»
Josemi Carmona and Javier Colina have spent years side by side playing in dozens of projects, both their own and of others.  They have a familiarity that shines through in their music, they dialogue, they back each other up and respect the silences.  Josemi, as you know, is from the Habichuela family, and Javier is from the world of Pamplona and jazz.  Together, they've traveled the world, and individually as well.
We heard this repertoire for the first time in "Flamenco on Fire", where the importance of the record «De Cerca» (Universal) which was being recorded, was already evident.  We've heard a lot of records of boleros made over into flamenco and jazz, but in this one there's «something more» that all us listeners look for, and at the Lara theater you could sense the atmosphere of a great occasion.  They began with «Morente Habichuela» with alegrías, and Javier Colina started singing with his fingers, and he did it via Camarón: "a-la luz-del-cigarro-yo-vi-el-molino…".  The base player showed his hand, Colina served as singer while borrowing sounds from here and there.  A very flamenco custom that jazz musicians have.  And we all forgot about Javier Krahe's warning that «you can't see a thing by the light of a cigarette (la luz del cigarro)».  The words of a smoker.
Josemi got warmed up with «Muñequita Linda» and «Historia de un Amor», both boleros, the first, by Mexican singer María Grever, and the second by Carlos Eleta which has been sung by half the world (most notably by Lola Flores and el Pescaílla, and Manuel Malou).  At this point, Colina sang some old Cuban songs heard alongside Bebo Valdés, while Bandolero kept rhythm on cajón and drums.  On the record «Verdad Amarga» of Consuelo Velázquez is brilliantly interpreted by La Negra, and Antonio Montoya appeared (from the group Montoyas y Carmonas) who, at first, stuck to canned vocals, later getting into something more personal, while still falling bacck on the legacy of the group Ketama, things between cousins.
Jorge Pardo came on to interpret «El Incomprendido», the immortal bolero of Bobby Capó, interpreted originally y Ismael River and of which Antonio González did a fabulous live rumba version (the recorded one was poorly produced).  Josemi recalled that that was the version he'd heard as a youngster at the Los Tarantos tablao.
Colina continued to sing with his fingers in the granaína "Tía Marina Habichuela", and this was where it became clear there's no other bass-player in the world that plays what Javier plays, and there are certainly many excellent bass-players in the world of jazz flamenco.  Colina plays what he's lived…Cuba, Colombia, North Africa, jazz, Mali…and the long etcetera we haven't heard yet, and deep inside is the accordion, the home-spun instrument.  And the pair debuted a farruca constructed along Mañueta street where Sabicas was born, and Josemi closed out the circle, he of the excellent six strings that lead from Sabicas to the Habichuelas, and back to Pamplona again.  After ovations, they rounded off with «Moon River», by Mancini, and Jorge Pardo took his flute for a stroll around the audience.  Tough luck for those in the higher up seats, but a sign of the quality of a musician who didn't want to upstage the stars on a night that ended with the jamming of Diego Guerrero at the Café Berlín.  But that's another story.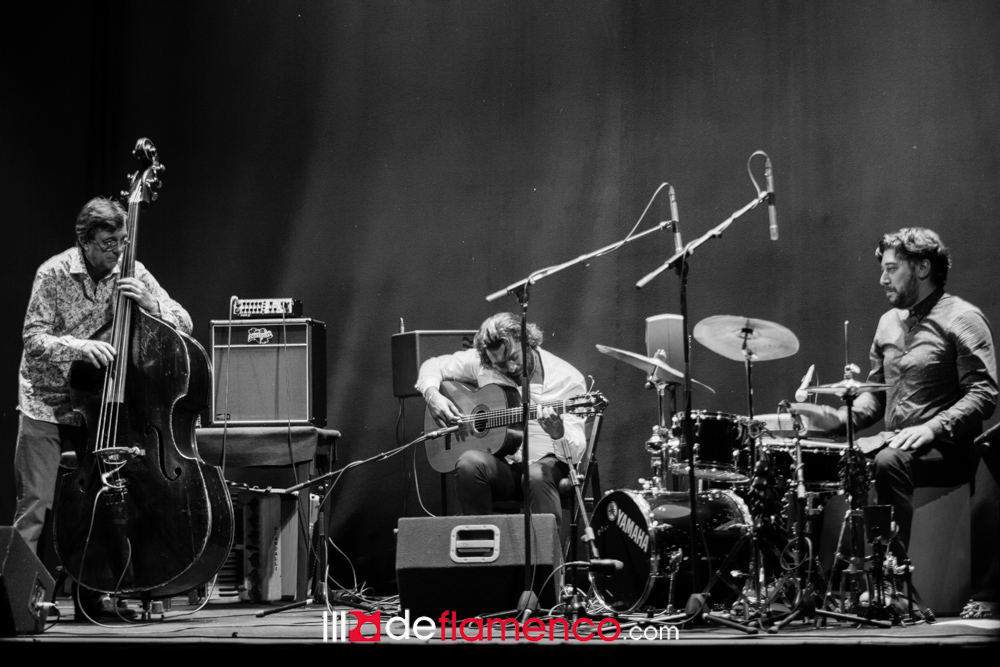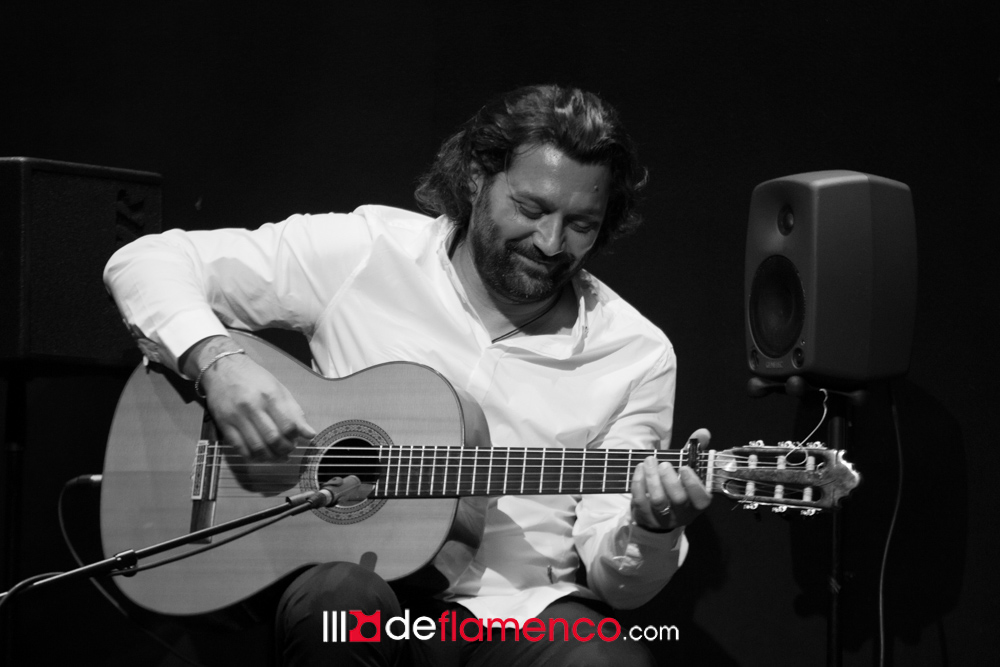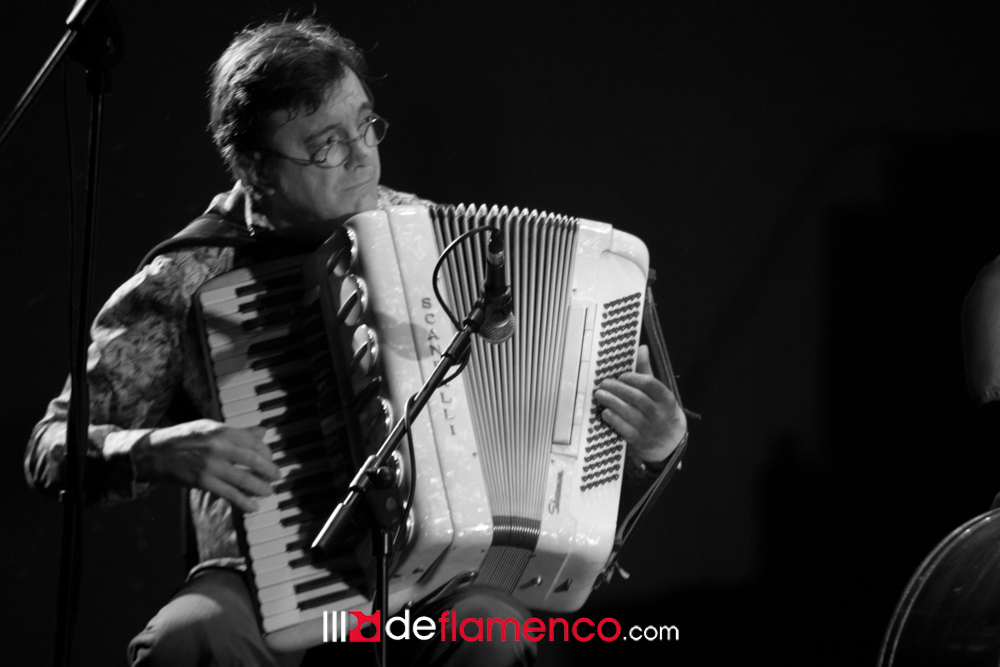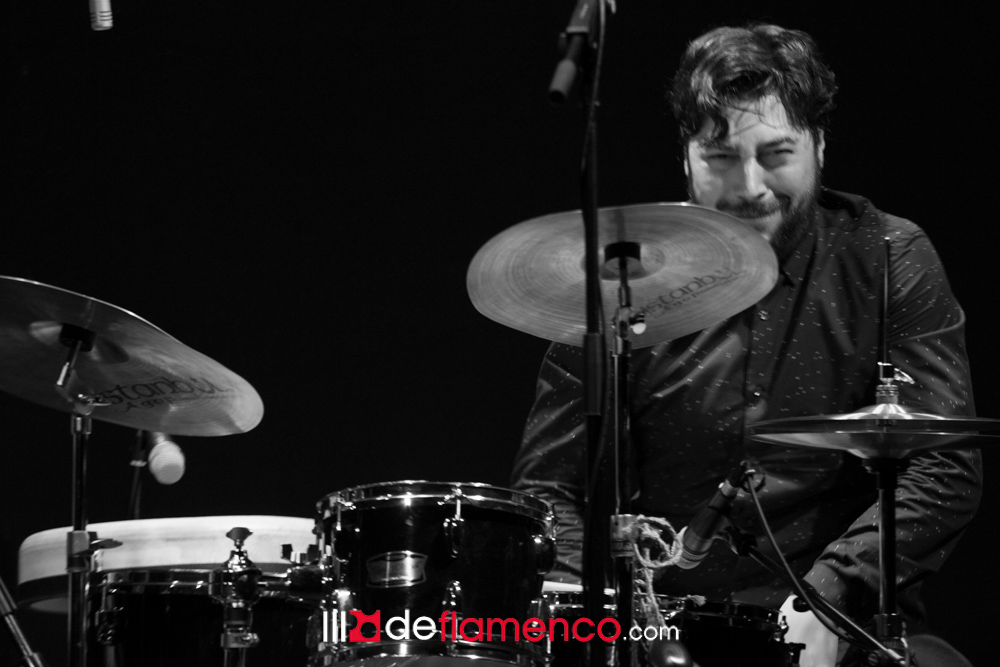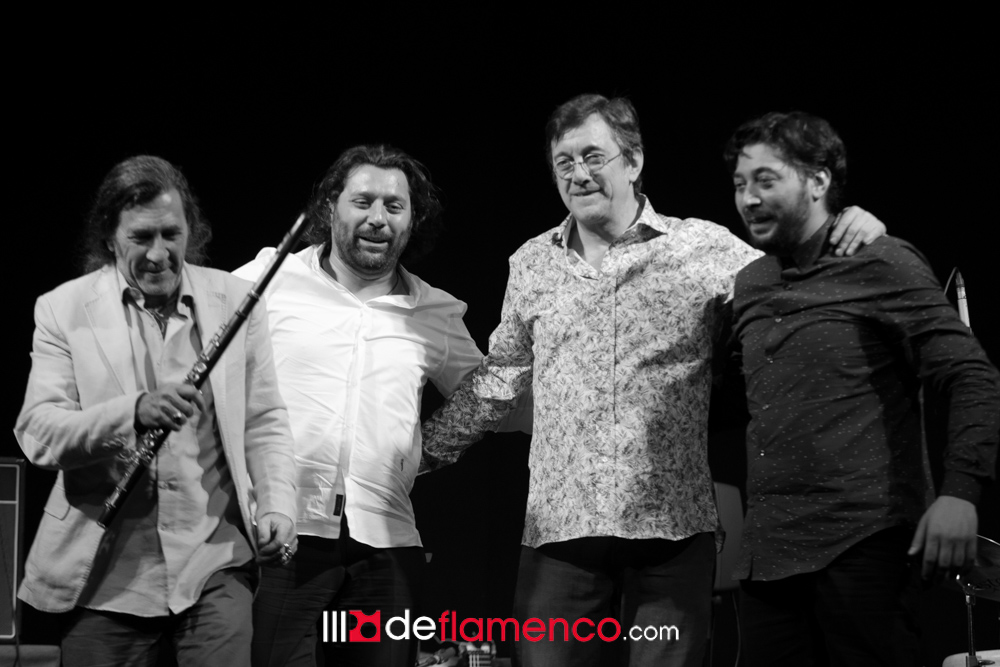 ---