Gerardo Núñez - Travesía - Suma Flamenca 2013
Guitar: Gerardo Núñez. 2nd guitar: Manuel Valencia. Piano: Mariano Díaz. Upright bass: Pablo Martín. Percussion: Cepillo. Cante: David Carpio. Dance: Carmen Cortés, Florencio Campo and Kelian Jiménez.
June 10, 2013
Text: Pablo San Nicasio
Photos & video: Rafael Manjavacas
Twittear
"Miracle in the Abbey despite certain limitations"
The first strictly guitar offering of Suma Flamenca 2013 brought the premiere performance of Gerardo Núñez' most recent work.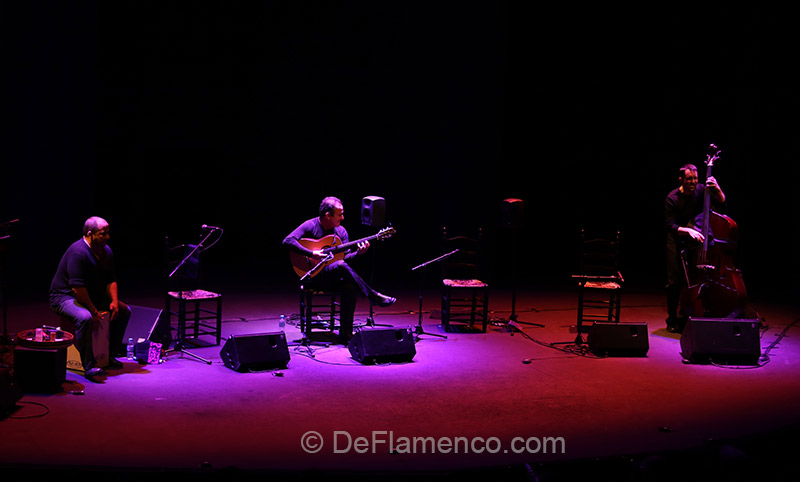 "Travesia" is the name of a work that was conceived as an autobiographical medley laced with the reality of two immigrants set against the back-drop of social problems which, particularly in Cadiz, makes for a worthwhile evening at the theater.

So I boned up on the new repertoire, learned all the names of the pieces, the nuances and innovation of an absolute genius of composition and, more and more, of technique.
But it was hardly necessary. "Travesia" was only present at the beginning of the second part. That piece of more than ten minutes, that combines recitating with dance, drama with guitar, combo with soloist and flamenco with jazz. A journey in which the dancing of Florencio Campo, and the wonderful Kelian Jimenez were especially well-received.
It was an interesting but strangely isolated piece within the more recognizable body of standard Gerardo fare. In fact, many of the guitarist's followers were present, including a great number of his students and those of his wife Carmen as well as of Cepillo's. A flamenco triumvirate that each July takes over Sanlucar de Barrameda, bringing together a numerous congregation, and which on this occasion had the same power to attract admirers in the cozy theater of the Abadia.
Performers who, along with the superb Pablo Martin, had little new to offer in this Suma Flamenca, and some updating would have been more than welcome.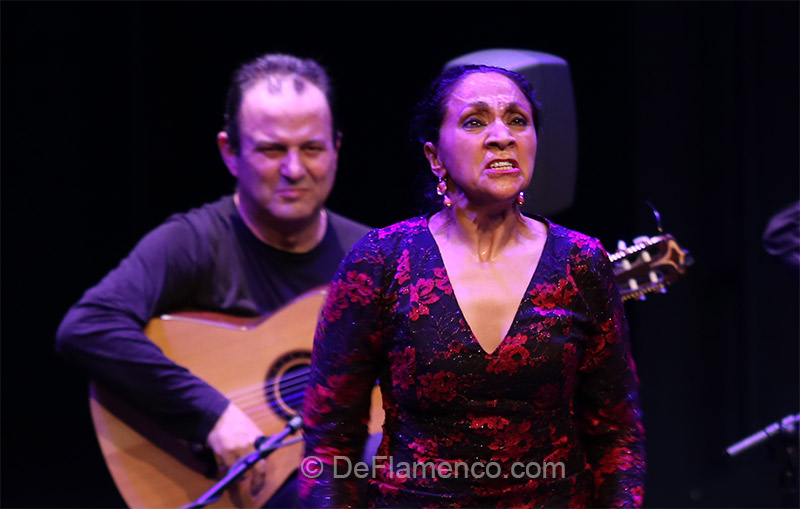 As the concert progressed, and considering some not-too-distant earlier work, we saw that in fact the program was based more on existing work than on the sensational recent recording, the sixth from this guitarist.
The rondeña-bulería "En el Arco", his soleá por bulerías, the abundance of bulerias ("Trafalgar" is great), the well-worn interlude where Cepillo and Pablo Martin share the same instrument to do their "show", the soleá of Carmen Cortes (a complete and extremely long piece)... However the best parts of the show were two interesting singing bits by David Carpio, and the sensational piano of Argentinian Mariano Diaz, new elements in the group.
We cannot fail to highlight Gerardo's technique because this man from Jerez (we hadn't wanted to say it but it seems obligatory), has adapted admirably and is unsurpassed with the new physiology of his right hand. The problem with his index finger has not kept his arpeggio, strumming and 'picado' from reaching the level of times past, which was outstanding. Quite an accomplishment never before seen, and only within the reach of the truly great. A "miracle" on earth well worth the attention of so many guitarists who at some point in their careers suffer this still little-known and often hidden physical rarity. In light of this, our congratulations to this artist who takes pleasure in his guitar, and in bringing pleasure to others, without making his profession an existential torment. As to the rest, the repertoire, maybe next time.