Text: Estela Zatania
Photos: La Bienal.
Opening of the 18th Bienal de Flamenco de Sevilla
Thursday, September 12th, 2014. 8:30pm.. Teatro de la Maestranza
THE BIENAL DE SEVILLA OPENS WITH A VISIT TO PLANET MORENTE
Cante: Carmen Linares, El Pele, Juan José Amador, Estrella Morente, Arcángel, Soleá Morente, José Enrique Morente, Silvia Pérez Cruz y Tomás de Perrate.  Dance: Javier Latorre, Israel Galván. Guitar: Alfredo Lagos, Dani de Morón, Raúl Fernández Refree, Rubén Campos. Electric guitar: El Pájaro. Percussion: Miguel Rodríguez Fernández. Piano: Pablo Suárez (for La Leyenda del Tiempo). With Proyecto Lorca: Juan M. Jiménez (saxophones), Antonio Moreno (percussion), Daniel B. Marente (piano and synthesizer), Marco Serrato (upright bass and electric bass).  Script-writer and director: Pedro G. Romero, José Luis Ortiz Nuevo, José Manuel Gamboa.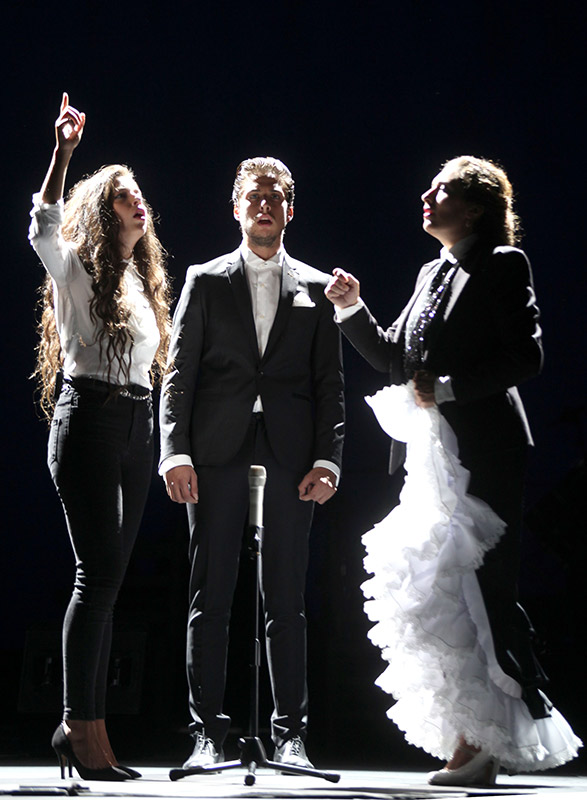 And the 18th edition of the Bienal de Flamenco de Sevilla has been inaugurated.  Amidst much expectation, with the Teatro de la Maestranza packed to the rafters with admirers of the most universal flamenco artist from Granada, the man who left us prematurely four years ago, a lengthy tribute was offered to the memory of Enrique Morente and his work.  The operative term here is "lengthy".  It was a long, slow, repetitious show, only forgiven thanks to an indulgent audience anxious to see the opening of this mega event celebrated every two years in the capital of Andalusia and, naturally, to extol the virtues of the singer being honored.
Sustained vocal tones without vibrato, relentless electronic reverberation, a disquieting air of mystery, sweetness, lots of sweetness, exotic harmony, voices that whisper stylized versions of songs dressed up as cante, avant-garde music…  We're on Planet Morente, an unmistakable zone founded by the late patriarch, and affectionately preserved by his three children, Estrella, Soleá and Enrique junior, in addition to noteworthy figures such as Arcángel and Pele, each one in his own way of course.  Plain staging that remained unchanged throughout the show, was only relieved during a brief fandango face-off between the two singers.
But let's look at the upside.  In the first place, the tremendous privilege of being able to enjoy the authentic genius of dancer Israel Galván, not with that absolute freedom he tends to demand, but harnessed to the forms of flamenco, allowing the traditional fan to understand why specialists place this man on the altar of the greatest representatives of the genre.  It felt like a historic moment when Estrella sang siguiriyas for his dancing.
Oddities:  the guitarist who literally whistled his melodies, sounding like an Ennio Morricone soundtrack with Holy Week references included, and singer Silvia Pérez Cruz who offered a long medley of Morente's music that must have lasted about twenty minutes, although I didn't actually time it.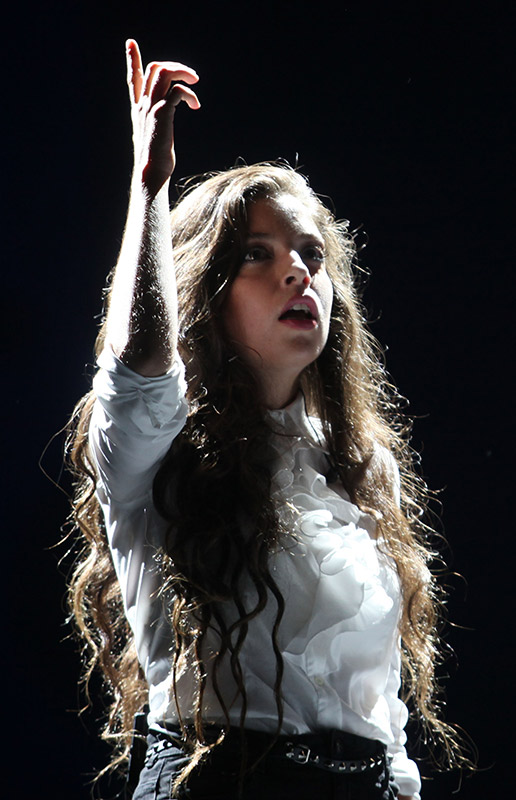 Although Pele didn't have his best night – it almost felt like he didn't want to upstage the central figure of the tribute – he is an artist who is always surprising.  With his rumpled hat, the eternal bohemian again offered us his particular version of flamenco as an unpredictable art-form that accommodates all the spontaneity a knowledgeable interpreter is capable of delivering.
Enrique junior, okay, he's nearly an exact copy of the father, but his youth and intensity, which seems to be sincere, lends an added sheen to his father's repertoire.
A very brief appearance by "bad boy" José Luis Ortiz Nuevo, ignited sparks of emotion with just a few poetic words, triggering the most spontaneous and heart-felt applause of the evening.
Other participating artists who expressed their admiration for the man from Granada were Javier Latorre, Arcángel, Tomás de Perrate, Carmen Linares and Juan José Amador.  Also noteworthy were Alfredo Lagos and Dani de Morón on guitar.
After nearly four hours, the grand finale of the show featured all the numerous cast in a large circle with overhead spot – a composition often used by Enrique Morente – to pay tribute to the latter, and provide a dramatic ending to this long presentation that opens the doors of this event, and our curiosity to see what else this new edition of the Bienal de Flamenco de Sevilla with bring.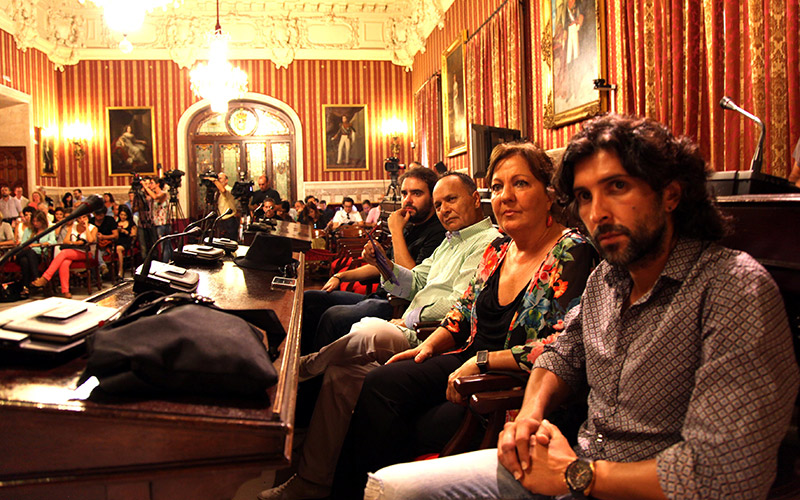 ---