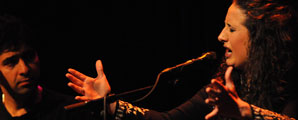 FLAMENCO BIENNALE III
"Qasida"
Rosario "La Tremendita" y Mohammad Motamendi
Friday, January 28th, 2011. 830pm. Bimhuis, Amsterdam, Holanda
Text: Estela Zatania
Photos: Ana Palma
Cante: Rosario "La Tremendita", Mohammad Motamendi. Guitar: Salvador Gutiérrez. Palmas: Bobote, Oruco. Percussion: Luis Amador. Upright bass: Jordi Gaspar. Kemanche: Sina Jahanabadi. Tar: Hadi Azarpira. Daf: Hossein Rezaee Nia.
The title of the recital is already provocative.  "Qasida", an Arabic word, in Spanish "casida", a poetic form of pre-Islamic Arabia that was later recuperated in Andalusí culture, according to what I could find out with a quick googling.  Federico García Lorca and Miguel Hernández also wrote poems they called "casidas".
Before closing the browser, I hunted for information about the Iranian music interpreted by Mohammad Motamendi who shares the bill with singer Rosario "La Tremendita" in this show, and I was immediately struck by strangely familiar phrases about pureness or the lack of same in this traditional genre, the danger of extinction and the dearth of classic interpreters among other things.  Surprising parallelism with cante flamenco.  This is probably the most significant element of this union of music and cultures: two young artists with knowledge of their respective musical heritages, while at the same time anxious to broaden their horizons.
| | |
| --- | --- |
| | |
Musicologists tell us there is always greater similarity between the musical forms of a given era, than within one musical form that spans several eras.  So it's not surprising that current Persian music in the voice of Mohammad Motamendi should find a common thread leading to the current flamenco singing of Rosario "La Tremendita".  Despite being carriers of classic forms, both are children of the same generation of Ikea, iPhones and McDonald's.  The possible connection between Persian music and flamenco is a romantic fantasy not supported by specialized historians, but a purely auditory communication, despite the lack of a historical precedent, is born between these nouveau maestros who, although they do not speak the same language, seek mutual understanding via the most universal language of all: music.
The show, a production of the Flamenco Biënnale Nederland and Morgenland Festival Osnabrück, follows the formula of previous similar juxtapositions we've seen at the two earlier editions of this now well-established festival.  In 2006 we saw Miguel Poveda and Duquende having a fine time with Faiz Alí Faíz, a star of qawwali music, and in 2008 Berber singer Cherifa Kersit sought a common denominator with guitarist Niño Josele.  These are experiments whose results no one can predict, but they never fail to surprise and stimulate the imagination.
In the beautiful Bimhuis café cantante with its panoramic view of Amsterdam as a backdrop, and the guitar accompaniment of Salvador Gutiérrez, "La Tremendita" sang soleá, nanas, siguiriyas and tientos with an almost oneiric delivery that complemented the exotic sounds of her Iranian counterpart whose hypnotic voice, accompanied by Persian instruments, situated us in his world.  And you don't even know or care if it's a journey to the past, or if you're looking towards an avant-garde future.
| | |
| --- | --- |
| | |
Petenera, with its peculiar musicality so close to Hebrew forms still heard in the Sephardic neighborhood of Istanbul, and which are reflected as well in the "romances" transmitted to our time by Negro del Puerto, is the perfect point of encounter.  Then, the two voices take turns in three quarter time, she with fandangos, and he, with the captivating sound of his voice punctuated by "tahir", a fascinating vocal technique somewhat comparable to the "babeo" of flamenco in as much as both techniques evoke human weeping.
They end with the adaptable compás of four by four, both singers and their respective musicians, but the fiesta finale, as was only fitting, was bulerías.

---