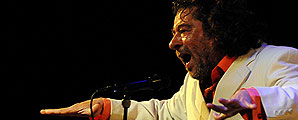 FLAMENCO BIENNALE III
"Noche de Cante Jondo"
Arcángel, El Torta
Saturday, January 29th, 2011. 8:30pm Bimhuis, Amsterdam, Holanda
Text: Estela Zatania
Photos: Ana Palma
The next to last day of the third Dutch Flamenco Bienal offered the chance to contemplate two extremes of the wide range of possibilities offered by the flamenco artform.  Anyone who feels limited by the rigidity of the forms should have been present at Amsterdam's Bimhuis café cantante on Saturday night, January 29th.
Conventional wisdom dictates that you shouldn't divide audiences, because the outcome is either a disgruntled audience or an empty theater.  Perhaps because Dutch people don't have the prejudices, local chauvinism and racism of so many national flamenco fans, they attended this recital filling the venue to the proverbial rafters.  And they were generously rewarded for their open attitude, a feature of the Dutch personality which is reflected in the extreme cultural diversity of the country.
| | |
| --- | --- |
| | |
Between the ethereal sweetness of Arcángel, and the barely contained anarchy of el Torta, there is a universe of flamenco possibilities.  In fact, the double recital (Arcángel laid out a complete recital of an hour and a half, Torta needed about forty-five minutes) was like a salesman's book of samples.  The same compases and repertoire of soleá and siguiriya styles are meticulously respected by both singers, but few people unaccustomed to flamenco would manage to find any relationship between these singers' respective interpretations.
Arcángel…  Sweetness that causes pain, the exquisite quality of his delivery, the crystalline voice impregnated with mystery and melismatic perfection.  Cerebral and controlled.  You take away the magnificent accompaniment of Miguel Ángel Cortés, you put an old-style guitarist and the end result would not be much different from recordings of the thirties and forties of the last century.  In case anyone at this point still doesn't know it, the so-called "cante bonito", pretty singing, has made a comeback.  For people of my generation, steeped in a more austere sort of singing, this lesson in diversity does us good.  Like the title of the documentary shot by the festival's organization and which was projected before the beginning of the show, "El Cante Bueno, Duele", 'good singing hurts'.  Emotional pain can be expressed in a wide variety of ways; Arcángel does it with silences and minimalism, a sort of sweetness that its always tinged with something deeper and more poignant.  Soleá apolá, malagueñas with abandolao, little spontaneity, maximum precision, both in the vocals and in Cortes ' arrangements.  Tangos which are mostly Extremaduran, free-form fandangos, siguiriyas, the ingenious cantiñas and alegrías that give a new dimension to these cantes, and the superb fandangos de Huelva to end.
| | |
| --- | --- |
| | |
After intermission, Juan Moneo "El Torta" appeared on stage letting out impertinences between dedications for Fernando Terremoto and Moraíto, declarations and histrionic gestures, the absolute antithesis of Arcángel.  His fans know what to expect, and the singer knows how to make them happy.  It's hard to find words to describe this irregular artist, one moment a genius, next moment a clown, always a cult figure for many.  No exquisiteness or silences, that's for sure.  He gets right down to business without dallying.  In siguiriyas there was no preparatory salida, no falseta, not even one measure to introduce the tone, just straight to the first verse.  Cante is in this man as the devil inhabits the possessed, and Torta is its vehicle to the outside world.  His extremely aggressive and uncontrolled delivery coincides with certain stereotypes that are as outdated as polkadots.  We're told by some that this is how people sang at the dawn of flamenco, even when everthing seems to indicate this was not the case.
Makes no differencie, there is a symbiotic relationship between Torta and his numerous admirers.  The singer is like a gladiator, and the spectators egg him on to ever greater risks, even when the man is already at the limits.  He has communicative power, or perhaps it's his inoffensive antics that keep people glued to their seats.  No other musical genre would tolerate Torta's irregular behaviour, but in flamenco, a touch of madness always adds interest and dimension.   And through it all, the serious flamenco fan can, if he wants, find moments of great flamenco singing.
The sophisticated Dutch audience was able to appreciate and show their gratitude to both singers with cheering and ovations, and the wide range of possibilities in flamenco, so clearly laid out, without ever leaving behind the forms, was a good lesson for all of us.

---