Flamenco a Nou Barris. Duquende, Guadiana, Niño Josele, Piraña, Casares, Rafael Amargo
May 19, 2008
Twittear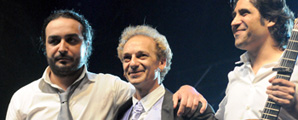 FLAMENCO A NOU BARRIS
Pati de la Seu del Districte de Nou Barris
May 15-17, 2008


Text: María Benitez
Photos: Ana Palma
BARCELONA AWAKENS TO ITS FLAMENCO SPRING

Duquende, Guadiana, Niño Josele, Rafael Amargo, Daniel Casares and Jorge Pardo were the big stars of this year's program in a festival that has the custom of bringing together first-line artists with young hopefuls. In this ninth edition, Flamenco a Nou Barris mixed tradition and avant-garde, technique and sensitivity, duende and improvisation, fusion and purity.
Once again the arches and palm trees of the patio of the Nou Barris district vibrated to the compás of the traditional three nights of flamenco. The Flamenco a Nou Barris festival opened the Barcelona season, coming yet close to its goal of becoming the most important flamenco festival of the city.
| | |
| --- | --- |
| | |
| Guadiana | Duquende |
| | |
| Piraña / Guadiana/ Niño Josele | Duquende / Niño Josele |
It's a faithful audience, and they lighten the wait with rhythmic palmas warming up the sometimes cool nights of May. Most of these people have memories of magical nights from previous years with artists such as Arcángel, Chano Domínguez, Pitingo and Miguel Poveda among many others. This year, three new names of top stars from the current flamenco scene contributed to making the festival a classic.
A grab-bag of talent
Niño Josele was the first to get up on stage and break the silence with the force of his technique. He was joined by Piraña on percussion. This solid pair accompanied, first, the broken voice of Guadiana, and then Duquende, for a night of improvisation and good music that will remain in the memory for some time to come.
| | |
| --- | --- |
| | |
| Rafael Amargo | |
| | |
| Rafael Amargo | Cía. Rafael Amargo |
| | |
| Cía. Rafael Amargo | Daniel Casares |
In search of the essence
On Friday the stage of the Nou Barris festival received one of the most acclaimed dancers and choreographers. But it was done in a special way: with a rather intimate show Rafael Amargo took us back to the roots. With two female dancers and the music of Juan Parrilla, he went through flamenco's most classic forms.
Young hopeful
Saturday night featured Daniel Casares who just returned from representing Europe at the promotional Exposición Universal de Shanghai 2010. This young guitarist demonstrated he's not far from being one of the best, and at 27, his name is starting to be known.
Adding ingredients
This edition of the festival opened a window to what we can expect for the tenth anniversary. Ana Palma's photograph exhibit, in which the "duende" is caught on the fly, is on the bill for next year's Nou Barris festival.