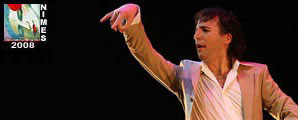 FESTIVAL DE NIMES 2008

Winners of the Concurso de Córdoba
Wednesday, January 23rd, 2008. 8:00pm. Odeón. Nimes (France)

Text: Estela Zatania.
photos: © Jean-Louis Duzert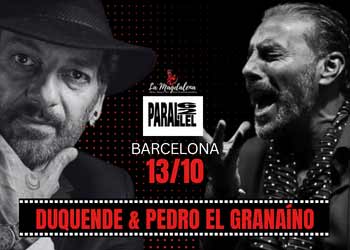 Publicidad DeFlamenco
THE WISDOM OF YOUTH
1st part: Cante: David Palomar. Guitar: Rafael Rodríguez.
2nd part: Dance: Marco Flores. Cante: Leo Treviño, Emilio Florido. Guitar: Antonia Jiménez. Palmas: Vanesa Coloma, Cecilia Lizcano.
In 2007, the jury of the Córdoba contest celebrated every three years since its beginning in 1956, crowned two young talents in dance and cante respectively.  All too often at these events it seems the right people don't win, but in that edition of the prestigious event, there were no dissenting voices among flamenco fans: David Palomar, from Cádiz, Camarón Prize and Manolo Caracol Prize, and Marco Flores, from Arcos de la Frontera, Absolute Winner in Dance, both under 30 and already maestros in their chosen specialities.
Despite having been born in the flamenco neighborhood of La Viña, David took up his profession relatively late, first passing through fusion and rock groups.  But his way of singing and his knowledge reveal not only authentic life experiences, but an overwhelming love of cante.  The most noteworthy characteristic of everything he does, is his capacity to infuse life and freshness into absolutely traditional forms and verses.  Others seek novelty via experimental paths – David Palomar allows himself the luxury of placing all bets on the most traditional sort of cante to discover his own new world, and the result is a reminder that we've only begun to explore the possibilities of flamenco.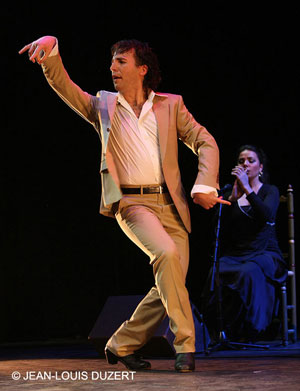 Honesty, professionalism and freshness, never departing from the forms
Alone, with an overhead spot and no amplification, he starts out unaccompanied with the pregón of Macandé, a nearly-forgotten curiosity.  David comments that this is his first solo performance outside of Spain, and someone shouts out "you're not alone David, we're all with you!"  The audience of Nimes is always knowledgeable and grateful.  He goes on to interpret siguiriyas, possibly the best part of the recital, breathing life and urgency into this difficult cante.  There is honesty, professionalism, respect for the art.  There is a freshness that never departs from the forms.  Alegrías and cantiñas with all the flavor you'd expect, with that understated delivery so typical of Cádiz singers, and always stylizing and personalizing.  In soleá, he recreates styles of Juaniquí, Chozas and Paquirri, and then offers a brief biographic sketch of el Mellizo before delving into the latter's malagueñas.  In Córdoba David also knew how to establish a rapport with the numerous audience, and this adds a lot to an artform that evolved in intimate venues.  Mining cante, and to end, bulerías, standing up, with a relaxed compás and truckloads of flavor in cantes of Perla de Cádiz, Juan Villar and others, some delightful dance steps and an encore of fandangos of his own creation.  And all the while, the extraordinary guitar of Rafael Rodríguez accompanying on guitar with a tasteful mixture of old and new sounds, and plenty of personality.
Serene and sober even in bulerías
In the second part, Marco Flores didn't disappoint.  With the masculine elegance of a Güito or a Manolete, he opens with farruca, and the excellent guitar-playing of Antonia Martínez makes a fine case for the presence of more professional women guitarists in flamenco.  Singers Leo Treviño and Emilio Florido offer tangos with the familiar 'canastero' lament Camarón introduced us to, and Marco returns for martinete with a catalogue of perfect poses and subtle gestures.  After a malagueña cante by Florido, the dancer returns to wrap up the evening with his superb alegrías.  He is serene and sober even in bulerías, maintaining his fascinating composure right till the end.  A laidback fiesta final puts the final note in this very flamenco evening at the Festival of Nimes, 2008.
---