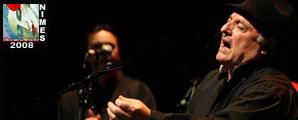 FESTIVAL DE NIMES 2008
Pepe para siempre
Thursday, January 24th, 2008. 8:00pm.
Odeón. Nimes (France)

Text: Estela Zatania.
photos
: © Jean-Louis Duzert
…A VERY SPECIAL EXPAT
Cante: Miguel Poveda, Curro Fernández, María Peña, Pepa Vargas, Diego Carrasco. Guitar: Antonio Moya, Antonio Soto, Grégoire Ibor-Sánchez. Dance: José Galván. Otros invitados: Paco Santiago, José de la Negreta, Cathia Poza, Kiko, Manolo Cortés, José el Boleco, Nene Cortés, Manuel Gutiérrez, Juan Manuel Cortés, Henry Le Ny, Christine Alazard, Eddie Pons.
"A party full of surprises and high emotion" said the program, and it was no empty promise.  There were a few difficult moments for those of us who 'ne parle pas' French or are unfamiliar with some of the local artists, but there was also plenty of emotion, there was art and spontaneity and above all else, a touching show of affection, from the artists and audience alike, for Pepe Linares who with this once-in-a-lifetime show celebrated forty years in France, his adopted country.
Born in Linares, Pepe came to France, like so many other Spaniards of the era, to make a living, and like so many others, set down permanent roots.  But he never forgot where he came from, nor his beloved flamenco.  To such an extent, that he went on to conceive and promote what today is the Festival de Nimes, one of the most prestigious events of its kind outside Spain.
The lovely theater of Nimes filled to the rafters to pay tribute to its favorite adoptive son and amateur cantaor who would receive the city's Medal of honor before launching into a mini cante recital to the delight of his friends and followers.  Due to health problems, maestro Fosforito was not able to be present as originally planned, but his regular guitarist, Antonio Soto, covered with two guitar solos, taranta and alegrías en A, the latter, especially interesting.
The biggest star of the night was Miguel Poveda.  On Friday the Catalonian singer offers a full concert with his guitarist Chicuelo, but Miguel was not about to miss the opportunity to offer some cantes to his beloved Pepe Linares "who has done so much to dignify flamenco" as he commented.  Granaína and rondeña, and a long bulería, mostly without accompaniment, left us all anxious for more and looking forward to the complete recital.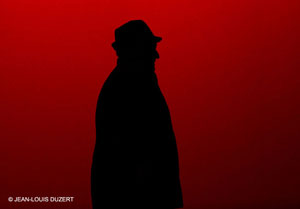 The best anniversary any flamenco expat could ever have wished for
The second part opened with the most universal man from Jerez, Diego Carrasco, known and loved in "Nimes de la Frontera" as he calls it, because he performs at the festival every year, and two seasons ago was awarded the city's Medal of honor.  The same Diego as always: compás, good humor, a little song and some more compás.  Two French dancers ably defended Gallic honor, while also showing the powerful influence of Farruquito and Sara Baras in today's flamenco dance.
The rest of the three-hour show was managed by an extraordinary cuadro: Curro Fernández and his wife Pepa Vargas, Antonio Moya with his, María Peña, Antonio Soto and the dancing of José Galván, father of Israel and Pastora.  The veteran Galván received the only standing ovation of the night.  His dance was sober and majestic, recalling times that possibly were more flamenco, capturing the imagination and absolute attention of a mostly young audience accustomed to another type of dance.  And as you watched him, you couldn't help waiting to see a glimmer of the essence that might have yielded the famous son, professional genius, Israel by name.  Except for a closing with one leg suspended in the air (Israel Galván's most famous pose), all you see is tradition and respect…which in turn speaks volumes about Israel's background.
The pace picks up with bulerías, Pepa Vargas and María Peña, Lebrija and Utrera, and Diego Carrasco returns with his delightful little dance to escort the heaving cuadro towards the exit, thus closing out the best anniversary any flamenco expat could ever have wished for.  Congratulations, Pepe…
---