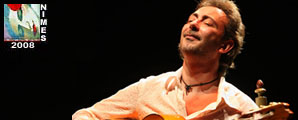 FESTIVAL DE NIMES 2008
José Antonio Rodríguez Cuarteto
Tuesday, January 22nd, 2008. 9:00pm
Odeón. Nimes (France)

Text: Estela Zatania.
photos: © Jean-Louis Duzert
IT HURTS SO GOOD
Guitar: José Antonio Rodríquez. Second guitar: Francisco Gallardo. Cante. Rafael de Utrera. Percussion: Agustín Diassera.
"The plains of Córdoba"…the Mezquita, Julio Romero de Torres who painted Spanish Mona Lisas, Cordoban olive oil, salmorejo and Montilla Moriles just like sherry from Jerez….  The clichés abound, but when it comes to flamenco, Córdoba is the land of guitarists; a short list off the top of my head goes from Paco Peña, Vicente Amigo (raised in Córdoba from the age of five) and Juan Serrano, to Merengue de Córdoba and Manuel Silveria.  And the beat goes on with this young maestro, sensitive virtuoso and inspired composer, José Antonio Rodríguez.
The boy who won first prize for guitar at La Unión at only 17, the young man who accompanied Paco de Lucía, Fosforito and Mario Maya and collaborated with stars from other musical genres such as George Benson, Al Di Meola and Piazzola, came to the lovely city of Nimes to offer his recital in quartet.  Unlike other similar formations where the guitar often seems to be accompanying a series of instruments, Rodríguez lets his guitar maintain absolute center-stage at all times.  Bits of cante from Rafael de Utrera, a discreet second guitar and respectful percussion backed up this interesting recital in the charming café cantante Odeón.  José Antonio Rodríguez belongs to the new generation of guitarists who don't like us to call them "tocaores".  More than flamencos, they are musicians first and foremost, while managing to adhere to a flamenco aesthetic as it is perceived in 2008; they are the spiritual children of Paco de Lucía.  Intelligence and good taste counsel everything José Antonio plays.
Leaving behind the earthly realities flamenco so eloquently evokes, to enter into a sweet ethereal world where pain is remembered with nostalgia
He opens with a composition in measures of three that aspires to slow bulerías, sprinkled with free lyrical phrases that contrast with that flamenco compás, with the palmas of Rafael de Utrera and the percussion of Agustín Diassera.  José Antonio is left alone on stage for a beautiful piece that smells of rondeña, always promoting his personal perspective without losing sight of the bittersweet feeling of the form.  In all the pieces, the guitarist delivers exquisitely elaborated phrasing that takes maximum advantage of the vibrations produced by strings tensed over a wooden box.  A sort of soleá fantasy with contemporary chords puts traditional flamenco on the back burner, while at the same time demonstrating that certain emotions are universal.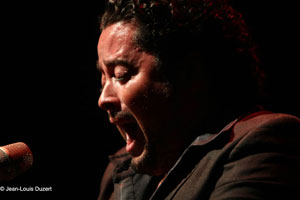 A lovely and original tanguillo (or zapateado, without cante it could be either) is backed by second guitar Francisco Gallardo with meticulously conceived harmonies, and interludes in minor key.  Between one piece and another, José Antonio comments on the difficulty of tuning the guitar under the heat of the spotlights.  Percussion sets up the versatile, user-friendly compás of soleá por bulería – not as urgent as bulerías, nor as serene as soleá – and Rafael de Utrera delivers a song rather than cante.  This music does not have the angst or body of conventional flamenco, nor is there any such intention.  There is a sense of taking flight, of leaving behind the earthly realities flamenco so eloquently evokes, to enter into a sweet ethereal world where pain is remembered with nostalgia.
Rodríguez, always the cerebral perfectionist, lubricates the fingers of his right hand and interprets a stylized lyrical taranta to accompany one cante of Rafael de Utrera before ending with bulerías.  Another composition, quite in the realm of jazz this time, and the musician says his goodbye with bulerías and traditional short cantes of Rafael to bring us back down to Earth, a nice contrast to all that went before.  The singers of Utrera have always known how to mix fragments of song with traditional cantes to give dimension to the flamenco form that is evolving most dramatically from day to day.
The audience concedes a standing ovation and demands an encore that takes the form of a tango/rumba full of musicality that Rafael de Utrera uses to remember a famous song of the sister duo Las Grecas.
---