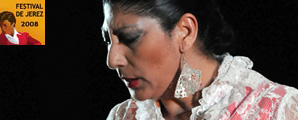 Manuela Carrasco "Romalí, Danza de los gitanos"
Sonia Miranda
María Juncal "La hora de los milagros"
Sunday, March 2, 2008. Jerez de la Frontera
Photos: Ana Palma
Sonia Miranda
Palacio de Villavicencio 7pm
 
Text: Estela Zatania
Until just thirty years ago, women flamenco singers were relatively scarce in commercial settings, whether singing for dance or as soloists.  Today however, there are as many young women as men.  Sonia Miranda, 33 years old, from Seville, belongs to this new wave and is also marked by the unmistakable style of the Cristin Heeren school characterized by a lyrical delivery very in keeping with present trends in flamenco singing.  Until now, Sonia has been the only artist throughout the festival to remember Gaspar de Utrera who died just a few days ago, and she did it not only with words but recreating tientos verses the maestro was known for singing, such as "Al escucharlo temblé" and "Las lágrimas".  She used her sweet voice to sing malagueña, ending with the fandango of Frasquito, followed by soleá por bulería and siguiriyas.  In cantiñas she attempted an overly large vocal range, but defended herself with bulerías and finally got the audience in her pocket with her dramatic interpretation of the zambra popularized by Paquera, "Maldigo Tus Ojos Verdes".  Sonia was accompanied by veteran Jerez guitarist José María Molero.
Manuela Carrasco
"Romalí, Danza de los gitanos"
Teatro Villamarta 9.00 pm
Text: Estela Zatania
Dance: Manuela Carrasco. Special collaboration: Maha Akhtar. Guest artist: El Torombo. Cante: Enrique Extremeño, José Valencia, Samara Amador, Mai Fernández, Pilar Carmona. Guitar: Joaquín Amador, Ramón Amador, Román Vicenti. Percussion: José Carrasco. Indian musicians: Rajeeb Charaborty, Pandit Ramesh Misra, Sanju Sanhai.
Manuela's fans really love her.  Such presence, the permanently profound character, handsome middle age, both physical and artistic, the mysterious beauty of her exotic face…she is the perfect image of classic flamenco dance.  In other words, Manuela is perfect, no matter how many imperfections she might have.  Which is why we will overlook the unfortunate inclusion of the amateur Indian dancer who mercifully adorned only the beginning of the show.
As for the rest, it was back to the future, "Un Sorbito de lo Sublime" for the bazillionth time, and admirers of this lady have no complaints.  If the current flamenco scene seems to be experiencing a permanent boom, on another level, that of communication and quality, it's touch-and-go, but Manuela Carrasco is always a good bet.  Romance and alboreá to open our appetite, followed by siguiriya.  The sound of the floor couldn't be worse – how is it possible this is the same stage where so many others have danced throughout the week?  Torombo is another permanent fixture who enjoys the audience's tolerance of his uncontrolled energy.  Against all odds, he always manages to pull it off thanks to his sincere enthusiasm that triggers the first really warm applause of the night.
A "gypsy fiesta" of cante abandolao is a viable alternative to bulerías, also in threes, and lots of gypsy this and gypsy that, and "vivan los gitanos!", and gitano gitano.  The sledgehammer message comes off as more corny than politically correct; there must be better ways to defend a just cause.
For alegrías Manuela wears a frilly white and salmon dress, then the pace dissolves into tablao mode with three female singers por tangos.  Manuela's soleá with its knock-down-drag-out ending, the same dance she's been doing all her life and which never comes out the same, is, as always, the end of the show.
María Juncal
"La hora de los milagros"
Sala La Compañía, 12 midnight
Text: Manuel Moraga
Dance: María Carrasco. Cante: Roberto Lorente, David Vázquez and Juan Manuel Mora. Guitar: Felipe Maya and Carlos Maldonado. Cello: Sergio Menen.
The finest Madrid school of flamenco dance formed María Juncal's dancing: Ciro, Merche Esmeralda, Güito, Manolete, La Tati…  Maestros of Amor de Dios where the dancer from the Canary Islands soaked up concepts of elegance, sobriety, the importance of having a "look", the lonliness of the stage, seriousness… And all enriched with clean technique always at the service of all the rest.
María Juncal openedwith her farruca and there you could see Güito, Gades and the Pelaos.  Sculptured composition of the figure, rigid arms ending in amazing hands, a firm gaze, drama, temperament without jolts…  In other words, the way a classic farruca with the dignity the style demands.  Lovely.  The cante, guitars and cello supported the dancer related to the Gitana Blanca, muse of Julio Romero de Torres.  Beauty upon beauty.
Taranto and alegrías were the styles Juncal danced afterwards.  The taranto, a mixture of strength and sensitivity, and alegrías full of vitality and sensuality.  Characteristics that would have shown better with less general lighting and the greater use of spotlights.  Noteworthy was singer Roberto Lorente whose voice is getting better all the time will wonderful textures.  María Juncal demonstrated the new lease on life of the Madrid style; technical perfection as a vehicle to formulate concepts and construct the perfect meaning for each dance.
---