Text and photos: Estela Zatania
Saturday, July 16th, 2016. 9:00pm. Pl. del Ayuntamiento, Morón de la Frontera
The Gazpacho Andaluz of Morón de la Frontera celebrates its 50th edition with a grand fiesta.

1st part: Solo guitar, Noelia Bellido of the Taller de Guitarra Flamenca de la Escuela Municipal de Música y Danza. Dance: Eva Conde, Lourdes Mena, Mª Ángeles Rodríguez, Irene Navarro, Marta Manchado, Mª Carmen Moreno, Esperanza Verdugo, Loreto Martínez, Macarena Clarambo, Valeria Portillo, Zenaida Gallardo. Taller del Baile Flamenco of the Escuela Municipal de Música  y Danza.

2nd part: Solo guitar, Paco del Gastor. Cante: Rafael de Utrera, Moisés Vargas, Jesús Flores, David «El Galli», José Mercé. Guitar: Jesús Guerrero, Rubén Romero, Paco Iglesias, Antonio Higuero. Dance: El Farru and his group.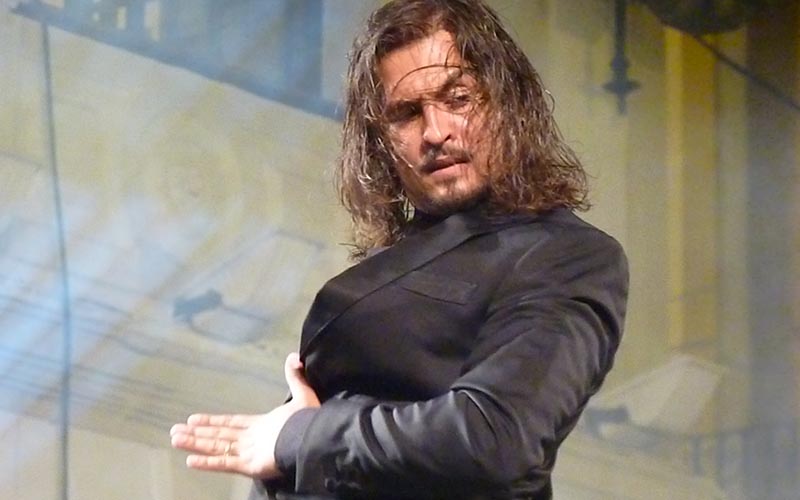 The many festivals celebrating their golden anniversary between last year and this, leaves no doubt: it was around the middle of the nineteen-sixties when this type of event became popular, largely due to the influence of Antonio Mairena.
Just before nine P.M., the recorded voice of Juan Peña «Lebrijano» singing his famous «Dame la Libertad», filled the town hall plaza of Morón de la Frontera, making a moving tribute to the singer who passed away just days ago.
With the aim of including the whole town in this important anniversary, the first part of the program was composed of outstanding students from the Taller de Guitarra Flamenca, and the Taller del Baile Flamenco of the municipal school of music and dance.
Following this, Huelva singer Moisés Vargas, with the guitar of Niño Seve, interpreted soleá apolá and other cantes, ending with fandangos from his hometown.
The current senior guitarist and maestro of Morón, Paco del Gastor, holder of important prizes from Córdoba and Jerez, accompanist of top stars, offered a brilliant exhibition of the most authentic Morón style.  After speaking about his uncle, Diego del Gastor, Paco played a piece so beautiful and original, you hate to call it 'bulerías', which would seem to trivialize this sweetly painful music, with the touch and phrasing so typical of Morón.  The distillation of an entire life in flamenco allows him to create new sounds without ever moving away from the essence.
Singer Rafael de Utrera, who lives in Morón, with the guitar of Jesús Guerrero, the compás of Diego Montoya and Carlos Grilo and the percussion of Paquito González, used his powerful voice for cantiñas, malagueña with abandolao, tonás and soleá apolá.  Morón guitarist Domi Serralbo joined the group for bulerías, with Rafael's always fine interpretation of the song «Señorita» popularized years ago by Enrique Montoya.
Another young singer from Morón, Jesús Flores, accompanied by guitarist Rubén Romero, had the excellent collaboration of guest dancers Junco and Susana Casas.
And another…the ubiquitous David el Galli, a regular with all the top dancers, last night had his chance «alante», up front and solo.  We've followed his progress from young hopeful to mature artist.  Trilla, martinete and tonás…words for Lebrijano.  Stylized soleá por bulería to the rhythm of knuckles, then, mining cante and soleá, ending with bulerías.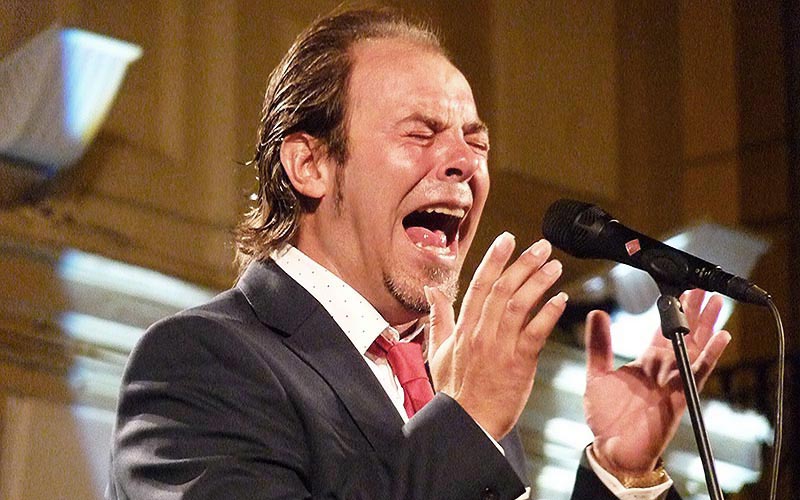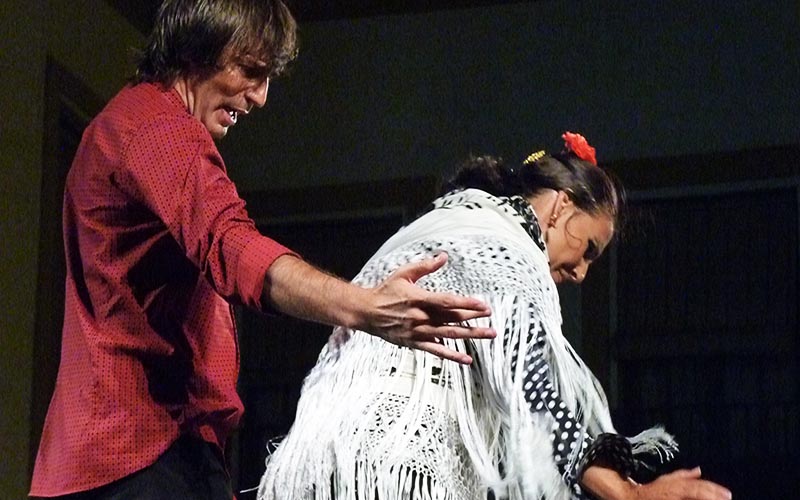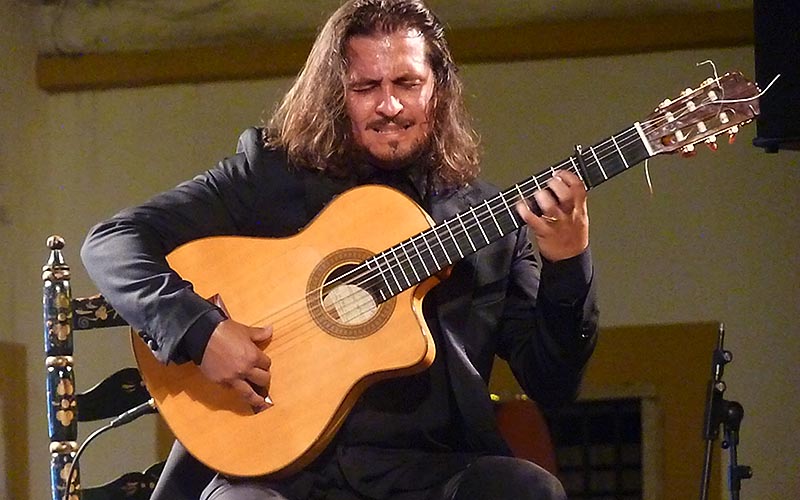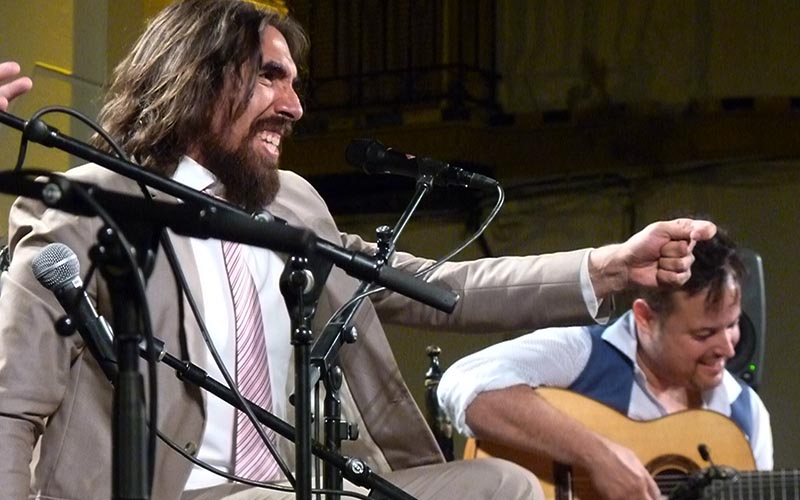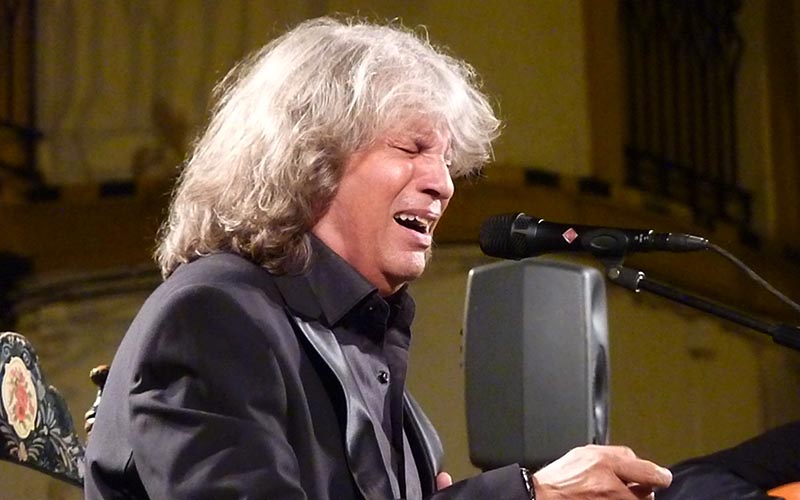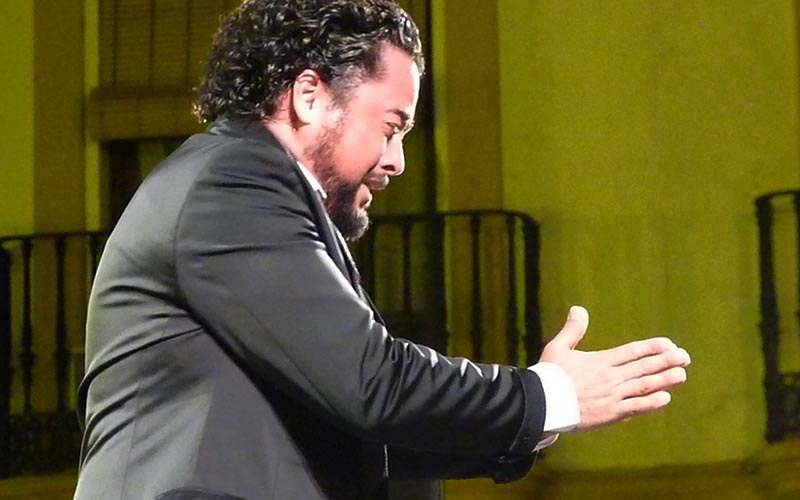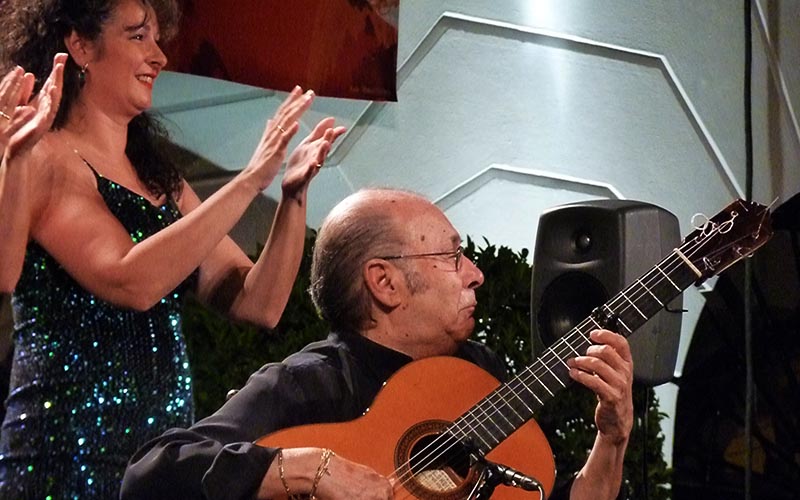 ---