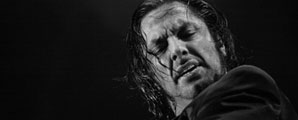 XLIX FESTIVAL INTERNACIONAL
DEL CANTE DE LAS MINAS

Argentina / Rafael Amargo "Tiempo muerto"
Monday, August 10th, 2009. 10:00pm. La Unión
Text: Estela Zatania
Photos: Rafael Manjavacas
Monday's cultural activities at the Festival Internacional del Cante de las Minas got underway at eight in the evening with a roundtable discussion of Antonio Mairena, most notably the singer's historic performance at this festival in 1974 when he was accompanied by Paco de Lucía.
The long night at the theater began with the cante recital of young singer Argentina with the guitars of José Quevedo "Bolita" and Eugenio Iglesias, the percussion of José Carrasco and the palmas of Bobote and Torombo.  Along with Arcángel and Guillermo Cano, this makes three Huelva natives who have been featured at the festival in three days.  Young and talented, Argentina has many virtues and a few rough spots, but plenty of years ahead of her to achieve the success she clearly hankers for.  Her slickly refined singing comes from countless hours of study and sacrifice.  In fact, she doesn't manage to move beyond the characteristic sound of the Seville academy which in recent years has populated the flamenco landscape with young women with a similar voice and delivery, a type of cante very apt for the general public.  Tangos, abandolao with all the energy of bulerías, soleá with a feeling of soleá por bulería, granaína, mineras, siguiriyas at the seventh fret, a high position she manages without a hitch, cantiñas, bulerías and fandangos from her hometown, encouraging the audience to sing along with the fandango cané of Alosno.  Though seemingly stifled by a satin pantsuit busy with ruffles, and long loose that hair kept making problems, she managed to concentrate almost obsessively on her cante, constructing complex embellishments and modulating her voice with great sensitivity.
Rafael Amargo from Granada, is one of those dancers in the peculiar situation of being admired by the general public, but little appreciated by serious flamenco fans.  I'm not sure what causes such a contradiction, but it may have to do with the high quality of his dancing and the dubious level of his shows.  Prolific he is; eight shows with his own company in twelve years.  "Tiempo Muerto" is the sixth work, and according to press releases, it is intended as a tribute to Lola Flores, but you could have fooled me.  Perhaps the verses, composed by Rafael Amargo himself, are allusive to the popular performer – a defective amplification made it nearly impossible to decipher the lyrics.
Ten musicians and six female dancers participate in "Tiempo Muerto", a contemporary production that opens with siguiriyas at breakneck speed, and lots of aggressive percussion that gives no respite throughout the hour and a half performance.  The entire show is a continuous display of percussive energy, an excess of enthusiasm "made in Sacromonte" that manages to delight the audience packed into the Cathedral of Cante.  There are discreetly erotic references.  A number with four women in black skirts and black bras who play castanets is an odd combination of modern and classic.  The wardrobe in general keeps to basic black and white except for a facing-off between two women dancers dressed in electric red and which could have been cut in half, and the alegrías of Amargo who wears the same color.
In addition to voice and guitar (there is no program to identify the members of the company), violin, cello and special guest artist María la Coneja give life to this show that could be described as Mad Max in Granada, but which in the end has a lot to offer.  The fiesta finale is tangos, as is only fitting.
Special XLIX Festival Internacional del Cante de las Minas 2009. All the information: reviews, photos, news…
---