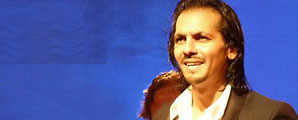 47ª Caracolá Lebrijana
Saturday, July 28th, 2012. 11:00pm. 2300h.
Plaza del Hospitalillo, Lebrija
Text and photos: Estela Zatania
IMPRESSIVE PROGRAM AND AN AMAZING NIGHT
Cante: José Mercé, José Valencia, Eva Ruiz. Dance: Farruquito y su grupo.
Eight days of parallel activities, guitar recitals, conferences illustrated with music, the exhibit "Pastora Pavón, la Niña de los Peines" and a top-notch program for the Caracolá Lebrijana…you'd think the recession was suddenly over.  No wonder every ticket was scooped up in exchange for the privilege of occupying a plastic chair in the Plaza del Hospitalillo for four and a half hours.  But at 15 euros a ticket, not even the packed venue could possibly cover the cost of this bill of artists, so congratulations are in order for the organization and sponsors for their efforts and sacrifice in this cardinal point of the flamenco map.
The first person to take the stage was local singer Eva Ruiz, a cante teacher in Seville, and last year the victim of strange sabotage during her performance at this festival when the amplification cut repeatedly.  An original arrangement of cabales, malagueña with abandolao ending, tientos tangos and bulerías with a strong Lebrija flavor were accompanied by Francisco Vinuesa and Carlos Ara on guitar, and the palmas of Juan Diego and Manuel Valencia.
| | |
| --- | --- |
| | |
| Eva Ruiz | José Mercé |
Next up, the miracle known as José Mercé.  Poor guy…he must struggle with the terrible burden of his own unfailing greatness.  This isn't your typical quirky genius with uneven performances.  This is an absolutely rare genius who seems never to have an off day.  So what happens is this…the casual flamenco fan who feels the irresistible urge to criticize, says "he always sings the same things", and "I don't like his pop repertoire", comments you hear again and again.
In the first place, who cares if in addition to singing classic cante the man makes piles of money singing lightweight flamenco pop for consumption by the general public?  It's thanks to that commercial success that we have the privilege of being able to hear him at a festival such as this one, with no concessions of any kind.  And if he "always sings the same things", it's because unlike pop music, cante has no expiration date, it always offers the possibility of new and greater dimension, and Mercé possesses the knowledge and experience to be able to give authentic depth to each interpretation.  His commitment is total, while at the same time he avoids the histrionic delivery others fall into when seeking the "duende".
When Mercé got to the verse "…Morao left me just when I most needed him", you could almost hear people's hair standing on end, and a standing ovation expressing gratitude for the almost unbearable intensity this singer transmits was inevitable. 
He was received with a warm standing ovation.  The absence of our much-missed Moraíto hung heavy in the air, but his son, Diego del Morao accompanied the singer, in addition to the palmas of Chícharo and Mercedes.  Mercé commented that he feels as if he's from Lebrija, because "my genes are from here", but later on a fan overcome with emotion would shout out: "José, you're not from Lebrija, you're not from Jerez, you're straight from heaven!", and at that point the audience was in the palm of his hand.
Malagueña and soleá dedicated to "my cousin Curro Malena", and when he got to the verse "…Morao left me just when I most needed him", you could almost hear people's hair standing on end, and a standing ovation expressing gratitude for the almost unbearable intensity this singer transmits was inevitable.  Alegrías with mirabrás, bulerías and more bulerías, then his elegant dancing and the grace to turn the stage over to "my good friend José [Valencia] who's going to bring the house down".  Mercé was sent off with yet another standing ovation, which makes three, and well-deserved.
Another local artist, but not so local, because everyone is "local" in his or her hometown.  José Valencia whose singing for the best dance companies we've been enjoying for so many years, has just released his first solo recording, and he came to the Caracolá to present this work.  "Sólo Flamenco", 'only flamenco' is the title, and the intent is clear, because this young singer is deeply committed to the classic cante he learned to love since childhood.
| | |
| --- | --- |
| | |
| José Valencia | Farruquito |
Valencia, revered in his hometown, is looking more svelte these days, his face shows maturity and his voice is impressively rich, extremely apt for cante.  With the fine guitars of Eugenio Iglesias and Juan Requena (hopefully other young guitarists will realize how good it looks to dress in a suit and tie as Requena did on this occasion), the singer interpreted tientos tangos, cante minero and bulerías to the compás of Lebrija.  Before launching into soleá, he asked the audience to tone down the chatter so he could concentrate, and went on to also sing malagueña with abandolao and cantiñas with the characteristic flavor of Lebrija.  In siguiriyas dedicated to his father he held nothing back, and Requena never took his eyes off Valencia for a single instant, the way people used to accompany cante.
Exhausted, but still charging forward, the singer gave a complete cante recital, and there was still more: another generous helping of bulerías and a final interpretation of tonás which had people completely overcome with excitement.
And we still had Farruquito coming up, his first appearance ever at the Caracolá.  He came with a minuscule but high-quality group: singers Rubio de Pruna and María Vizárraga, guitarist Román Vicenti, a young palmero and that's it.
The short program he did most likely reflected salary reductions.  He opened with siguiriyas and the splendid singing of Rubio.  Farruquito is dancing at his habitual high level, appears to have lost weight and his countenance is somehow darker, more mature.  After a singing solo by Vizárraga, the dancer returned for soleá, and el Rubio sang a very impressive assortment of styles.  Bulerías at half past three in the morning wrapped up this forty-seventh Caracolá Lebrijana that had no weak elements, just straight-ahead flamenco and plenty of thrills.
---