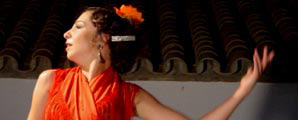 41st Reunión de Cante Jondo
Saturday, July 11th, 2009. 11:00pm.
La Puebla de Cazalla, Hacienda La Fuenlonguilla
Text and photos: Estela Zatania
Cante: Marga de Jerez, Raúl Montesinos, Nene de Santa Fe, José Valencia, Encarnita Anillo, Diego Clavel.
Guitar: Manuel el Yunke, Manuel Herrera, Oscar Lagos, Manuel Carmona, David Carmona.
Dance: Rosario Toledo and her group, Luís de Luís and his group.
Intimate gathering of a thousand people
A half-century ago, a painter and poet from La Puebla de Cazalla wanted there to be flamenco in his town.  He wanted there to be singing, and cantaores, an educated populace and a cante festival to bring it all together.  Last night, in large patio of the Fuenlonguilla Hacienda on the outskirts of La Puebla, province of Seville, deep in Andalucía, the spirit of Francisco Moreno Galván was present for the forty-first edition of this festival, and his familiar bearded face was beaming with satisfaction.
Diego Clavel

José Valencia
For various reasons, these are hard times for festivals, and some organizers have patched holes in the budget with modifications geared to attract a wider audience, but which also scare off lifelong flamenco followers.  The Reunión de Cante Jonde…even the name is special, townspeople don't call it a festival…has remained virtually unchanged in the face of emerging fashions.  A full and varied bill of artists, veterans and young hopefuls, the guitar solos that open each part, the tonás at the end…  And of course, hanging out at the historic Bar Central, sharing cured ham and wine with old friends and people you just met, arguing about who "blows away all the rest" and who should be arrested for the way they sing, dance or play flamenco…the aroma of rosemary that perfumes the atmosphere…
The funny thing is, this year word had spread that it was a weak lineup.  No superstar headed the bill, true enough, but an intelligent collection of young talent and discreetly established oldtimers, yielded seven hours seven of highly enjoyable flamenco, and some really great moments.
Encarna Anillo

Luis de Luis
The traditional guitar solo this year was by the wonderful Manuel Herrera, who also accompanied four of the six singers on the program.  He played por soleá remembering Melchor, Ricardo and Sabicas.  Immediately following, Jerez took the stage, in the person of Marga de Jerez and her guitarist Yunke.  With soleá por bulería, tangos with a Granada flavor, fandangos and bulerías, the young woman pushed aside mental furniture and rolled up virtual rugs to fill the patio with her vitality, personality and compás.
No superstar headed the bill, but there was an intelligent collection of young talent and discreetly established oldtimers
Presenter Génesis García spoke eloquently of José Menese who was unable to attend, and Raúl Montesinos, La Puebla's young singing star, with Manuel Herrera on guitar, gave a mini recital of classic cante, doing an exceptional job with the mining forms that earned him the Lámpara Minera at the La Unión contest in 2004.
Nene de Santa Fé

Marga de Jerez
Manuel Carmona Heredia "El Nene de Santa Fe" is that kind of seasoned veteran you just love to discover.  The natural quality of his delivery reveals years of experience, and his mining cante, romance, rondeña, soleá and siguiriya are very well received by the demanding audience.  When one of the guitarists suffers a broken string, the singer launches into tonás to keep things going.  A real pro, like in the old days, with a warm, honest and very flamenco voice.
Extraordinary dancer Rosario Toledo ended the first part with the excellent back-up of singers Juan José Amador and Enrique el Extremeño, and Daniel Méndez on guitar.  Rosario's aesthetic is thoroughly original, while at the same time making no apologies for a distinctly retro approach.  Therein lies the magic of her dancing, with a pseudo surrealistic delivery that keeps spectators fascinated at every moment. 
Just after three A.M. the second part gets underway with another guitar solo, followed by the powerful José Valencia, an accomplished singer for dance, who struggles constantly to defend his place as soloist in a limited market for classic cante.  He interpreted soleá, cantiñas, siguiriyas and bulerías with the big flamenco voice that characterizes him and which flamenco fans of a certain age enjoy so much.
From Cádiz, Encarnita Anillo, her fourth appearance at this festival.  Hers is the new generation, another voice and another repertoire.  She starts out with milonga, a cante currently undergoing a makeover, and which is well-suited to sweet voices like Encarnita's, so popular nowadays.  Alegrías with some cantiña inserted, and done with all the flavor you'd expect from Cádiz natives in this forms.  Soleá with styles from Cádiz, Triana, Utrera and Marchena; the girl's done her homework.  She ends with bulería based on popular songs before turning the stage over to old hand Diego Clavel.
Raúl Montesinos

Rosario Toledo
It would be hard to name a singer of greater integrity, more studious and with greater love of flamenco than Clavel.  He comments on the centennial of Antonio Mairena, and sings a romance from La Puebla to honor the maestro's memory.  Once again Manuel Herrera on guitar accompanies this man's classic cante with knowledge and technical brilliance.
By the time Granada dancer Luís de Luís comes on, a nip in the air has emptied many seats.  Siguiriyas and soleá por bulería with a style that hints of Joaquín Cortés and Farruquito, and it's likely this young man would make a better impression if he would settle down and not move around so much.  He has technique, strength and a good visual look, but lacks silences.  Even so, the support of singers Juan José Amador and Enrique Extremeño make up for possible drawbacks.
The five men singers shook up the night air of the countryside with their respective tonás, and the bulerías fiesta finale would down at just a quarter past six in the morning.
---