17 Bienal de Flamenco
Wednesday, September 12th, 2012. 10:00pm. Auditorio FIBES
Special 17 Bienal de Flamenco de Sevilla – All the information
Text: Estela Zatania
Photos: La Bienal
Ay José, yo te canto Camarón… Pata Negra
Cante: Duquende, La Susi, Diego Carrasco, Remedios Amaya. Dance: Paloma Fantova. Guest artists: Arcángel, Raimundo Amador. Guitar: Juan José Suárez "Paquete", Jesús del Rosario. Miguel Ángel Cortés. Percussion: Lucky Losada, Ramón Porrina. Palmas/chorus: Simón Román, Enrique Piculabe, Pedro el Granaíno. Bass: Antonio Ramos "El Maca". Keyboard: José Ma. Cortina. Music director: Tomatito, Luis Monge, Juan José Suárez "Paquete".
It should have been a magical night. For my generation, Camarón, far from being the "old master" as he is seen by today's young flamenco fans, represents our youth. The beginning of a kind of flamenco that was less elitist, more accessible, and yet completely compatible with the classic cante we'd learned to love years before the boy from La Isla began to circulate.
I suppose each of the three thousand people who last night nearly filled the new Auditorio Fibes was seeking something very personal. Camarón died twenty years ago, an anniversary that fell in July of this year. A large number of those occupying seats in the auditorium only know the singer via his recordings. But there were also extended families in traditional gypsy attire to fill the upper level furthest from the stage. Just like in Camarón's heyday. There were young rock fans anxious to get a glimpse of Raimundo Amador, and many older ones in the expensive seats who began drifting out almost from the beginning of the show. A little of everything. Everything that is, except warmth.
Aside from the architectonic coldness of the immense venue, and the air-conditioning that had us shivering for two hours, the human warmth you expect at this kind of nostalgic tribute to a figure so beloved that his popularity spans at least two generations, was missing. When we talk about singers who became social phenomena, their imitators are known as Marcheneros, Caracoleros, Maireneros and Camaroneros, the four great cult figures of twentieth century flamenco. Camarón is the youngest member of that club of immortals who are revered above and beyond any artistic capacity. But there was no warmth.
It was a relatively polished production with audiovisuals, designer lighting, and amplification that hardly screeched at all, but even these elements could not compensate for the incoherence, the lack of an emcee and no fiesta finale to wrap things up. No moist eyes. No warmth.
The program reprised Camarón's most popular repertoire…Diego Carrasco with his "José Monge Cruz" and "Dicen de mí"…"Rosa María", the song that invaded the pop charts long before "La Leyenda del Tiempo", both of which could not be omitted…Remedios Amaya sang tangos and was one of the few who had words for Camarón: "the greatest flamenco artist of all time, forever and ever". A bunch of loose threads that struggled to weave the fabric of the Camarón era.
Raimundo Amador took us closer to rock music, and with "Ay José, yo te canto Camarón, te canto pa' que me cantes y me alegres el corazón", for a brief moment it was like déjà vu all over again.
There was also dancing performed by young Paloma Fantova, a full-speed-ahead exponent of the Farruco school, a style little suited to women although she did it well. We'll be able to see her again next Thursday at the Teatro Alameda.
La Susi was already singing Camarón under her breath when I knew her at an Ibiza tablao where she was dancing in 1974. Some of us heard her sing in the living-room of Marote's apartment, and we all told her she ought to pursue a career in cante because she had excellent possibilites.
And Duquende, who could not be left out, although he now sounds less like Camarón than years ago, less imitation and more personality. He sang some mining cante, a tango song and fandangos.
The presence of Arcángel made no sense. His voice and delivery have nothing to do with Camarón because he represents another evolutionary path. But when he sang "Canastera", Paco and Camarón's creation in the compás of fandangos de Huelva, this allowed the singer from Huelva to morph into the fandangos he manages so well. He also sang the alegrías "Tu Mare Rosa", and siguiriyas "A la iglesia mayor fui". It's Camarón's vocal register, with no hint of the "canastero" delivery that defines the Camarón style.
I would have liked to see a cameo by Paco de Lucía, or at least heard his voice or read words of his for Camarón. Tomatito, musical director of the event, was in the audience but didn't go on stage either, which also disappointed a lot of people.
There was no grand finale with all the performers, but a brief video summed up Camarón's life in images and sound clips. The end result was a lite abstract concert that failed to stir sentiments. A forgettable evening despite the individual efforts of the participants. And there was no warmth.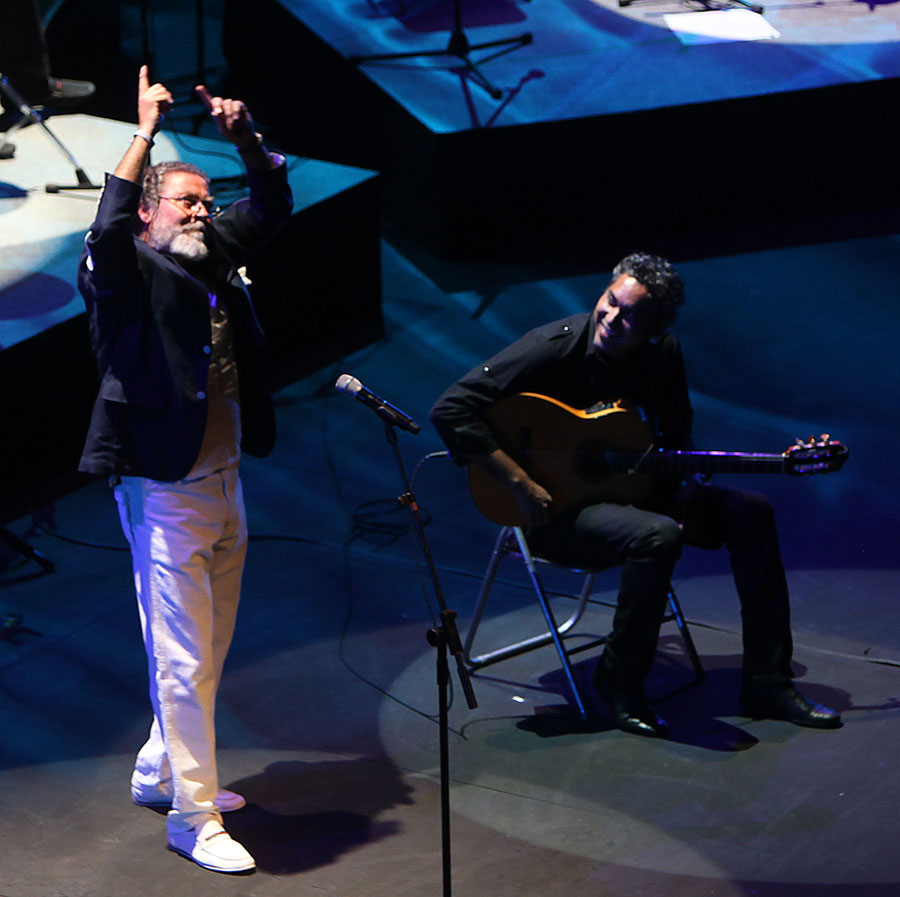 ---