Text : Estela Zatania
Photos: Ana Palma
Manuela Carrasco "Naturaleza Gitana. Gitana Morena"
Rocío Márquez "El Niño. Andando por los Campos Marcheneros"
Luisa Palicio "Sevilla"
Saturday, February 21st, 2015. Jerez de la Frontera
Special 19th Festival de Jerez – All the information
THE SECOND DAY OF THE FESTIVAL, JEREZ MOURNS THE PASSING OF A YOUNG GUITARIST
Saturday at the Festival de Jerez was marked by the passing of Manuel Moneo, "Barullito", grandson of Manuel Moneo, one of the most representative flamenco families of this city.  At the press conference, thoughts were expressed for the 24-year-old guitarist.  Two relatives of his perform tomorrow at the Sala Compañía: dancer Gema Moneo and singer, Momo de Jerez.
---
MANUELA CARRASCO "NATURALEZA GITANA. GITANA MORENA"
Teatro Villamarta, 900pm
Dance and choreography: Manuela Carrasco. Corps de ballet: Saray de los Reyes, Lole de los Reyes, La Marquesita. Cante: Enrique "El Extremeño", Pepe de Pura, Samara Carrasco, Inma "La Carbonera", Manuela Amador. Guest artist: El Potito. Guitar: Joaquín Amador, Juan Campallo, Antonio Santiago "Ñono". Percussion: José Carrasco. Piano: Sergio Monroy. Music: Joaquín Amador. Director, adaptation: Juana Casado.
With a title that contains the word "gypsy" two times, as well as the word "morena" ("brown-skinned"), Manuela Carrasco's message left no room for doubt.  It is a defense of the gypsy influence in flamenco, and what better ambassador to communicate this than the dancer with the exotic face and the presence of a Hindu goddess.  "Naturaleza Gitana, Gitana Morena" debuted a few months ago at the Bienal de Sevilla, with some high-flying guest artists who were not part of last night's cast, although this did not diminish the overall result.  Nor did it seem to matter that Manuela no longer has the coordination or strength of earlier years: she has more than enough expressive strength to compensate.  She is a performer whose mere presence causes an impact, there's magic in the details, whether pointing authoritatively to the singers, the outstretched arms, the majestic swagger of her walk…it all feels natural.
The poetic libretto of this work, in addition to the racial references, alludes to the Greek elements of water, earth, fire and wind.  Manuela's wardrobe represents each of these elements, a bit simplistic perhaps, but again: it doesn't matter.
Veteran singers Enrique Extremeño and Pepe de Pura handle most of the singing for Manuela and the corps de ballet: taranto, soleá and alegrías among other things.  Guest artist, Potito, whom we all remember as the child prodigy with the Camarón delivery, now has salt and pepper hair, and sings with the dignity one would expect from a man of nearly forty.  His interpretation of "Canastera", the creation of Camarón and Paco, took us back to the nineteen-seventies.  He also sang por siguiriyas, up front on his own, with convincing intensity and strength.
This is a show of classic flamenco for fans of classic flamenco, but with a contemporary patina to seduce new audiences.
---
ROCÍO MÁRQUEZ "EL NIÑO. ANDANDO POR LOS CAMPOS MARCHENEROS" .
Sala Paúl, 700pm
Cante: Rocío Márquez. Guitar: Manuel Herrera. Electric guitar: Raúl Cantizano. Drums and percussion: Antonio Montiel. Voices: Niño de Elche, Los Mellis.
Huelva singer Rocío Márquez debuted her work "El Niño. Andando por los Campos Marcheneros" last September before a friendly and enthusiastic audience of unconditional supporters.  Jerez is a tough audience for anyone, but a great many people showed up at the Sala Paúl for Rocío's presentation, pared down since the debut.  Despite a dizzying variety of repertoire, from the most lyrical milonga, to the heaviest sort of rock music, passing through guajira, fandangos, taranta and a variety of songs, most of the audience was enthralled with the group's musical experiments.  The ubiquitous Mellis supplied chorus and harmonies, and also noteworthy were the versatile Raúl Cantizano on electric guitar, and Manuel Herrera on acoustic flamenco guitar.
---
LUISA PALICIO "SEVILLA".
Sala la Compañía,  12 midnight
Dance: Luisa Palicio. Guest artist: Javier Barón. Cante: Sebastián Cruz, Ana Gómez. Guitar: Miguel Pérez. Piano: Alejandro Cruz Benavides. Choreography: Luisa Palicio.
Wrapping up the main program for Saturday, young Málaga dancer Luisa Palicio paid tribute to Seville, her adopted city.  The show began with an off-stage voice reciting the verse of Lole and Manuel's song, "El Río Guadalquivir" to set the mood.  Luisa interpreted various lyrical pieces, exhibiting the arms and postures of her illustrious maestra, Milagros Mengíbar.  She danced a saeta…the Sala Compañía, with its many interior balconies, is ideal for the purpose in order to provide a spot for the singer.  There was also a long tribute to Manolo Caracol via his most classic zambras such as La Salvaora and Carcelero, in addition to tangos de Triana, sevillanas…  Like Mengíbar, Palicio has perfect control of traditional accessories such as the shawl, fan, castanets and bata de cola.
But as happened the other night at the Villamarta Theater with Antonio Canales, the guest artist, in this case, dancer Javier Barón, stole the show.  He neatly wrapped up the audience and took them home with him.  Seldom have I seen the dancer from Alcalá so inspired, so connected with himself.  More than dance, he illustrated the music, converting sound into movement.  Javier has one of the biggest personalities in current flamenco dance, and it was a shame to have spent this extraordinary performance on the small audience at the Sala Compañía which hadn't filled to half-capacity.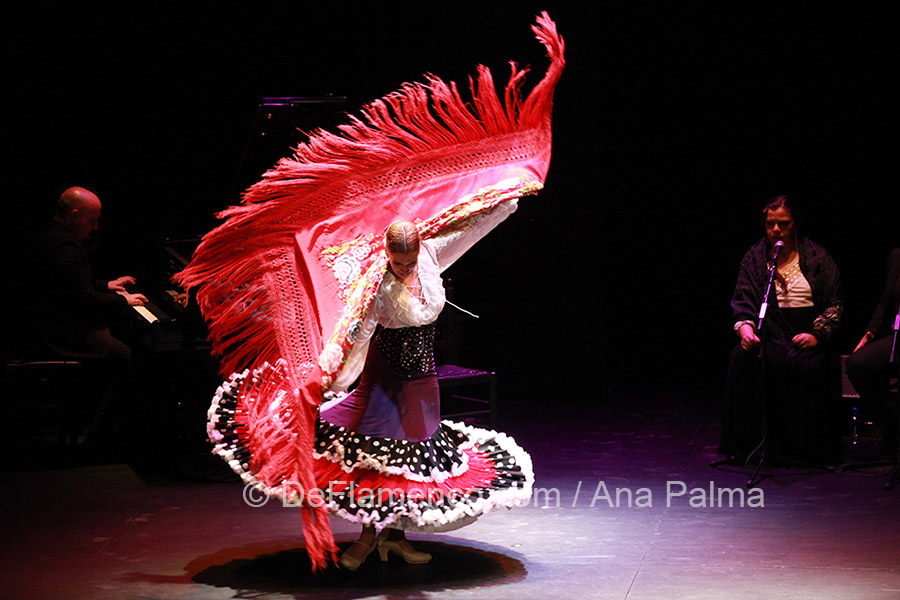 ---