The Fundación Cajasol presents "Música a Compás. From flamenco to all music"
The Fundación Cajasol, along with Octaedro publishing have created this educational project designed by Calixto Sánchez, José Antonio Rodríguez, Antonio Cremades and Manuel Herrera with the sole objective of including flamenco in the Andalusian teaching circuit.
January 25, 2013
Twittear
The Fundación Cajasol presented its new educational project "Música a Compás. From flamenco to all music", along with Editorial Octaedro, co-author of this initiative, and the authors themselves: Manuel Herrera, Calixto Sánchez, José Antonio Rodríguez and Antonio Cremades. The project has the goal of bringing flamenco music to primary schools throughout Andalusia.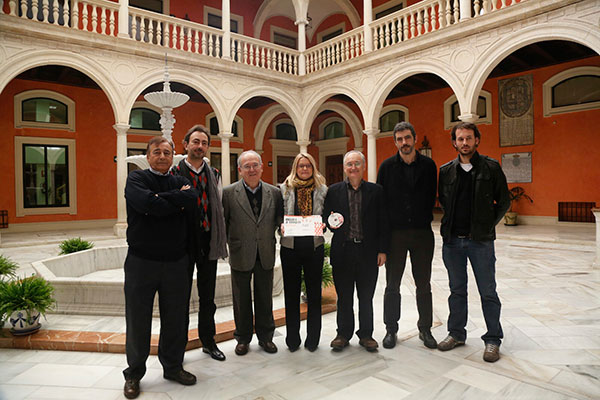 The Fundación Cajasol continues to be committed to Andalusian culture, and could not pass up the opportunity to promote this new project in order to make the music of Andalusia known to school-children. "We have had the essential backing of Cajasol, and were finally able to get this program going after 35 years. Without Cajasol, it would not have been possible" commented Calixto Sánchez.
The program is made up of a learning guide for each of three cycles of primary school, as well as a book and workbook of activities for students of each of the 6 courses of this level, in addition to 4 CDs of multimedia exercises, expression, instrumental practice and artistic models, one for the first two courses, one for the third course, another for the quarter of the second cycle and another for the fifth and sixth courses that make up the third cycle.
All the material is officially approved and standardized by the Andalusian government for the use of teaching primary school throughout the región. According to current laws, the teaching of flamenco must be included within the general music program. "We don't mean to establish flamenco as an exclusive subject, but it cannot be forgotten that flamenco is part of music and must be integrated in the educational system of Andalusia" pointed out Manuel Herrera, one of the authors of the project.
The program will be published by the Octaedro Group, with the cooperation of Fundación Cajasol, who will be in charge of setting up a web for the purpose of distribution and marketing of the project, where all the material will be in digital form and on display. At the website there will be a space for the authors to dispense information, give advice to teachers and interact with users during certain times of the year.
Juan León of Octaedro explained his concept, saying "the main objective is in the local, native cultural zone, in other words, Andalusia and even Extremadura, but nothing prevents the program from being distributed nationally" concluded the editor.
In the month of April there will be a promotional campaign in numerous Andalusian educational centers scheduled to receive the program with the idea of implementing it in all schools during the next term.