El arte de su vuelo. Voice: Calixto Sánchez and José de la Tomasa. Dance: Pepa Montes. Guitar: Eduardo Rebollar, Juan Ramón Caro and Ricardo Miño. Vocal dance accompaniment: Arcángel, Segundo Falcón and Mari Peña. Rhythm: Bobote. Teatro de la Maestranza. September 9th, 2018. Two-third full.
Sara Arguijo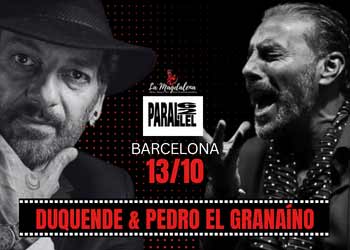 Publicidad DeFlamenco
How unfair and brazen is ignorance!  I sincerely cannot understand that nearly thirds of the Maestranza theater was empty for a program that brought together three figures necessary for understanding the history of flamenco and Seville.  No matter how unsuitable the theater was (first error…it should have been the Lope de Vega), and there being programed at the same time one of the most anticipated shows of the Bienal, with overlapping hours.
What's going on?  Where are the flamenco followers?  Where are the hundreds of students that these three have taught what's left of this flamenco thing?  Because, ladies and gentlemen, if you're not moved by the immaculate voice of José de la Tomasa, the sensitivity of Pepa Montes and the elegance of Calixto Sánchez, if you don't recognize their legacy and aren't capable of valuing their deep knowledge, then you simply are no flamenco fan.
As I said, these three names honored the programs of the early Bienals when flamenco did not reach so many places or so many people, and they did it again this Sunday giving a masterful lesson in commitment.
The three came on stage especially nervous due to the years that have passed without performing in this type of venue, and because of the absolute respect they have for the audience and the artform.  And even so, or perhaps for this reason, there were magical moments that will go down as historic because they represent a classic style that seems to be disappearing.
"You do what you can, but the important thing in flamenco singing is the taste it leaves, and the wisdom" said the man from the Alameda de Hércules during a recital in which once again he taught us how to deliver the singing.  He delved into himself continually leaving clear "the marker of my blood-line", now carried on by his son Gabriel and grandson Manuel, "who will never become millionaires, nor is there any need to do so" he said.  He ended with siguiriyas, "my family's hymn", raw and direct, stabbing the notes from his gut.
He was followed by Pepa.  First, with great delicacy in a slow garrotín in which her hands seemed to be extensions of the chords of the expressive guitar of Ricardo Miño, and then taking us back decades with alegrías in which she appeared at moments "the Giralda", as Mari Peña shouted out.
Alegrías in a white bata de cola and shawl that she moved in harmony with the weeping guitar of Miño as a backdrop, and with the singing of two top stars, Arcángel and Segundo Falcón, who accompanied the "señora" in what ended up being a gift for everyone.  Magical.
And coming on last, Calixto was inspired, confessing the emotional impact of returning to the Maestranza – "thank goodness I can't see you" he joked – although there was nothing out of order in his voice.  "It's the same as ever" shouted one member of the audience amidst shouts of "the greatest!" and "maestro!".  It's a pleasure to hear his endless registers and styles, being so accustomed to singers who repeat themselves continually.  I heard his soleá and his tientos tangos before having to leave with the disappointment of missing the end in order to arrive on time for Guerrero.  But I repeat: long live the maestros!
Photos: Oscar Romero – La Bienal