LOS VERANOS DEL CORRAL 2009 in Granada.
From July 20th to August 14th the 11th Muestra Andaluza de Flamenco at the Corral del Carbón de Granada will be held
April 24, 2009

Twittear
Three series titled, "Grandes Voces del Flamenco", "Muestra Andaluza de Baile" and "Guitarras en el Corral" will bring mostly young artists with tremendous talent.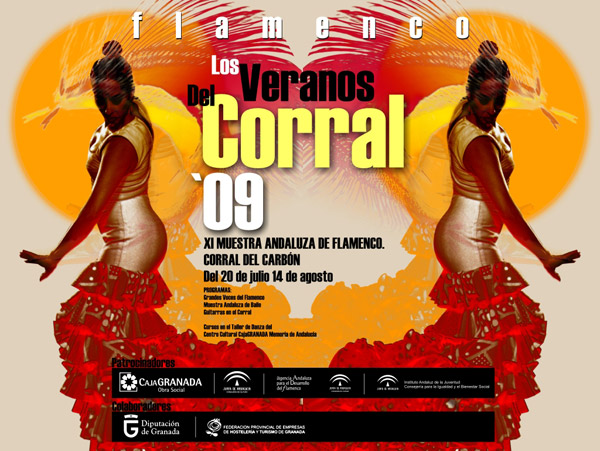 "Grandes Voces del Flamenco". A program of cante that offers an overview of the varied panorama of great flamenco voices. A very representative group of singers from all over Andalusia. They fit perfectly into the program with a wide variety of styles. This program intends to show the importance of both Granada singers, and those from other parts of the region, people worthy of being called "maestros".

"Muestra Andaluza de Baile". The dance program is based mainly on interesting young soloists who currently move in the dance panorama of Andalusia. In this edition we start out with some partnered dance. This format allows choreographic possibilities that combine well with the venue of the Corral. Then there will be the soloists, with some of the best dancers from previous years. Others will be appearing for the first time on this stage, young people with a very highly developed artistic and professional level. From Granada, some seasoned veterans who have graced the theaters of the world, as well as promising young talents we hope to encourage.

"Guitarras en el Corral". This establishes the presence of high quality guitar with performances with some of the foremost, and most versatile guitarists of the current scene in Andalusia.

Complementary activities. This year we have the use of the excellent installations of the Centro Cultural Caja Granada Memoria de Andalucía where there will be a dance workshop, with the collaboration of Carmen de las Cuevas for the first time in the history of the Veranos del Corral. Muestra Andaluza de Flamenco will offer courses that parallel the program of performances. There will be a series of weekly courses in the various types of flamenco dance with an excellent group of teachers. The courses will receive students from all over the world. We hope to consolidate this offering and expand it in years to come, to make it an excellent tool to promote the program abroad.

Teachers of the workshops:
- MANOLETE
- MANUEL LIÑAN
- LA MONETA
- PATRICIA GUERRERO

14 days of shows, from July 20th to August 14th, 2009, from Tuesday to Thursday, with the participation of 16 dance soloists, 7 singers and 2 guitarists.
Program
20 July
Dance
RAFAEL ESTEVEZ & LA MONETA

21 July
ANDRES PEÑA Y PILAR OGALLA


22 July
Dance
AMADOR ROJAS
23 July
Dance
OLGA PERICET


28 July
Grandes voces del flamenco
MANOLO OSUNA
Dance
LEONOR LEAL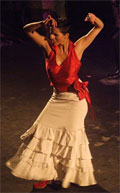 29 Juñy
Guitar at the Corral
MIGUEL ANGEL CORTES
Dance
PATRICIA GUERRERO


30 July
Grandes voces del flamenco
NENE DE SANTA FE
Dance
ALBA HEREDIA
4 August
Grandes voces del flamenco
LA SUSI
Dance
PASTORA GALVAN


5 August
Grandes voces del flamenco
MARIANA CORNEJO
Dance
EL CHORO


6 August
Grandes voces del flamenco
GABRIEL MORENO
Dance
RAFAEL DEL CARMEN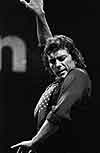 11 August
Grandes voces del flamenco
CANELA DE SAN ROQUE
Dance
JESUS AGUILERA


12 August
Grandes voces del flamenco
CANCANILLAS
Dance
RAMON MARTINEZ
13 August
Guitar at the Corral
ALFREDO LAGOS
Dance
ANA CALI

14 August
Dance
MANUEL LIÑAN