FLAMENCO TOUR OF THE NORTH 2012
Thirty-two programmed performances make up the Gira Flamenca del Norte, (tour of the north). Artists such as José Mercé, Israel Galván, El Pele, Aurora Vargas and other with bring flamenco to cities like Logroño, Barakaldo, Vitoria, Burgos and Valladolid.
January 9, 2012

Twittear
Sixteen yearly tours, little by little and without much ado, Antonio Benamargo brings the best flamenco has to offer to the many flamenco fans of northern Spain who year after year scoop up the tickets at the main theaters of these cities and towns.
This year the tour is dedicated to the memory of the maestro Sabicas born one hundred years ago, in 1912.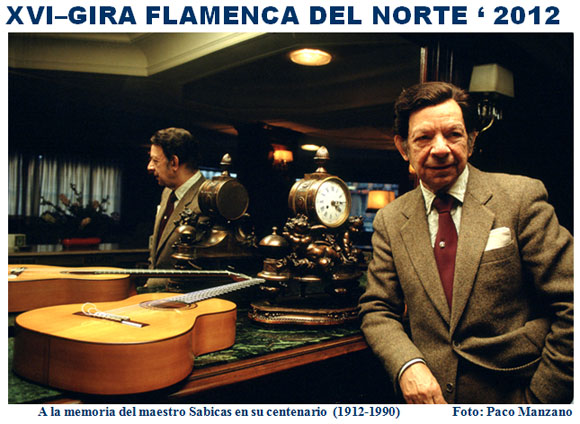 Gira Flamenca del Norte-2012

JOSÉ MERCÉ
Antonio Higuero, guitar
Chícharo de Jerez & Mercedes García, compás
Thursday-12 January-9:00 pm
Teatro Bretón de Logroño
Friday-13 January -8:00 pm
Teatro Barakaldo de Barakaldo (Bizkaia)
Saturday 14 January-10:30 pm
Teatro Principal de Burgos

Capilla de Música de las Bernardas de Burgos - 10:30 pm
Saturday -21-January

AURORA VARGAS

,
Diego Amaya, guitar + Rafael Junquera & El Eléctrico, compás
Saturday - 04-February

EL PELE

with Antonio Patrocinio
Saturday - 18-February

MIGUEL LAVI

with MANUEL PARRILLA
Saturday - 03-March

ENCARNA ANILLO

with ANDRÉS HERNÁNDEZ
Saturday - 17-March

ESPERANZA FERNANDEZ

,
Miguel A. Cortés, guitar + José Fernández, percussion
Salón de Columnas del Teatro Bretón de Logroño - 22.00h
Thursday - 26-January

AURORA VARGAS

,
Diego Amaya, guitar + Rafael Junquera & El Eléctrico, compás
Thursday - 09-February

EL PELE

with Antonio Patrocinio
Thursday - 23-February

MIGUEL LAVI

with MANUEL PARRILLA
Thursday - 08-March

ENCARNA ANILLO

with ANDRÉS HERNÁNDEZ
Thursday - 22-March

ESPERANZA FERNANDEZ

,
Miguel A. Cortés, guitar + José Fernández, percussion
Sala II del Teatro Barakaldo de Barakaldo (Bizkaia) - 23.00h
Friday - 27-January

AURORA VARGAS

,
Diego Amaya, guitar + Rafael Junquera & El Eléctrico, compás
Friday - 10-February

EL PELE

with Antonio Patrocinio
Friday - 24-February

MIGUEL LAVI

with MANUEL PARRILLA
Friday - 09-March

ENCARNA ANILLO

with ANDRÉS HERNÁNDEZ
Friday - 23-March

ESPERANZA FERNANDEZ

,
Miguel A. Cortés, guitar + José Fernández, percussion
Centro Cívico Hegoalde de Vitoria-Gasteiz - 20.30h
Saturday - 28-January

AURORA VARGAS

,
Diego Amaya, guitar + Rafael Junquera & El Eléctrico, compás
Saturday - 11- February

EL PELE

with Antonio Patrocinio
Saturday - 25- February

MIGUEL LAVI

with MANUEL PARRILLA
Saturday - 10- March

ENCARNA ANILLO

with ANDRÉS HERNÁNDEZ
Saturday - 24- March

ESPERANZA FERNANDEZ

,
Miguel A. Cortés, guitar + José Fernández, percussion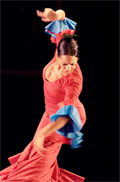 BELÉN MAYA
... & su nuevo espectáculo TR3S
with Jesús Mendez, cante
Rafael Rodriguez, guitar
Chloé Brûle, compás
Thursday-19 April -9:00 pm
Teatro Bretón de Logroño
Friday-20 April -8:00 pm
Teatro Barakaldo de Barakaldo (Bizkaia)
Friday 27 April- 8:30 pm
Teatro Principal de Burgos

CAPULLO DE JEREZ
Niño Jero, guitar
Luis & Ali de la Tota, compás
Jesús Flores, percussion
Thursday-29 March -9:00 pm
Sala Borja de Valladolid
Friday-30 March -10:00 pm
Sala Clamores - Madrid

JOSÉ MENESE
Antonio Carrión guitar
Saturday -31 de March -10:00 pm
Sala Clamores - Madrid

ISRAEL GALVÁN
... & su nuevo espectáculo LA CURVA
with Inés Bacán, cante
sylvie courvoisier, piano
Bobote, compás
Thursday-17 May -9:00 pm
Teatro Gayarre de Pamplona
Friday-18 May -8:00 pm
Teatro Principal de Vitoria
Friday 19 May- 8:30 pm
Teatro Bretón de Logroño