From February 24th to March 11th, the eleventh edition of the Festival will be held with its most multicultural program yet.
The series will take place in New York, Washington, D.C., Miami and Boston with 33 shows in all, and will be presented in seven new venues with a diverse program that aims to capture new audiences.
Flamenco Festival is in its eleventh year in the United States, making it a cultural point of encounter.  This year, the program is doing a complete about-face in its concept, adapting its contents to a new kind of festival in which, above all, multiculturalism reigns with young up-to-date performers.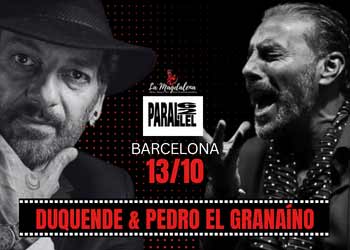 Publicidad DeFlamenco
Compared to earlier editions, this one has a wide range of artistic visions.  The program of the 11th edition is made up of a series of artists who share the common bond of Spanish culture, but who also have developed a divergent style and a different way of understanding flamenco, whether music or dance.  Jazz and flamenco with Niño Josele and Doug Wamble, modern dance and flamenco with Olga Pericet, popular and flamenco music with Rafaela Carrasco, tap and flamenco with Jason Samuel and Juan de Juan, lyrical singing and flamenco by La Shica, Cuban and flamenco music with Pitingo, khatak and flamenco with Prashant Shah and Nelida Tirdao, Sephardic music and flamenco with Leilah, rumba and flamenco with Muchachito Bombo Infierno, urban flamenco music by Canteca de Macao, Spanish and flamenco guitar with José María Gallardo, classical music with Rosa Torres and Pardo with Rocío Márquez, Latino music and flamenco with Carlota Santana and as a contrast to all this mixing, the pure gypsy flamenco of Manuela Carrasco and Carmen Cortés.
Flamenco Festival is sponsored by the Instituto Andaluz de Flamenco of the Andalusian Cultural Council of the Junta de Andalusia, and the Instituto Nacional de las Artes Escénicas y Musicales (INAEM) of the Cultural Ministry, and has the support of the Instituto Cervantes of New York.
Spanish dance, music and art in New York
The NY City Center will again host the dance shows, devoted this year to the women of flamenco.  The dance program opens with the Gala Flamenca with the participation of Carmen Cortés, Rafaela Carrasco and Olga Pericet.
The show "Vamos al Tiroteo" of Rafaela Carrasco, based on the popular songs of Lorca, will bring a contemporary vision of the poet's musical work.  The most traditional dancing will be represented by Manuela Carrasco, and Olga Pericet will bring her most recent work, "Rosa, Metal, Ceniza", which combines flamenco and modern dance.
Lincoln Center continues to collaborate for the music productions, with a coproduction that supports the goal of becoming a point of encounter between flamenco performers and New York artists, presenting the world premiere of "Jazz Meets Flamenco", a joint project of Niño Josele and New York guitarist Doug Wamble.
In the same vein, a new collaboration has been initiated with the Museum of Art and Design, interested in joining traditional and contemporary initiatives with various Spanish and New York artists, among them Juan de Juan who will work with the well-known tap dancer Jason Samuel Smith. 
Another encounter is the show "Dejando Huellas" by New Yorker Leilah Broukhim, of Sephardic origin, which will unite flamenco and Sephardic music.
One new undertaking is the collaboration with 92Y, an established New York cultural institution, who will present a poetry recital of Lorca along with the "Canciones Populares" interpreted by Gema Caballero.
Another novelty this year is the series of concerts "Más Allá del Flamenco", which in collaboration with alternative New York venues, such as the Poison Rouge and the well-known music club SOBS and Manhattan Center, will present artists like La Shica, Pitingo, Canteca de Macao and Muchachito Bombo Infierno.
The Cerventes Institute will host the encounter between classical and flamenco music with concerts by pianist Rosa Torres-Pardo accompanied by flamenco singer Rocío Márquez, and the recital by guitarist José María Gallardo del Rey.  There will also be a more experimental collaboration with guitarist Ricardo Moreno and New York musicians.
Flamenco in the schools of New York
An educational program will be held under the auspices of the New York City Board of Education to bring flamenco to 20 schools in the city for children between the ages of 8 and 12.  They will be taught the basic concepts of the art of flamenco and Andalusian culture in general.  The program reaches its climax with a performance at New York City Center to be attended by 2000 children who will see Rafaela Carrasco's show "Vamos al Tiroteo".
Courses and conferences
In collaboration with the New York Instituto Cervantes, a program of guitar and dance courses, as well as conferences and encounters with artists and other activities will be staged in order to bring flamenco to the New York community.  At the same time, the Flamenco Festival with be held in Miami, Boston and Washington, D.C.
NEW YORK PROGRAM BY VENUE
Jazz at Lincoln Center
The Allen Room
Niño Josele y Doug Wamble
Jazz Meets Flamenco
24 and 25 February
NY City Center
Gala Flamenca
Carmen Cortés, Rafaela Carraco, Olga Pericet
1 March
Compañía Manuela Carrasco
Suspiro Flamenco
2 March
Compañía Olga Pericet
Rosa, Metal, Ceniza
3 March
Compañía Rafaela Carrasco
Vamos al Tiroteo
4 March
5 March, children's show.
BEYOND FLAMENCO
92nd st Y
Leilah Broukhim Flamenco
Dejando Huellas
25 February
Palabra and Música: Canciones populares de Lorca
Con Gema Caballero
5 March
Mad Museum
Juan de Juan, Jason Samuels Smith, Prashant Shah, Nelida Tirado
Dance under the influence
2, 3 March
Le Poisson Rouge
La Shica
Supercop
8 March
Manhattan Center
Pitingo
Malecon Street
9 March
Sob´s Club
Muchachito Bombo Infierno
In Concert
10 March
Canteca de Macao
Soplan nuevos vientos
11 March
OTHER EVENTS
Instituto Cervantes
José María Gallardo del Rey
Classic and Deep
27 February
Ricardo Moreno
A Gypsy in New York
29 February
Rosa Torres-Pardo with Rocío Márquez
Suite Española
6 March
The Americas Society
Flamenco Vivo Carlota Santana
Dances of ida and vuelta: Antonio Hidalgo, Leslie Roybal, Gaspar Rodríguez, Matías López
2 March
Tablao Alegrías
Antonio Hidalgo, Auxi Fernandez,  Nelida Tirado, Oscar Valero and Pansequito hijo.
23 February, 3 March and 10 March
La Nacional
CULTURAL ACTIVITIES
Free flamenco classes in the lobby of the NY City Center
Every day before the shows free flamenco classes will be given in the lobby of the theater for all persons attending the performance
1 to 4 March.
Master Class with Juan de Juan
Studio 4 – Ny City Center
1 March
Master Class with Carmen Cortés
Peridance Capezio Center
3 March
Presentation of the Cátedra de la Guitarra Española by José María Gallardo del Rey
Instituto Cervantes
28 February
Diálogos Flamencos
Roundtable discussion with Carmen Cortés, Rafaela Carrasco, Javier Rioyo, director of the Instituto Cervantes de Nueva York and Mª Ángeles Carrasco, directora del Instituto Andaluz del Flamenco.
Instituto Cervantes
5 March
Transatlantic Flamenco Influences
Roundtable discussion with Carlota Santana, William Washabaugh, La Meira, Peter Manuel and others.
Centro Juan Carlos I de España en la NYU
29 February
PROGRAM FOR OTHER CITIES
WASHINGTON D.C.
GW´s Lisner Auditorium
Gala Flamenca
Carmen Cortés, Rafaela Carraco, Olga Pericet
29 February
Compañía Olga Pericet
Rosa, Metal, Ceniza
2 March
Compañía Manuela Carrasco
Suspiro Flamenco
3 March
Compañía Rafaela Carrasco
Vamos al Tiroteo
7 March
MIAMI
Adrienne Arsht Center
Gala Flamenca
Carmen Cortés, Rafaela Carraco, Olga Pericet
9, 10, 11 March
BOSTON
Emerson Majestic Theater, Boston
Compañía Rafaela Carrasco
Vamos al Tiroteo
2, 3 March
Compañía Olga Pericet
Rosa, Metal, Ceniza
4 March
---