Wednesday, February 6th, 2008. Bodega Los Apóstoles, Jerez de la Frontera
Over the last month, a total of 56 specialized journalists selected winners in a total of twelve categories for the Flamenco Hoy awards, and with the sponsorship and support of Spain's Ministry of Culture, as well as the Jerez town hall, the statuettes were officially presented Wednesday night.

Mid-afternoon, in an act not related to the awards, Juan Carlos Marset, general director of the Instituto de las Artes Escénicas y de la Música (INAEM) announced the allocation of twelve million euros for the construction of the building that in addition to the long-awaited Ciudad del Flamenco, will house the Centro Nacional de Flamenco.  

BEST DISSEMINATION OF FLAMENCO IN THE MEDIA
Tere Peña. Radiolé 25th anniversary

BEST PROMOTIONAL WORK FOR FLAMENCO
Cajasol  25th anniversary of their annual villancicos series
At night in the winery, the "flamenco Oscars" got underway with an emotional Tere Peña who gratefully accepted the prize for Best Dissemination of Flamenco in the Media in honor of the 25th anniversary of her radio program, commenting that her initiation into the world of communications was largely due to the presenter and organizer of the Flamenco Hoy awards, Alfonso Eduardo Pérez Orozco.  She dedicated the prize to her brothers Juan el Lebrijano and Pedro Peña, to her husband, author and journalist Alfonso García, to the late "dean of critics" Miguel Acal and to her mother La Perrata: "I can still hear her singing nanas".
The prize for Best Book was to have been presented by Manolo Sanlúcar who arrived at the door of the bodega but had to head home due to a personal matter.  The award went to a publication put out by the Festival de Cante de las Minas de La Unión: "Chano Lobato, Toda la Sal de la Bahía" a collection of articles by various authors.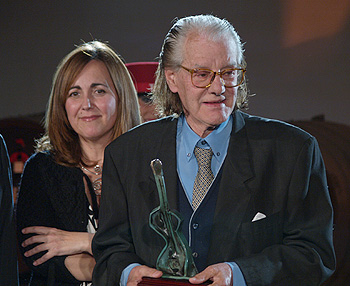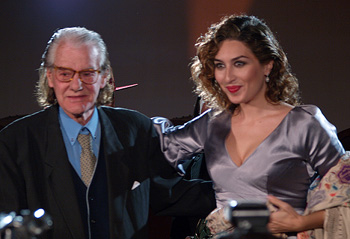 BEST BOOK
Chano Lobato, Toda la sal de la bahia. Various authors
BEST DVD
Estrella Morente. Casacuevas y Escenario.
The beautiful Estrella Morente accepted the prize for Best DVD from the hands of Chano and commented: "with all the artists here tonight, I'm ashamed to be sitting in the front row".  The image of veteran Chano with youthful Estrella will go down in the history books.
Alfonso Eduardo commented on the scant support record companies offer young artists before introducing maestro Fosforito who presented the prize for Best Cante Recording by a Newcomer to Huelva singer Guillermo Cano for his "Rincón del Pensamiento".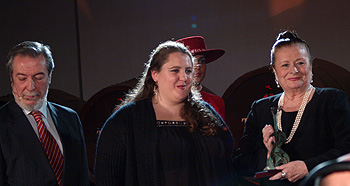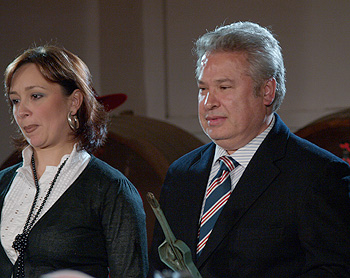 BEST FEMALE DANCER
Rocío Molina
BEST MALE DANCER
Israel Galván
A special award was presented by guitarist Serranito to Juan de la Plata who has programmed a number of activities over the course of 2008 to commemorate the 50th anniversary of his Cátedra de Flamencología.
Journalist Paco Herrera presented the prize for Best Guitar Accompaniment to José Antonio Rodríguez, usually better-known for his concert work, and Dorantes presented the same guitarist with the prize for Best CD Production, both honors in reference to the work "Recuerdos" of Esperanza Fernández.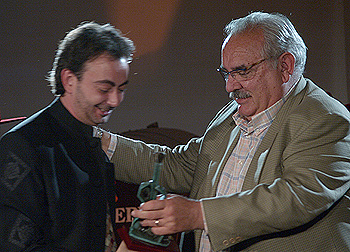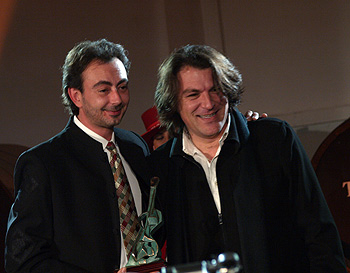 BEST GUITAR ACCOMPANIMENT
José Antonio Rodríguez for Recuerdos de E. Fernández
BEST CD PRODUCTION
José Antonio Rodríguez for Recuerdos de E. Fernández
José Galán, father of Israel, accepted his sons prize for Best Male Dancer, and Matilde Coral presented the prize for Best Female Dancer to Laura Rozalén who was standing in for Rocío Molina.
Bibiana Aído, current director of the Agencia Andaluza para el Desarrollo del Flamenco had the honor of presenting the award for Best Solo Guitar Recording to the only winner from Jerez, Paco Cepero, for his CD "Abolengo".  Cepero graciously accepted, commenting on his return to Jerez after 37 years, and said he is keener than ever to work.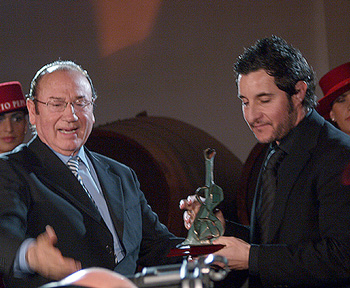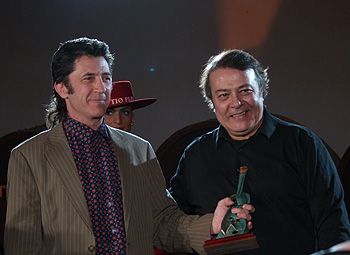 BEST CANTE RECORDING BY A NEWCOMER
Guillermo Cano
BEST INSTRUMENTAL RECORDING
Jorge Pardo and El Bola for Desvaríos
Another important prize was for Best Cante Recording, and it was presented by Jerez' mayoress Pilar Sánchez to Esperanza Fernández who expressed her gratitude "to Fosforito for his fandangos de Lucena, to el Titi for his tangos and to Chacho Lagaña for his siguiriyas", in addition to her family and friends.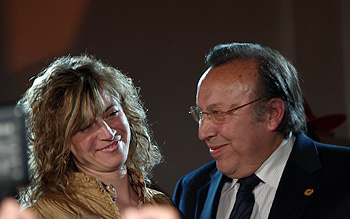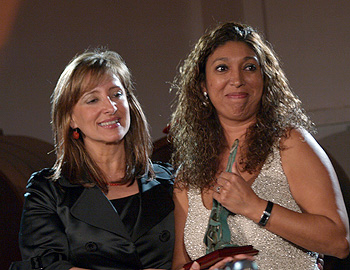 BEST SOLO GUITAR RECORDING
Paco Cepero. Abolengo
BEST CANTE RECORDING

Esperanza Fernández. Recuerdos
SPECIAL RECOGNITION
Juan de la Plata for the 50th anniversary of Cátedra de Flamencología de Jerez.
More information:
---