20th Festival Bankia Flamenco 2012
Here we have the complete program of one of the most important flamenco festivals of Madrid, to be held in February, this year celebrating its 20th edition.
February 12, 2012

Twittear
PROGRAM of the 20th FESTIVAL BANKIA FLAMENCO 2012
TEATRO CIRCO PRICE ? CONCERTS - FEBRUARY 2012
Ronda de Atocha, 35 ? Madrid ? Tel.: 91 527 98 65
www.teatrocircoprice.es
Tuesday 7 February ? 8.30pm

"Pasión flamenca"
ESTRELLA MORENTE con José Carbonell "Montoyita", guitarra; Monty, segunda guitarra; Kiki Morente, Antonio Carbonell, Ángel Gabarre, coros y palmas; Popo, cajón
Wednesday 8 February ? 8.30pm
"Clásicos intemporales de puro arte"
RANCAPINO with Fernando Moreno guitar video
MANUEL MONEO with Manuel Moneo "El Barullo" guitar video
Dance: Compañía de Baile MANOLETE video
Cantaores: Pepe Jiménez, Leo Triviño, Juañares. Guitars: Felipe Maya, Basilio García. Dancers: Pol Vaquero, Jesús Carmona.
Directed by Manuel Santiago Maya "Manolete"
Thursday 9 February ? 8.30pm
"Tributo a Moraito Chico"
JOSÉ MERCÉ (video) with Diego del Morao guitar Chícharo y Mercedes García, palmas
Friday 10 February ? 8.30pm
"Desde Almería a Cádiz pasando por la Bahía"
Flamenco guitar in concert:
NIÑO JOSELE with Alain Pérez, electric bass; Israel Suárez "Piraña", percussion; Juan de Juan dancer
MARIANA CORNEJO (video) with Antonio Carrión guitar
PANSEQUITO(video) with Manuel Parrilla guitar
Galardón Flamenco Calle de Alcalá 2012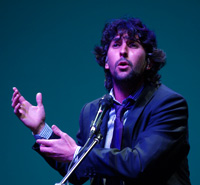 Saturday 11 February ? 8.30pm
"Duende y sabor flamenco"
ARCÁNGEL con Miguel Ángel Cortés y Daniel Méndez, guitarras; Agustin Diassera, percusiones.

MARÍA TOLEDO, voice and piano. Jesús del Rosario, guitar; Lucky Losada, drum box; David Moreira, violín; Yelsy Heredia, bass
TICKETS
Taquillas del Teatro Circo Price: de martes a viernes de 16 a 21 h. y desde 2 horas antes de cada espectáculo. Tel. 91 528 81 22
www.entradas.com Tel.: 902 876 870 y en cajeros de la red Caja Madrid
---
Fortunately the only thing that has changed is the name of the festival, since over the course of the year the name of the main sponsor has changed from Caja Madrid to Bankia. As for the rest, the opening week of parallel activities has been maintained – book presentations, conferences, recitals – at the Casa Encendida, and the program with major flamenco artists will be held for five days at the Teatro Circo Price, the regular venue of recent years.
ACTIVITIES AT CASA ENCENDIDA
Round-table discussions, a book presentation and recitals – FEBRUARY 2012
Ronda de Valencia, 2 – Tel.: 902 430 322
www.lacasaencendida.es
AUDITORIUM
Via invitation up to capacity. Invitations may be collected two hours before the activities at the information point of the Casa Encendida.
LIMITED CAPACITY


Wednesday 1 February – 7.00 pm
Presentation of the book "Biografía autorizada de Rancapino" by Pedro Quiñones
Participants: Pedro Quiñones, Rancapino and José Mª Velázquez-Gaztelu
Cante recital: Rancapino Hijo video
Thursday 2 February – 7.00 pm

Round-table discusión: "Agustín Castellón Sabicas en su Centenario"
Participants: José Manuel Gamboa, Mario Escudero and Juan Verdú

Guitar recital: Miguel Ángel Cortés
Friday 3 February – 7.00 pm
Round-table discussion: "El Taranto ante el 50º aniversario de la Peña"
Participants: José Blas Vega, Tomatito, José Antonio López Alemán y Alfonso Salmerón
Guitar recital: David Caro
PATIO
Saturday 4 February – 8.00 pm
"El flamenco más joven en La Casa Encendida"
Cante Gabriel de la Tomasa
Flamenco guitar in concert Tomatito Hijo
Ticket sales three days before concert: automatic tellers of the Caja Madrid group, www.entradas.com, via telephone 902 488 488 and at Casa Encendida from 10:00am to 9:45pm
Other editions :
Program 19th Festival Flamenco CAJA MADRID 2011 - Reviews