Silvia Cruz Lapeña
The shows of the Barcelona festival seen through the eyes of the accompanists, always in the shadow of singers, interpreters and dancers.
Almost no one names them, and you hardly see them, but they are an absolutely necessary part of flamenco shows: the people who keep rhythm with hand-claps and cheering, the "palmeros", and percussionists.  If you had to define Ciutat Flamenco 2017 based on their specialty, you could say this festival is very varied, starting out with the very modern compás of Pablo Martín Jones in "Caida del Cielo",and ending with the rumba flavor of Francisco Batista "Rambo".  And between one thing and another, a very complete stylistic arc.
"Accompanying Rocío Molina is a challenge" says Martín Jones who does the percussion for "Caída del Cielo", a platform with which the Málaga dancer highlights her particular way of unifying the roots of flamenco with her quick mind. "I was always a fan of her dancing and one day, while I was buying fruit, she called me to work together. It was an epiphany" explains the son of a singer and a dancer.  Martín's percussion is based on drums and any instrument, musical or otherwise, suitable to accompany the Málaga woman's dancing.  Her eclectic nature is also visible outside that collaboration: a good example is what he's doing at the Reina Sofía Museum where he directs guided tours for elementary school students along with a modern dancer.
As far as the creator of the show coming to the Ciutat Flamenco, he's sure her creativity and her privileged mind are outstanding: "Her capacity for hard work, it's unbelievable the dimension".  That duality of the origins and the future, so well-managed by Molina, is noticeable in the other interpreter who puts the rhythm: José Manuel "El Oruco".  The dancer defines his curriculum by the first and most recent stars he's accompanied: Farruco and Molina.  Between one and the other there exists an entire flamenco galaxy.  "My objective is to connect the audience with the world she creates.  My goal is to make her feel free and comfortable to execute what she needs" he says, summing up his work with the dancer, a philosophy he applies with any of the artists he accompanies, as well as with himself.  "I can't name two dancers or two singers…it's like telling a child to choose just two sweets" he says, smiling, but when asked about his preferences, the names everyone cites when talking about palmas and jaleos comes up: "the team of Bobote and El Eléctrico".
Dancers who do palmas
Bobote, like Oruco, was also a dancer.  A dancer who also does rhythm is common.  In this show, Miguel Donaire will assume that role in "Auto-Sufi-Ciencia", a show in which Pedro Burruezo will create a rapport between flamenco and sufi music.  Another case of a dancer who does rhythm is that of Isabel Marsol.  She will be accompanying Ruselito, a young hopeful of Barcelona guitar, in alegrías and bulerías in this free show that will take place in the hall of the Mercat de les Flors on Sunday, May 21 at 5:30pm.  "My role is secondary, what I do is mark time, rhythm, the base.  It's something I like very much, and I think it's undervalued in flamenco" says this dancer from Barcelona who is now beginning to devote herself to flamenco full-time.  She mentions Piraña as one of her favorite percussionists, and believes all flamenco artists, from whatever specialty, should start out learning how to cheer.
The other show set to take place in the hall of the Mercat is that of José Manuel Álvarez, a dancer from Barcelona who has worked with Marco Flores, Pepa Gamboa and Juan Carlos Lérida, and who is presenting "D-Structures", a half-hour piece in which he is accompanied by Lucas Balbo.  Balbo is a young Argentinian who got started in flamenco thanks to his sister Bárbara, a dancer.  "I played drums in a rock group.  I'd also done Afro-American music, candombé…"  It's now been ten years he's into flamenco, and has already worked with people such as La Farruca, Karime Amaya and Pol Vaquero.  "I try to adapt to what others need, for me it's an accompanying job, being just one step ahead when it comes to interpreting the dancer's energy".  That's how this man defines his work, preferring the energetic style of percussionists such as El Piraña, José Carrasco and Ané Carrasco.
From jazz to the most in demand: Los Mellis
There are more local percussionists in this edition of Ciutat Flamenco: David Domínguez is another noteworthy name.  In this festival we'll see him in two shows: with Pepe Motos in "Kódigo Flamenco", and in "Flamencat", a children's show that will take place at the Palau de la Música Catalana on Sunday, May 21st.  "I don't even know how I got started in this, because there are no musicians in my family" says someone who began his musical career playing the guitar in his hometown, Santa Perpétua de Mogoda.  He had other jobs and was studying, until he reached a point in which it was no longer practical to hold down a job while also doing gigs that came up more and more frequently.  Then, I began working with the Taller de Músics where I feel very involved, to this day.  Now I wouldn't know how to do anything else!"  Domínguez says he just flips out accompanying Duquende, and that he also feels very at ease with Montse Cortés, El Paquete, performing with the Big Band Flamenca of Perico Sambeat, and in his most recent work at the Teatro Romea where he performed in "Federico García", an audio and visual biography directed by Pepe Tosar.
Another powerful drummer is Jesús Gimeno who is coming with the Valencian folk music of Josep Aparicio "Apa", who's bringing the show "Flamencianes" to Barcelona.  Accustomed to flamenco from having accompanied Isabel Julve, and being one of the founders of the group Jerez Texas, Gimeno is a musician formed in Barcelona in the nineteen-eighties, and he has toured the main Spanish venues demonstrating he can manage nearly any kind of music, including flamenco.
The pair that completes the Ciutat Flamenco beat is Los Mellis, who, as Sara Arguijo stated in this magazine in an interview, are practically the palmeros most in demand in the flamenco world.  On this occasion they'll be giving a sheen to Dani de Morón in his concert on May 26th at the Auditori, in which Duquende, Jesús Méndez and Antonio Reyes will be singing, and which is expected to be one of the high points of the festival.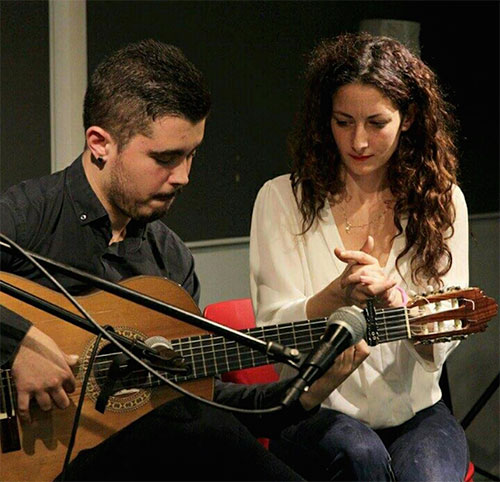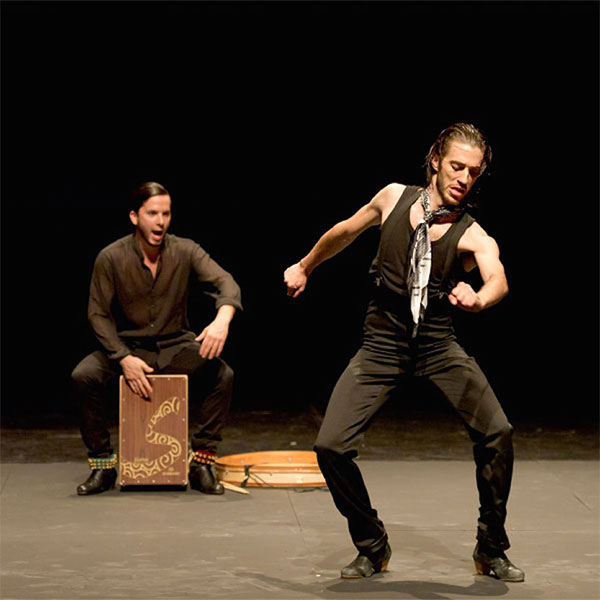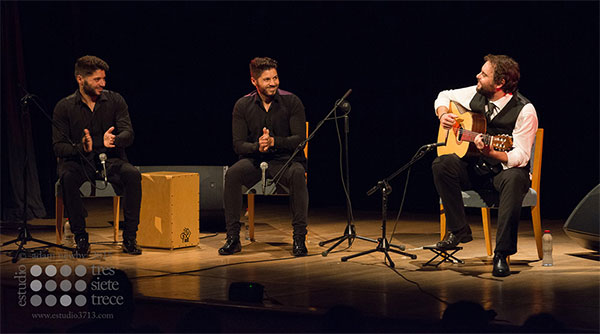 ---